Patriots
Matthew Judon opens presser with a statement on Patriots' 0-2 start: 'This is not a bad team'
"We're not just going to be a pedestrian team that lets people score on us and we don't score."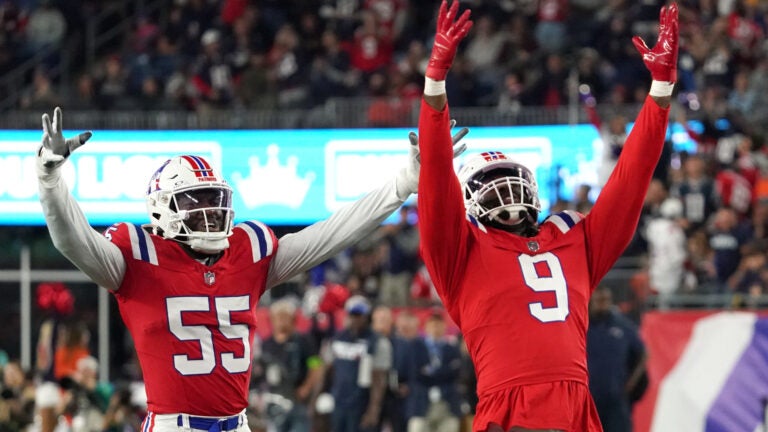 Matthew Judon knew the questions were coming.
In the immediate aftermath of the Patriots' 24-17 loss to the Dolphins on Sunday night, the star linebacker opened his postgame press conference with an impromptu statement on both the state of the team and the measures that need to be taken in order to get in the win column.
Following another failed fourth-quarter comeback, the Patriots are now 0-2 to start the season for the first time since 2001.
"I know we lost. I know it looks bad. You're [0-2], you start [0-2]. But this is not a bad team," Judon said. "So don't get to asking those types of questions. … We're gonna speak matter of fact. But I don't think we're about to hang our head up here or in the locker room. So when we come back tomorrow, and we watch this film, we're gonna get our corrections corrected. Then we come back on Wednesday, it's not going to be, 'How y'all gonna pull it together?' We already know how."
New England's two losses to the Eagles and Dolphins have featured a pretty familiar script, with sluggish starts and extended lapses in offensive execution thwarting any shot of a spirited fourth-quarter comeback.
The Patriots trailed the Eagles, 16-0, at the end of the first quarter in Week 1, with a chance to win the game in the closing minutes of the fourth quarter ultimately ending with a failed fourth-down conversion.
Against Miami, New England trailed 10-0 at one point and exited the field to boos at halftime following a 17-3 deficit. By the time Mac Jones and the Patriots' offense finally started landing some punches in the fourth quarter, it was too little, too late.
The Patriots had a chance to orchestrate another game-tying drive with a little over two minutes left in regulation, but it ended with a turnover on downs after Cole Strange came up just short following an impromptu lateral toss from Mike Gesicki.
"We got to just play how we play in the second half from the first play. We got to get the crowd involved from the get-go. Like when we come out there on the field, when we take the field, it's gotta have some type of energy. We got to have some type of juice. We can't wait until we're down 17, we can't wait until we're down 13 to try to make a comeback.
"It's too hard in this league. It's too hard in this league. People are too good, schemes are too good that you don't have enough time. So you can't play from behind, you can't come out here and have slow starts. And I think that's what we're doing and we have to get it corrected to have a faster start."
The Patriots will look to secure their first win next Sunday when they head down to East Rutherford to take on the Jets at MetLife Stadium.
New England's inconsistent offense will receive a tough challenge from Sauce Gardner, Quinnen Williams, and a talented New York defense. However, Judon and Co. should have an easier matchup against a Jets offense run by Zach Wilson in place of the injured Aaron Rodgers.
"We have more games. We have more life in us, and we don't know what can happen from here, but something's got to happen," Judon said. "Something's got to give. We're not just going to be a pedestrian team that lets people score on us and we don't score. … We're going to have a backbone."
Sign up for Patriots updates🏈
Get breaking news and analysis delivered to your inbox during football season.