Patriots
Watch: Patriots lose to Dolphins on lateral play that was overturned
Mike Gesicki lateraled the ball to Cole Strange on a fourth-down play. It was initially ruled that Strange got the first down, but a replay review determined he fell short.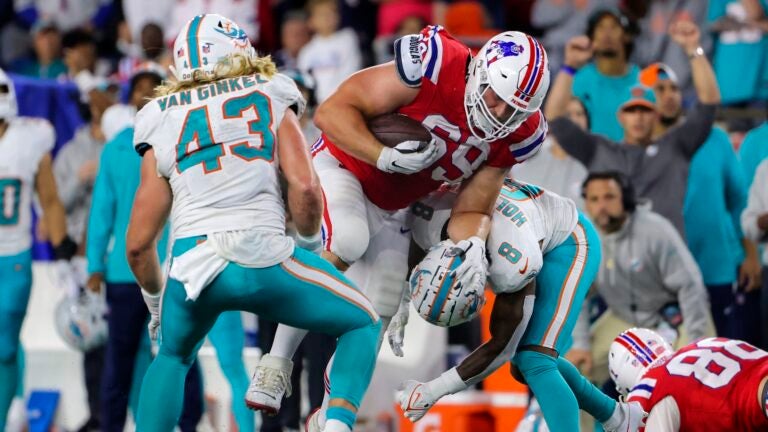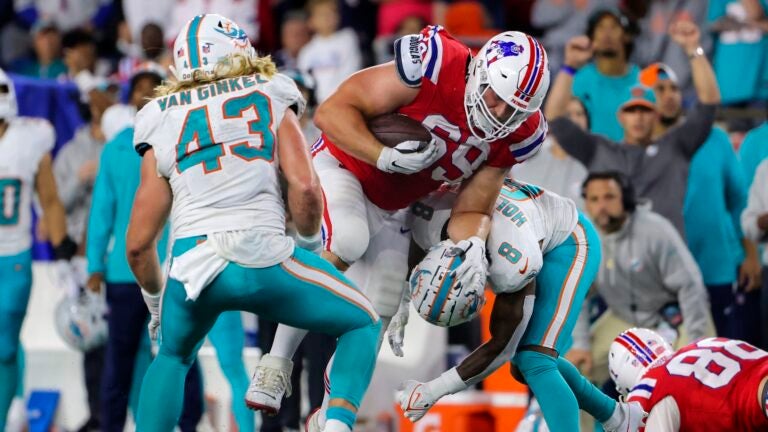 The Patriots were so close to pulling through in the fourth quarter again.
Trailing by one score with the ball in the opponent's territory in the final minutes for the second straight week, New England faced a fourth-and-4 from the Dolphins' 33-yard-line, needing to pick up a first down to extend the game as it trailed, 24-17.
Mac Jones faced pressure relatively quickly on the play, forcing him to get rid of the ball before Mike Gesicki ran his route to the first-down marker. Gesicki came up with the catch, but couldn't push forward to get a first down.
Gesicki recognized that he was either going to be tackled short of picking up a first down or the play was going to be blown dead. So, he lateraled the ball to guard Cole Strange, who jogged over a few yards away from Gesicki.
Strange got the lateral from Gesicki and plunged over, falling down right at the first-down marker with Jevon Holland and Andrew Van Ginkel tackling him. The refs initially gave Strange the first down on the field, but they almost immediately called for a review.
The brief sense of euphoria that sparked from the unusual play ended after a couple-minute-long review determined that Strange's placement of the ball was a smidgen short, ending the game.
New England's loss sparked a similar result to its loss in Week 1 to Philadelphia. The Patriots had the ball at the Eagles' 20-yard, trailing by five, but needed to pick up a first down on a fourth-down play in the final 30 seconds.
Kayshon Boutte caught a pass from Jones that would have given the Patriots a first down in that game, but he wasn't able to place his second foot inbounds, making the catch incomplete and ending the game.
Sign up for Patriots updates🏈
Get breaking news and analysis delivered to your inbox during football season.