Patriots
'Did you see it?': Pat McAfee explained how a small detail might have led to Patriots' field goal block
McAfee, a former punter (and holder), also discussed his own history with Bill Belichick's detailed scouting.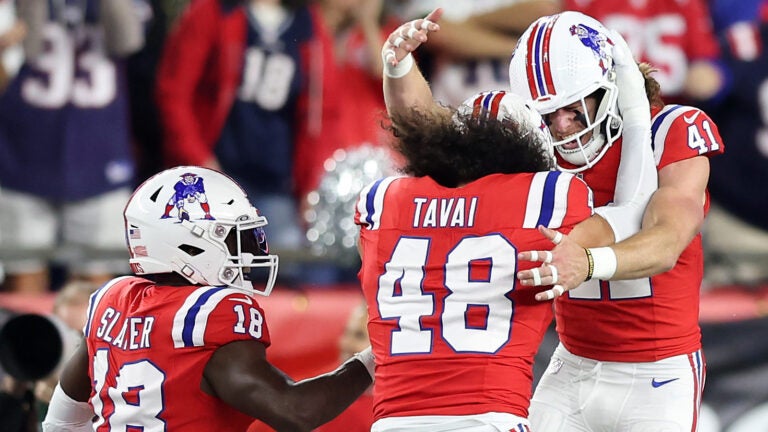 Brenden Schooler's third quarter field goal block for the Patriots in Sunday's Week 2 matchup against the Dolphins produced excited reactions from fans and analysts, many of whom marveled at the originality of the play.
Instead of running from behind the line and trying to jump over the center, Schooler began his run from out wide on the left. He timed his movement perfectly, taking off at just the right time, crossing the line of scrimmage in perfect coordination with the snap of the ball, and moving in to easily block Jason Sanders's attempted field goal.
Even Dolphins head coach Mike McDaniel was surprised, acknowledging after the game that he "hadn't seen that before."
"It was a really cool schematic adjustment by the Patriots," McDaniel admitted. "Hats off to them."
On Monday, with the benefit of time and access to the "All-22" footage — showing various NFL camera angles — former punter-turned-ESPN show host Pat McAfee explored exactly what type of tell the Patriots might have identified before the game.
"I think this is a situational-type operation," McAfee explained during a segment on his ESPN show, noting that the innovative approach will be attempted around the NFL, but might prove difficult to replicate.
"There has to be an indicator that would send old Schooler, who ends up blocking this kick," he said, looking at a replay.
Examining a paused view of the video from a pre-snap moment, McAfee said that New England might have identified a giveaway movement made by the Dolphins' holder, former Patriots punter Jake Bailey. This could have potentially allowed Schooler to know how to perfectly time his jump.
"He's looking at the holder, he's not looking at the snapper," McAfee said of Schooler.
"Let's watch the holder, because Schooler already told us that we're watching the holder," McAfee continued, referencing where the Patriots' special teams player's vision were focused. "Keep an eye out here, OK? [Bailey's] going to look back at Sanders, ask Sanders if he's ready, and then very slightly, he is going to go with a deep breath seemingly [and exhale]."
After letting the replay run, McAfee — pointing at Bailey's subtle exhale — believed he'd identified what New England spotted.
"Did you see it?" he asked. "Little bit of a head dip. It feels like it's almost a breath out, breathing air out, and that sends Schooler."
And as McAfee pointed out, the Patriots might have identified Bailey's habit during his time with New England from 2019 through 2022.
"It's a minor little detail that if you see it, I'd assume it would be too obvious," he said, "but there's not a lot of people that are going to be able to find that particular detail."
Of course, McAfee — as he reminded his audience — has his own history with being a holder against Bill Belichick's team. In a 2015 Patriots-Colts game, New England linebacker Jamie Collins jumped over the center blocked an extra point.
"He had something on me," McAfee said of Belichick scouting his tendencies. "Obviously I had to change some stuff."
Sign up for Patriots updates🏈
Get breaking news and analysis delivered to your inbox during football season.