Patriots
Tyreek Hill says Patriots fans 'are probably some of the worst fans in the NFL'
"So, it felt great to wave goodbye to the fans. And I'll do it again, bye!"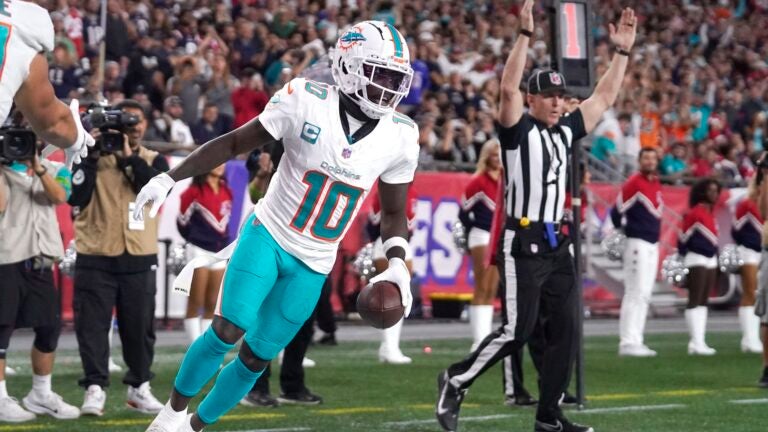 Tyreek Hill delivered a message to the Patriots prior to the Dolphins' win on Sunday. He gave a parting shot prior to leaving Foxborough.
The Dolphins star receiver said Patriots fans were among "the worst" he's dealt with in the league following Miami's 24-17 win.
"It felt tremendous, man," Hill told reporters when speaking about the road win. "Those fans are probably some of the worst fans in the NFL, and I'm gonna stand on that because they are real nasty and some of the things they were saying wasn't — I wouldn't say in church.
"So, it felt great to wave goodbye to the fans. And I'll do it again, bye!"
Hill had a notable incident with Patriots fans in the past. When he was with the Chiefs, Hill had beer tossed on him by a Patriots fan during a Chiefs-Patriots game in 2018, getting taunted by Patriots fans sitting in the Optum Field Lounge seats after he scored a 75-yard touchdown.
The unnamed fan was banned from all future events at Gillette Stadium following the incident.
Hill initially said that he was "not mad at all" about the incident. But he reversed course in the days following the incident, wanting to take action against what happened to him as his agent, Drew Rosenhaus, said they wanted the fan to be prosecuted.
Sunday marked the third game that Hill has played at Gillette Stadium since the 2018 incident. While Hill called Patriots fans "among the worst" following Sunday's game, there hasn't been a reported incident between him and New England fans over those three games.
Ahead of Sunday's game, Hill vowed to "dominate" the Patriots, regardless of if they sent extra coverage on him during the game. He also issued a challenge to Dolphins fans after they traveled well to Los Angeles for the team's season-opening win against the Chargers.
"We need that each and every week," Hill said. "… I'm telling you, that juice each and every play. If you guys come out, be loud and just boo the other team. Call Mac Jones sorry, please. That would be great."
The Patriots were able to limit Hill's production on Sunday, at least relative to the 215 receiving yards he had in Week 1. Hill finished with five receptions for 40 yards, but he had a touchdown right before the end of the first half, which proved to be pivotal.
Sign up for Patriots updates🏈
Get breaking news and analysis delivered to your inbox during football season.