Patriots
There are plenty who deserve blame for the Patriots' 0-2 start. Mac Jones is not one of them.
Whether it be a porous O-line, stagnant run game, or lack of big-play options, Mac Jones has not been the main issue.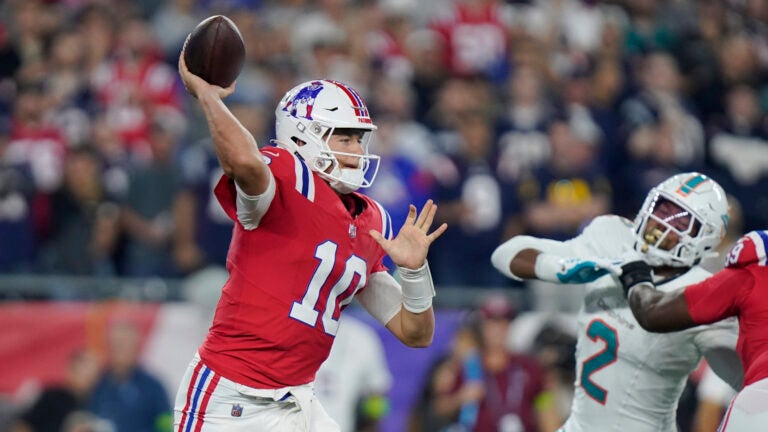 COMMENTARY
For two straight weeks, a sullen Mac Jones has strode to the podium at Gillette Stadium to face the music after a frustrating defeat.
Bill O'Brien's return as New England's offensive coordinator has yielded positive returns in terms of the Patriots' ability to move the ball downfield and orchestrate fourth-quarter surges amid early deficits.
But those silver linings have dissipated given the lack of results on the most important metric of all: wins.
"They gave me the ball twice to win the game, and I couldn't do it," Jones said after New England's season-opening loss to the Eagles. "I've just got to go back and watch and see what I can do better, but as a quarterback, that hurts, right?
"You get a chance to win the game twice and can't do it. You've just got to learn from it. You only get so many opportunities in the NFL to do that, and I felt like I definitely let the team down."
Jones' critical comments and inward blame are not surprising. They usually come with the territory for any quarterback handed the keys to an offense.
But as the Patriots sit rudderless at 0-2 to start a new season, Jones and his play under center should be far down the list of responsible parties for New England's worst start since 2001 — especially given the other glaring deficiencies found elsewhere on this offensive unit.
The 25-year-old Jones doesn't have the arm of a Josh Allen or Patrick Mahomes, nor can he scramble and eat up yardage on the ground like Jalen Hurts.
But much as he did during his collegiate days at Alabama, the third-year QB can still do plenty of damage in a varied offensive scheme that dials up plenty of RPOs (run-pass options), screens and other short throws.
Off of just the baseline numbers so far in 2023, Jones has looked far better than his 2022 self — mired in mediocrity amid Matt Patricia's simplified offense.
Jones is currently sixth in the NFL in passing yards (547), tied for fourth in passing touchdowns (4) and currently paces all signal callers in both completions (66) and attempts (96).
At his current pace, Jones is projected to finish with 4,650 passing yards, 34 touchdowns and a 68.8 percent completion percentage.
Had Patriots fans been told of those lofty passing projects two weeks ago, elation would have spilled out in the streets from Bar Harbor to Barnstable.
But little has gone according to plan so far for Jones and the Patriots, at least when it comes to the end results.
Jones has been far from flawless this year, such as the momentum-sapping pick thrown to Miami's Xavien Howard on Sunday. Still, Jones has more or less held up his end of the bargain in O'Brien's system.
The same can't be said for some of the other weak links spread across what was an impotent offensive grouping through two weeks.
Jones can be a poised passer who can execute in the right scheme. But he should not be a QB that's leading the league in pass attempts through two weeks. But such is the hand that has been dealt to the Patriots due to a woeful offensive line that has stuck the team in neutral.
With teams having their way at the line of scrimmage, New England's 1-2 punch of Rhamondre Stevenson and Ezekiel Elliott has yet to put a dent in opposing defenses. The Patriots rank 23rd in the NFL this season in yards per rush (3.5).
As the Patriots' run game sputtered, the onus has fallen on Jones and New England's passing offense to be the lone avenue toward pushing the ball down the field, even with a porous O-line in front of Jones.
It's a recipe for disaster, especially for a young quarterback still trying to find his footing in a scheme cooked up by what will be his third offensive coordinator in three seasons.
But give credit where it's due. Even with the limited amount of time afforded to Jones in the pocket, he's excelled while under duress this season.
As noted by Patriots.com's Evan Lazar, Jones is currently PFF's fifth-highest-graded passer while under pressure through the first two weeks of the 2023 season.
While under pressure in 2022, Jones completed 42.4 percent of his passes, tossing three touchdowns, eight interceptions, and posting a 35.1 passer rating.
In 2023? While under pressure, Jones is completing 53.6 percent of his passes with one touchdown, zero picks and a 79.6 passer rating.
Not bad for a quarterback who also hasn't been afforded all that much time to throw — and when he does, there is little space between his offensive weapons and the defense.
So far this season, New England's offense has sliced and diced teams by way of paper cuts, with a lack of separation from the Patriots' receivers hindering any hope of big-play capabilities.
New England's longest play on offense Sunday against the Dolphins went from a whopping 18 yards … off a scramble from Jones.
According to NextGen Stats, JuJu Smith-Schuster — New England's top free-agent pickup and noted yards-after-catch producer throughout his career — was tied for the lowest average separation in Week 2 at just 1.5 yards.
Through two games, New England's most dynamic player on offense might be a 2023 sixth-round pick in Demario Douglas — who spent most of Sunday's game on the sideline after a costly fumble.
So far, Jones has exceeded expectations given the amount of pressure he's faced and the lack of playmakers around him.
But it's still an unsustainable strategy to expect him to keep bailing out an offense lacking in high-end talent, especially given the punishment and inevitable ill-timed throws that await if New England's O-line continues to be carved up.
Jones may not be an All-Pro talent, nor is he the type of quarterback who can gloss over a team's glaring flaws by orchestrating an aerial assault on his own.
He is what he is.
A solid, poised QB who is more than capable of playing winning football with the right supporting cast around him.
It remains to be seen when the rest of that group plans on showing up.
Sign up for Patriots updates🏈
Get breaking news and analysis delivered to your inbox during football season.