Patriots
Patriots' 0-2 start hints more of 2000 than rebounding with a Super Bowl title
This 0-2 start has the potential to devolve into something much worse.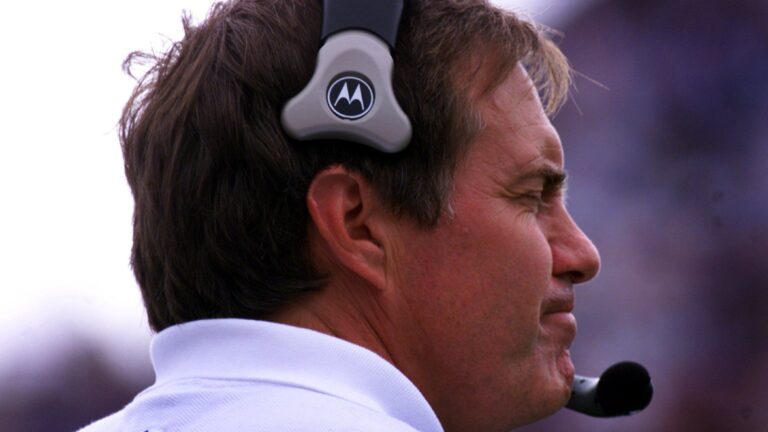 If it's a feel-good twist you're after, then yes, the last time the New England Patriots opened a season 0-2 was 2001, a notation that comes with a big ol' "but" in order to fuel the sort of false hope that best markets an inferior product. After all — wink-nudge-wink — we all know what happened after that…
If we really want to use history to help paint a picture for present days, then let's instead use this footnote: The last time the New England Patriots lost their first two home games to start a season was 2000, Bill Belichick's first campaign as New England head coach.
Those Patriots wound up 5-11.
Now, which team do you think is the better comp for the Patriots we've watched thus far this month?
Despite the tease that they may have been one inbounds foot away from beating the defending NFC champs in Week 1, what most Patriot fans came to realize by the end of Week 2 was that their preseason fears had come home to roost.
This team stinks.
On the bright side, it's in good company. The Cincinnati Bengals, a team that some regard as the most talented in the NFL, are also 0-2. It is a sluggish start but remember, the Bengals were also winless after two weeks last season. They only made it to the AFC Championship game from there, becoming the only team to accomplish that feat since the NFL went to seven playoff teams in 2020.
Also 0-2 heading into Monday night's doubleheader (and potential for the Steelers and Panthers to join the loser crowd): the always-underwhelming Chargers, the lipstick on a pig circus in Denver, the shortcomings of the Vikings under Kirk Cousins (a QB some consider Mac Jones's ideal comparative ceiling), a franchise that once employed Jack Easterby, the Arizona Cardinals (a team so bad that it just put Daniel Jones in rarefied company), and the Chicago Bears, which, enough said.
Don't use the Bengals and 2001. These are their comps.
Better yet, you have to go to the depths of Patriot history to recall the last time the team began a season 0-2 with both losses coming at home. It last occurred in 1975, a year the Patriots went 3-11 under rookie quarterback Steve Grogan. It also happened two seasons prior, when the team wound up 5-9. Neither notation is a good sign for Mac Jones and Co.
Nor is this: according to the AP, since 1990, only 31 of the 270 clubs (11.5 percent) that began a season 0-2 advanced to the playoffs. The Sporting News goes back to the NFL merger in 1970 to note that only 39 of 405 NFL teams (9.6 percent) which lost their first two games proceeded to make the playoffs.
ESPN's Bill Barnwell writes, "If a team loses again and drops to 0-3, though, desperate becomes hopeless. Since 2002, 99 teams have started 0-3. Just one of those teams (the 2018 Texans) has made it to the playoffs."
In other words, if you're a Patriot fan holding out hope for the playoffs, either you haven't been watching or the realism of the situation hasn't quite settled in; This 0-2 start has the potential to devolve into something much worse.
Even without Aaron Rodgers, the Jets — up next on the schedule, Sunday in the Meadowlands — are no pushover, not when you consider the lackluster charcuterie board of talent surrounding Jones on offense going up against one of the league's top defenses in New York. Week 4 promises what looks like a defense for the ages when the Patriots travel to Dallas. They may realistically not be able to claim win No. 1 until Oct. 8 against the New Orleans Saints. This is where we are at; the six-time Lombardi Trophy-winning Patriots are going to be dumpster diving for wins.
Because 0-2 starts have ways of festering, even on good-to-decent teams. Next thing you know, snow starts falling, players can't make it to their Jetsonmobiles, and there's a mutiny on the horizon. Benching rookie Demario Douglas, one of Sunday night's offensive highlights in the early going, because one of the best defenders in the entire game (Bradley Chubb) made a nice play to jar a ball loose, might not send the message Bill thinks it does. Or, at very least, it doesn't send the same message in a 2023 NFL that it might have in a day and age that once also employed fullbacks.
To be fair, despite the doom-and-gloom that populates above, an 0-2 start isn't what it once was, even only three years ago. With the advent of the seven-team playoff format in 2020, more teams than ever have the opportunity to rebound and make something out of their season. That's why for the likes of the Bengals, maybe the Vikings, not winning either of the first two games isn't a death knell. And if the Texans can do it then, well…
For the Patriots, the 0-2 start is a precursor to a season of hard reality. Like one that includes conversations about Caleb Williams and Bo Nix, throttling your team into the same QB vortex you've laughed at your rivals for finding themselves in.
So, forget about 2001. This team is more like the one from a year earlier. And if you're looking ahead, there's this: the last time the Patriots started a season 0-4 was that same 2000 season, Belichick's first in New England.
It could happen again — 23 years later — in what might start looking more and more like Belichick's final football go-round.
Sign up for Patriots updates🏈
Get breaking news and analysis delivered to your inbox during football season.