Patriots
Former Patriots Devin McCourty and Rodney Harrison were not fans of this Bill Belichick decision vs. Dolphins
"I'm not the coach. But in that situation, if I'm coaching — I don't take him out."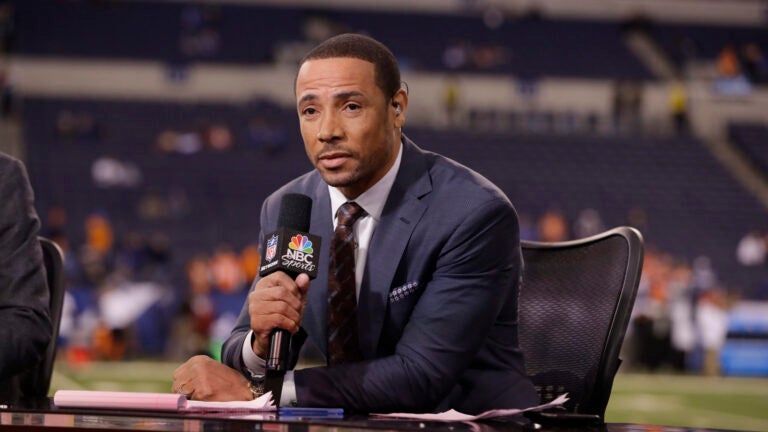 Bill Belichick and the Patriots have caught plenty of flak over the last few days following the decision to bench promising rookie Demario Douglas for most of Sunday's 24-17 loss to the Miami Dolphins.
After getting knocked for a costly fumble in the closing seconds of the first quarter, Douglas did not take another offensive snap for New England, even though he was targeted twice on his six total snaps in the first 15 minutes of action.
It should come as little surprise that a rookie like Douglas likely landed in Belichick's doghouse after committing a turnover. But given Douglas' explosive skillset and New England's inconsistencies with stringing together sustained drives, taking him out of the game plan felt like a serious second guess.
Count ex-Patriots Devin McCourty and Rodney Harrison among those who did not approve of Belichick's decision to phase Douglas out of the playbook as Sunday's game carried on.
"I didn't like it," McCourty said during his appearance on WEEI's "The Greg Hill Show" on Wednesday morning. "I think players, I don't think they're gonna take the mindset of like, 'This is terrible', because it's one game, it's Week 2. But I think they would've wished to see him in there. I remember [Rutgers] Coach [Greg] Schiano used to say that to us, 'A player messes up, I'm not gonna punish that player to hurt the team,' because then that's unfair to the rest of the guys.
"But you might find a different way to show a lesson. … For that offense, Pop Douglas, there's nobody else on the offense like him. … He has to play. And not just show up a little bit — he needs to be out there a lot. Because you need guys that put some fear in the defense of, 'Man, when this guy has the ball in his hands we got to gang tackle, we got to surround him.'
"You need that out there on offense because it changes the way some of those guys are gonna play defensively. And when Pop Douglas isn't out there, they really don't have that guy. They have good football players, but they don't have guys that have a different level of explosion and speed."
Much like McCourty, Harrison believed that Belichick and New England's coaching staff should have let Douglas atone for his miscue by playing through it, especially given his evident talent.
"I didn't agree with Coach Belichick when he took the kid out because the kid — he's trying his best," Harrison told MassLive.com's Karen Guregian on a recent episode of the "Eye On Foxborough" podcast. "He's making moves. And it's not like he wasn't trying to protect the football. He was trying to make plays. You don't expect the 270-pound guy — 6-foot-4 — coming that's gonna swipe the ball. When Ezekiel Elliott fumbled last week, I didn't see him getting taken out the game. And this is a veteran player, a guy that has carried the ball thousands of times, established player in this league and then a rookie does it.
"He takes them out and you can really hamper a kid's confidence, especially (someone), who I believe is going to be a very dynamic playmaker for the Patriots. I just didn't agree with him taking him out. I'm not the coach. But in that situation, if I'm coaching I don't take him out. I let him stand. I continue to feed him the ball and try to build up his confidence because he's gonna be a good player. I mean, what does that do? Other than mess with his confidence?"
Considering the stakes involved with what is looking more and more like a must-win game for the Patriots in Week 3 against the Jets, Belichick and Co. might have to roll with a short memory and incorporate Douglas back into their game plan on Sunday afternoon.
As much as the Patriots' might want to send a stern message about ball security to Douglas and other rookies, that directive is going to ring hollow if his lack of playing time plays into a catastrophic 0-3 start.
Sign up for Patriots updates🏈
Get breaking news and analysis delivered to your inbox during football season.