Patriots
Matthew Judon explains the reasoning behind his opening statement after the Dolphins game
"I think we all know where we're at," Judon said.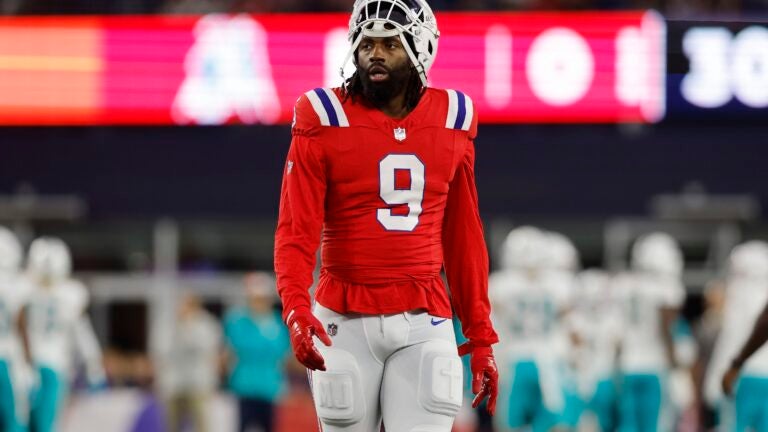 Matthew Judon explained the reasoning behind the opening statement he gave during his press conference after the Dolphins game.
Judon made the remarks before taking questions from reporters Sunday night.
"I think it was more just the way y'all [reporters] were phrasing questions and stuff. You were just so down," Judon said. "That's not me, and y'all know that's not how I am. So I said that to say, OK, when we address the situation, we're going to talk realistically. We're not going to act like it's all good. We're going to say what we need to improve on. We're going to say what we need to do to get wins. But we're not just going to talk negatively."
The Patriots are 0-2 for the first time since 2001, and there has been plenty of criticism as a result. Judon said that letting "external factors" creep into a locker room makes the morale even worse. People hang their heads when they hear that stuff, Judon said.
"Unfortunately – fortunately for y'all – we've got to talk to y'all after the game," Judon said. "We already feel bad that we lost. But, y'all just reporting; y'all just doing your job. But we've got to talk to y'all, and sometimes, the way y'all phrase questions and y'all ask questions, it might not be as friendly as we would want to talk."
Judon didn't back down from the questions after his opening statement. He admitted that the Patriots are putting themselves in too big of a hole with slow starts. He said the Patriots need to start playing complete football games.
He said he just wanted to give his take on the situation first. He explained that he doesn't like when the postgame mood is down, and that he was addressing that part of it more so than the state of the team.
"I just came out and said it's not a bad team in the locker room," Judon said. "We lost games, yes. Everybody loses games. Unfortunately, we just haven't won any games. But when we turn it around, it's going to get turned around, and we've got to do that by executing and playing better football for 60 minutes. Not just a half, not just a quarter or not just glimpses of it, we've got to do it the whole game."
Judon said that the Patriots did not have a players-only meeting after the game. It's too early for that, he said.
"I think we all know where we're at," Judon said. "We don't [need] to have a 'come to Jesus' meeting after the second week. We've got a long season to go. I think that's kind of when you get more down the line and you come together without the coaches, without anybody, and you actually talk honest."
"But I think the good thing about our locker room is we do that freely. We talk honest," Judon continued. "We talk to each other harsh sometimes. But sometimes you just need to hear it. Sometimes you need to hear it from your brother. And it's better to come from somebody that actually goes out there and fights and is bleeding with you than somebody that's just chilling on the sideline drinking Gatorade."
Sign up for Patriots updates🏈
Get breaking news and analysis delivered to your inbox during football season.