Patriots
Nate Ebner and Matthew Slater break down the Patriots' quest for special teams innovation
An inside look at New England's special teams unit with the "Batman and Robin" of the 2010s Patriots kicking game.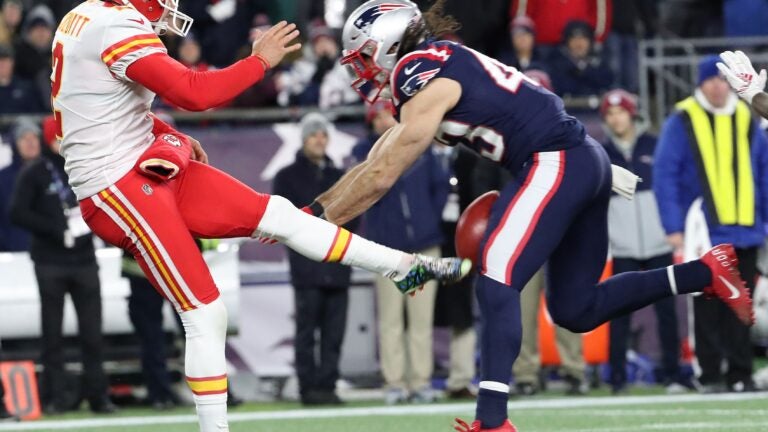 If there's anything that Brenden Schooler's field-goal block against the Dolphins showed, it's that there's still a spirit of innovation amongst the Patriots' special-teams unit.
Whether it's putting a player in motion on a block attempt, or the way they walled off the Jets' coverage team on Marcus Jones's game-winning punt return last year, the Patriots have shown flashes of being able to combine timing, execution, and imagination.
"I tell people that sometimes the best ideas show up at 1 o'clock in the morning when you're just drawing stuff and doodling," special teams coach Cam Achord said. "You try to think outside the box and have as many minds in there thinking about it and throwing stuff against the wall.
"That's why we study other league tape and that's why we study college tape. You're always looking for somebody who has done something different."
Schooler said he never saw a play quite like the one he executed on Sunday. Matthew Slater, who has played in more Patriots games than anyone other than Tom Brady, echoed those comments.
The Patriots have used a man in motion on a punt block before, such as Jonathan Jones's block against the Colts last year, but doing it on a field-goal attempt was a new wrinkle.
"We're looking for weaknesses that we can take advantages, and looking to put guys on our team with certain skill sets in position to make plays," Slater said. "That's something that we've always done. The other night was obviously the first of its kind from what I've seen. But obviously, we're trying to do that each and every week."
The leadership dynamic
In order to innovate, you've got to have the leadership to pull it off. During the 2010s, the Patriots had what Slater and Nate Ebner called a good-cop, bad-cop leadership dynamic between the two.
"We were Batman and Robin," Ebner said. "He was the spiritual guy, I was the technical guy and I think we worked really well together. He was the good cop, and I was the bad cop. He made me better and I'd like to think I made him a little better too."
The differences in their personalities complemented each other and allowed them to coexist and lead together, Slater said.
"I'm a little bit more of a SoCal, easygoing guy, and he was more of a no-nonsense type of guy," Slater said. "I think we really balance each other out. When someone needed to step up and bark and get on guys, Nate was the guy to do that. When someone needed to be loved up a little bit, and needed someone to talk to, I provided that."
Slater joked that he had to take on more of the "bad cop" role after Ebner left, but mentioned long-snapper Joe Cardona as a non-nonsense voice in the locker room these days.
"Now that I'm older, I've gotten a little bit more ornery in my old age," Slater said with a laugh. "But I think the one guy we don't talk about a lot in terms of leadership is Joe Cardona. I think he brings a no-nonsense leadership style, obviously with his background and the experiences he's had here. He has the respect of everybody in this locker room."
A point of emphasis from the coaches
Ebner and assistant head coach Joe Judge both joined the Patriots in 2012. New England drafted Ebner in the sixth round and hired Judge as special teams coordinator.
Ebner left the Patriots to play for the Giants after Judge was hired as head coach in 2020.
"One thing I'll say about Joe, he was always pushing to do something different," Ebner said. "That innovation was huge in helping us get better year, after year, after year. Sometimes there'd be those conversations like 'Hey guys, I think we should do this, this, and this'. Matt [Slater] would be like 'yes, I see how you could say that.' And I'd have to be like 'Matt, do you really think we can do that?' I'd always have to be the bad guy.
"But, it was good that we had such an open relationship with Joe," Ebner continued. "Joe could throw something out and I could say, 'Joe, I don't think so.' I know it sounds good, but when you're out there and things are flying it's different. We had that open relationship where we could talk freely because we respected each other and knew we were trying to push the needle and make the team as good as it could be and because of that we came up with a lot of good plays that we implemented."
Patriots head coach Bill Belichick got his start coaching special teams in the 1970s, and he hasn't forgotten about the importance of that aspect of the game.
It's still a big part of what he teaches.
"Look, one thing we're always trying to do here is create an edge in the kicking game. I don't think that's a mystery," Slater said. "Since coach [Belichick] has been here, that's been a point of emphasis for him."
Sign up for Patriots updates🏈
Get breaking news and analysis delivered to your inbox during football season.