Patriots
6 Jets players to watch in Sunday's game against the Patriots
The Jets might not have the best quarterback situation, but they might have one of the top rosters in the league outside of that position.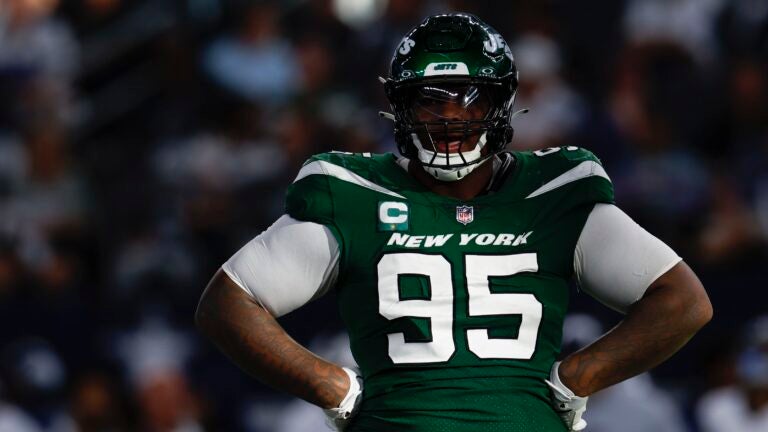 The Patriots are in desperate need of a win in Week 3 after starting the season 0-2.
While they'll go up against a Jets team they've defeated 14 straight times, it's clear this team is better than most of the Jets teams the Patriots have beaten in the recent past. Sure, their ceiling took a hit when Aaron Rodgers went down in Week 1, but the Jets boast one of the league's top defenses and arguably have the league's best group of young players.
So, let's take a closer look at some of those young stars. Here are six Jets players to watch in Sunday's Patriots game.
Garrett Wilson
The Patriots' secondary gets another tough challenge in Week 3 as first-round rookie Christian Gonzalez might find himself covering one of the game's best receivers again.
Wilson has already proven to be a stud in his first year-plus in the NFL despite relatively lackluster quarterback play. He had 83 receptions for 1,103 yards and four touchdowns last season, mostly catching passes from Zach Wilson and Mike White en route to winning the Offensive Rookie of the Year.
When Rodgers came to New York, Wilson was viewed as the biggest beneficiary of the move, but that didn't last long as the four-time MVP ruptured his Achilles on his fourth snap with the team. So, it was back to catching passes from the other Wilson.
So far, Wilson has shown out this season. He made a touchdown grab to tie the game against the Bills in Week 1 that is likely going to be one of the top catches of the season. Last week, he turned a 10-yard in-route into a touchdown by shedding Stephon Gilmore off him before turning loose for the 68-yard score.
Wilson gashed the Patriots in their first matchup against the Jets last season, recording six receptions for 115 yards, including a 54-yard reception on a deep pass from the other Wilson. A few weeks later, Wilson only had two receptions for 12 yards against the Patriots, though that was likely in part because the quarterback Wilson struggled in that game.
Jalen Mills, Jonathan Jones, and Jack Jones each got a shot at covering Wilson last season, with Mills being responsible for the big reception in the first matchup. Now that he's at safety though, the Patriots could toss Gonzalez as part of the mix to cover Wilson on Sunday.
Breece Hall
The Patriots never got a shot to go up against one of last season's best rookies as Hall tore his ACL in the matchup prior to their first game against the Jets last season.
Hall has looked good this season, at least when he's touched the ball. The second-year running back ran for a whopping 127 yards on 10 carries in Week 1, But he only had four touches last week against the Cowboys, expressing some frustration following the 30-10 loss.
It obviously remains to be seen if Hall will get a good number of touches in Week 3, but if he does, he'll do it against a Patriots team that couldn't contain Raheem Mostert last week. The Dolphins running back rushed for 121 yards on 18 carries. In addition, Dolphins backup running back Salvon Ahmed had three receptions for 28 yards, which is another area where Hall can excel. He had 19 receptions for 218 yards and a touchdown in six-plus games last season.
Quinnen Williams
If the Patriots fail to get the run game going and struggle to protect Mac Jones on Sunday, Williams will likely play a huge role in that.
The fifth-year defensive tackle was arguably the best defensive tackle in the game last season, recording 55 combined tackles, 12 sacks, and two forced fumbles. He also had 52 pressures and 32 run stops, which were both among the best in the league for interior defensive linemen, per Pro Football Focus.
The Patriots were just one of the many teams Williams feasted on last season. He recorded 10 combined tackles and two sacks plus five pressures and six run stops in the two games against New England.
Williams has yet to get a sack this season, but Sunday gives him a good opportunity to get his first in 2023. The Patriots' interior offensive line has been battered through the first two weeks, playing two mid-round rookies in Week 1 before Cole Strange and Michael Onwenu struggled in their returns to the field last week. Strange was credited with allowing a sack and three pressures last week while Atonio Mafi (who has played in place of Onwenu through the first two weeks), has given up two sacks and eight pressures through the first two games, per PFF.
John Franklin-Myers
The other possible big beneficiary of the Patriots' messy offensive line situation is Franklin-Myers.
The sixth-year defensive end typically lines up opposite of the other team's right tackle, where Calvin Anderson has also struggled for New England so far this season. He's given up a sack and nine pressures so far this season, per PFF.
Unless if the Patriots make a change at right tackle, Anderson will go up against a player that also had a pair of strong outings against New England last season. Franklin-Myers recorded six combined tackles, two sacks, and six total pressures over both matchups last season.
One of the plays that didn't count for Franklin-Myers though was arguably the biggest in the first Patriots-Jets game last season. The edge rusher committed a boneheaded roughing the passer penalty on Jones late in the first half of the Week 8 matchup, wiping a pick-6 off the board in an eventual 22-17 win for the Patriots.
Franklin-Myers will look to rectify that mistake Sunday.
Quincy Williams
Lining up right behind Quinnen Williams is his brother.
The linebacker has seemingly been all over the field for the Jets through the first two games of the season. He has 17 combined tackles so far this season, with 16 of them being solo tackles.
Williams has also helped balance the Jets' strong pass rush with his ability to stop the run. He's recorded 13 run stops through the first two games, which is among the best in the league, per PFF.
That's obviously going to be tough to contain for the Patriots, especially as they've struggled to run the ball through the first two games of the season. Rhamondre Stevenson only has 75 yards on 2.7 yards per carry so far this season while Ezekiel Elliott has added just 42 yards on 3.5 yards per carry.
However, Stevenson had a strong performance in the Week 7 matchup against the Jets last season. He recorded 83 yards after contact in that win, in which he rushed for 71 yards (meaning he worked from a deficit).
The Patriots might need Stevenson to give another do-it-yourself performance on Sunday, but Williams would likely be the biggest reason that might not happen.
Sauce Gardner
Rounding the Jets' impressive young core is the reigning Defensive Rookie of the Year.
Gardner only had two interceptions last season, but his ability to prevent other quarterbacks to throw in his direction or for receivers to pick up many yards instantly made him one of the game's top corners.
That ability was on full display in both matchups against the Patriots last season. Jones completed 4-of-7 passes for 19 yards when throwing in Gardner's direction last season, making it almost impossible for the Patriots to pick up yards along the boundary on passing plays.
There were some concerns about Gardner undergoing a second-year struggle following the season opener. He was part of a Jets secondary that allowed Stefon Diggs to record 10 receptions for 102 yards.
But the Patriots don't have that kind of receiving threat on their roster, making it more likely we see more of the Gardner from those matchups last season compared to the one we saw in the season-opener.
Sign up for Patriots updates🏈
Get breaking news and analysis delivered to your inbox during football season.