Patriots
Ezekiel Elliott discusses his return to Dallas, and other final thoughts from Patriots-Jets
"It means a lot ... I've had a lot of history in that stadium," Elliott said. "It'll be fun to get back out there in front of the Dallas fans."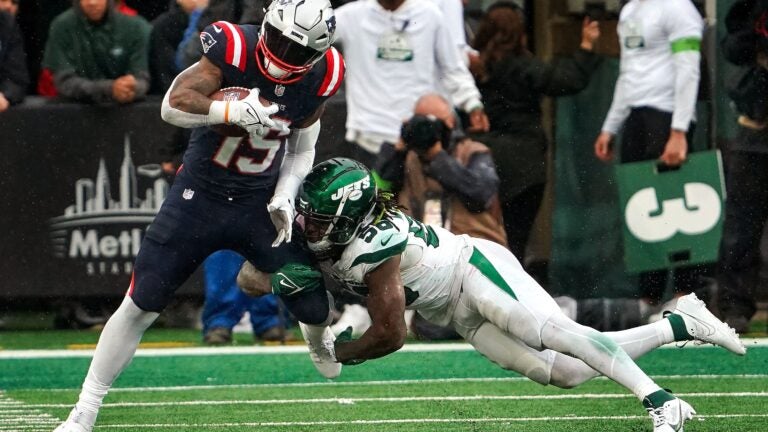 COMMENTARY
EAST RUNTHERFORD, N.J. – The Patriots won a rock fight in the rain, prevailing 15-10 over the rival New York Jets in a contest that didn't feature much offense.
How fitting is it that the New England scored 15 points in its 15th consecutive win against the Jets?
Bill Belichick's defense put on a masterclass on how to stuff the run. The Jets' ground game, led by Breece Hall and four-time Pro Bowler Dalvin Cook only mustered 38 rushing yards on 22 carries. Their longest run went for seven yards.
The Jets' weren't much better through the air. Zach Wilson had 29 passing yards at the half, and finished with 157 after a late push. He looked timid, held onto the ball so long that he was sacked three times, and had still had numerous chances to erase the Patriots' lead.
Somehow, despite their putrid offensive performance, the Jets managed to stay in the game until the very end, which was a failed Hail Mary attempt on the final play.
The Patriots stopped the bleeding and climbed to a 1-2 record heading into next week's matchup with Dallas. Here are a few final thoughts.
Zeke opens up about Dallas return
One of the more interesting storylines heading into next weeks game is Ezekiel Elliott's return to AT&T Stadium, where he played for seven years as a Dallas Cowboy.
Elliott's time in Dallas didn't end the way he wanted it to — the Cowboys released him back in March.
"I would say definitely disappointed," Elliot said when asked about his feelings on leaving the Cowboys. "But everything happens for a reason. God has his plan for us and I'm excited for this next chapter. I'm excited to be a Patriot. I'm excited to go chase a Super Bowl here."
The veteran back took 16 carries for 80 yards on Sunday, which is easily his best performance as a Patriot so far.
He's feeling more comfortable in the system, he said. Despite his accomplishments in Dallas, which include three Pro Bowls and a pair of rushing titles, Elliott said he felt like he had to prove himself all over again in New England.
He said he's "super excited" to return to Dallas, where he lives in the offseason. And he reminded reporters that his history in AT&T stadium goes beyond his time with the Cowboys. He won a national title in college with Ohio State in the stadium as well.
"It means a lot … I've had a lot of history in that stadium," Elliott said. "It'll be fun to get back out there in front of the Dallas fans."
Anfernee Jennings: Playing with 'swag and composure'
Anfernee Jennings got the start at linebacker for New England. He was among several players on the Patriots defense, including Keion White and Sam Roberts, who made their first starts of the season on Sunday.
He made five tackles, including four solo tackles and one tackle for loss.
"For Ant to come out there and play with as much moxie, swag, and composure [as he did]," linebacker Matthew Judon said. "And get some big TFL's at the start of the game, it wasn't like he watched us do it, he took it on himself. He came out there prepared. He saw the plays that we wanted to run. We called some plays to get him moving. We know how he can set the edge, and we know how physical he is in the run game. He went out there and did that."
Homecoming for Jabrill Peppers
Jabrill Peppers grew up in Paramus, N.J., which is approximately ten miles down the road from MetLife Stadium in East Rutherford.
MetLife Stadium was Peppers' home field for three seasons while he played with the Giants in his most recent stop before New England.
Needless to say, he was pumped to beat the Jets.
"It's the Jets, you know," Peppers said. "Ever since I've played here, every time we've played them, it's come down to the wire. Last game came down to an onside kick, second game, Marcus [Jones] took one to the house. This one, we were doing our think and it came down to a Hail Mary late."
Ja'Whaun Bentley responds to 'Hard Knocks' dig
Back in August, Jets defensive coordinator Jeff Ulbrich mocked the Patriots' "Do Your Job" motto during an episode of Hard Knocks.
"Do my job? Is that good enough? [Expletive] no," the coach said.
Patriots linebacker Ja'Whaun Bentley was asked about the comments after the game.
"Well, we did our job today," Bentley said, drawing laughs inside the room where the postgame press conference was held.
More Mac Jones allegations?
Mac Jones is in his third NFL season, but it's already getting tough to keep track of how many times he's been accused of dirty plays.
From Brian Burns claiming that Jones twisted his ankle to the NFL fining Jones for a low block against Cincinnati's Eli Apple, there are plenty of examples of Jones being called out for plays have been perceived by some as dirty.
This time, Sauce Gardner accused Jones of hitting him in his private parts. Gardner joked that he needed to ice up because Jones was trying to prevent him from having kids.
This isn't the first time an opposing player has accused Jones of hitting them in the private area. Chicago Bears safety Jaquan Brisker accused Jones of kicking him there during New England's Monday night game against the Bears last year.
Jones unsurprisingly denied all wrongdoing in his press conference, and who knows what a second look at the film will show. But, the allegations of Jones being a dirty player continue to stack up, and this is just the latest example.
No matter how rough things are in Foxborough, the Jets are still the Jets
How fortunate are the Patriots that they got to run into the Aaron Rodgers-less Jets in Week 3 after their first 0-2 start since 2001?
The Jets haven't beaten the Patriots since David Andrews's rookie season in 2015. Even without Tom Brady, the Patriots still consistently find a way to get it done against the Jets.
The Jets are same franchise that produced Mark Sanchez's butt fumble in 2012. Zach Wilson is the same quarterback who threw four picks in his first start against New England. Somehow, they managed to get through Sunday's game without turning the ball over once.
But even without the embarrassing mistakes, the Jets continued their lengthy losing streak against the Patriots. It saved New England from an 0-3 start. Now the Patriots have a chance to get back to .500 next week.
Sign up for Patriots updates🏈
Get breaking news and analysis delivered to your inbox during football season.