Patriots
Jets CB Sauce Gardner says Mac Jones hit him in his 'private parts' during 4th-quarter scrap
"He's trying to stop me from having kids in the future."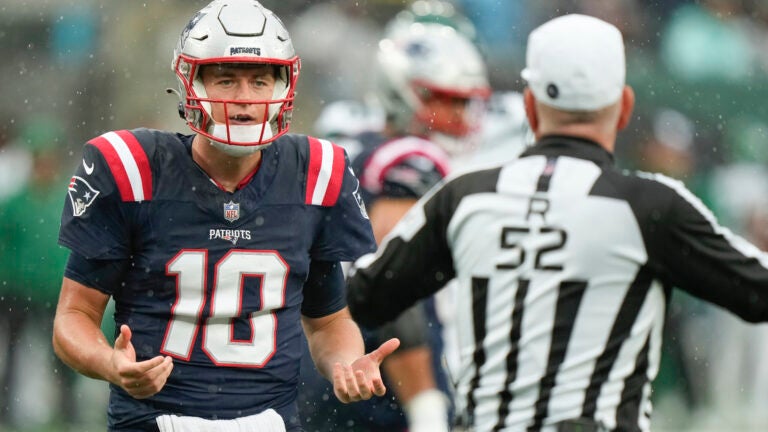 Frustrations felt by both the Patriots and Jets finally seemed to spill out on a slippery MetLife Stadium field during the fourth quarter on Sunday afternoon.
After a failed QB sneak from Mac Jones on a 4th-and-1, a scrap broke out amid the pile of players around the line of scrimmage. Jones seemed to bear the brunt of the punishment, with Jets linebacker C.J. Mosley slamming him into the turf.
It didn't get any better for Jones after emerging from the fracas, with Jets cornerback Sauce Gardner shoving him back to the ground as the signal caller was making his way to the sideline.
No penalties were assessed for the scrap, even though it seemed like the Jets defenders took some liberties against Jones after the play was whistled dead.
Postgame, Gardner said that the reason behind shoving Jones was because the Patriots QB hit him with a low blow.
"That's probably the first time that ever happened to me," Gardner said after New England's 15-10 win. "[Jones] got tackled, and he reached his hand up to try to get me to help him up. And I just moved his hand out of the way. So then he gets up, he just [came[ up to me like, 'Good job.' But while he's saying that, he hit me in my private parts. … I definitely wasn't expecting that."
"First time for everything, I guess. … I gotta ice up. He's trying to stop me from having kids in the future. He tripping."
When asked about Gardner's comments, Jones denied that he hit the second-year defensive back below the belt.
"Um, no, I think just trying to get the first down — 3rd and 1 and then we came back on 4th and 1 and tried to fake it. So definitely a physical play," Jones said of the play. "A lot of guys are in there. That's kind of like the famous quarterback sneak that everybody does.
"And all the guys on both teams are in there, so it can get pretty physical and that's something that I have to learn from is getting my pads a little bit lower so that I can get it and not get held up."
This is far from the first time that Jones has been accused by opposing players of dirty play out on the gridiron.
In November 2021, Panthers defensive end Brian Burns wished "happy hunting" for all defensive linemen against Jones after he claimed the New England QB twisted his ankle on a fumble sequence.
A year later, Jones drew the ire of Bengals cornerback Eli Apple after diving at his feet during a fumble return.
"Everybody has an opinion," Jones said last December when asked about his "dirty player" label. "The biggest thing for me is just: Focus on being the best teammate I can be and earning the respect of the people in this building and the people I care about.
"Obviously I have respect for everyone around the league," Jones added. "It takes a lot to get to this league. I know there's really good players out there and we're all playing hard and trying to win. So at the end of the day you have to keep that in mind. It's a game. You want to just have fun and enjoy it and compete against each other. That's something that I've always done and I know my teammates appreciate that about me."
Sign up for Patriots updates🏈
Get breaking news and analysis delivered to your inbox during football season.