Patriots
The Patriots finally crafted a blueprint to victory — winning in the trenches
"It was just one of those messy games."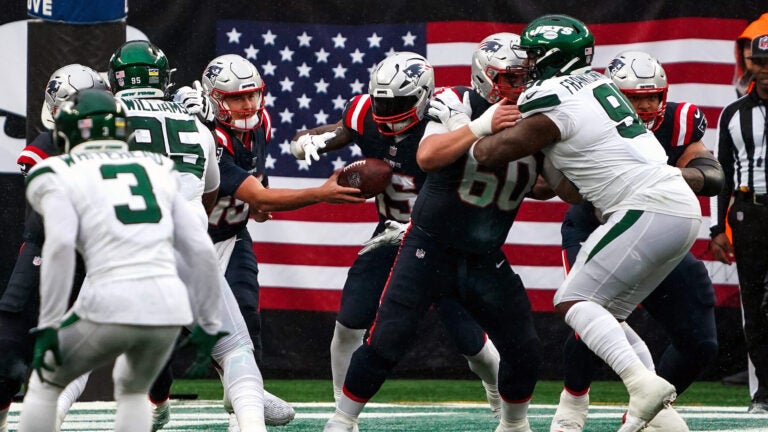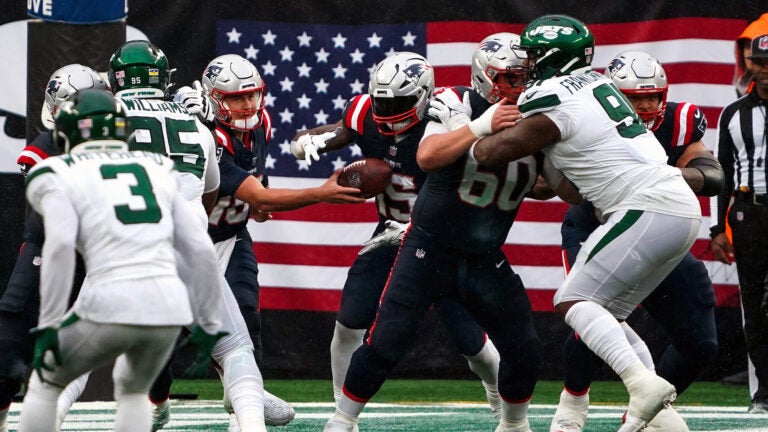 There weren't many surprises to be found in New England's win over the Jets.
Few were startled that Sunday's game devolved into a rock fight on offense, given both the weather conditions and the state of New England and New York's offensive units.
A Jets offense commanded by Zach Wilson was grounded for most of the day, with a largely non-existent passing game allowing New England to stick to a stout base defense.
And on an afternoon where the Patriots controlled the line of scrimmage, New England walked off the gridiron with a victory.
"It was just one of those messy games," David Andrews said after New England's 15-10 victory. "Rain and wind. We did some things well. I thought we handled some of the line movement well, that was a big emphasis this week. We tried to push on that and thought we did a really good job of that."
The Patriots were plagued by various misfirings on offense en route to their first 0-2 start since the 2001 season. Defeats against the Eagles and Dolphins followed a familiar script, with turnovers, poor blocking and an impotent run game hampering Mac Jones and Bill O'Brien's ability to string together consistency on offense.
Sunday was far from an offensive masterclass, not when New England still only scored 15 points and was a Hail-Mary play away from a crushing loss to a woeful Jets offense.
But it was a step in the right direction for a Patriots team whose offensive foundation is built around a punishing run game and steady pass protection.
Even though Jones (15-of-29, 201 yards) and the Patriots didn't air things out against a stingy Jets defense, New England's O-line did what it could to prevent the likes of Quinnen Williams and Co. from dismantling the Patriots' offensive plans.
The Jets did not record a single sack against Jones on Sunday, with only two tackles for a loss.
"A lot of it is just staying on the blocks, finishing blocks, good running. … I think that kind of helped us slow the pass rush down a little bit, keep the quarterback from getting hit," Bill Belichick said postgame. "There were some plays where we gave up pressure. But overall I thought it was a decent day in pass protection."
New England's personnel up front has largely been a carousel of different players through the first two weeks.
Sunday showcased the positive returns found with a bit of continuity with that unit, as a revamped five-man squad of Trent Brown (LT), Cole Strange (LG), David Andrews (C) , Mike Onwenu (RG) and Vederian Lowe (RT) managed to hold their own for most of the afternoon.
"We're starting to have a little continuity here on the offensive line, so I think that definitely helped the running game," Belichick said. "Coach O'Brien did a good job mixing the play-actions in there. … The more we can keep those guys working together and improve our time and execution, the better off we're gonna be."
With New England's O-line winning battles in the trenches, the Patriots' running game finally gained steam in a must-win contest.
Entering Week 3, the Patriots ranked 27th in rushing yards per game (82.0), 22nd in rushing yards per carry (3.5), and 27th in total rushing yards (164). Against the Jets, New England gained 157 yards on 40 attempts.
The domino effect of an effective run game paid dividends. Not only did the gains made by Ezekiel Elliott (80 yards on 16 carries) and Rhamondre Stevenson (59 yards on 19 carries) help New England convert in short-yardage situations, it also helped open up play-action — which led to the team's top play of the afternoon on a 58-yard touchdown from tight end Pharaoh Brown.
"There's a lot we can clean up," Andrews said of supporting the run game. "A lot we can do better. I thought we made some strides in that. Understanding movement, understanding how we have to play, things like that. Hopefully moving to more of a consistent group out there and things like that."
Indeed, it was far from a perfect performance from the Patriots, even beyond the 15-point scoring output. A few costly penalties along the O-line did sap some momentum from a few promising drives in the second half for the Patriots, while Strange had to exit the game due to a knee injury.
Still, Belichick and Co. will take those growing pains over what could have been a catastrophic 0-3 start.
"We've just got to convert and get more points than we got," Belichick said of New England's scoring output. "15's not going to – generally you're going to need more than that. But it was good enough today."
Sign up for Patriots updates🏈
Get breaking news and analysis delivered to your inbox during football season.
Newsletter Signup
Stay up to date on all the latest news from Boston.com