Patriots
Patriots beat the Jets, 15-10: Quick observations from New England's first win of 2023 season
The Patriots have now won 15 straight games against the Jets.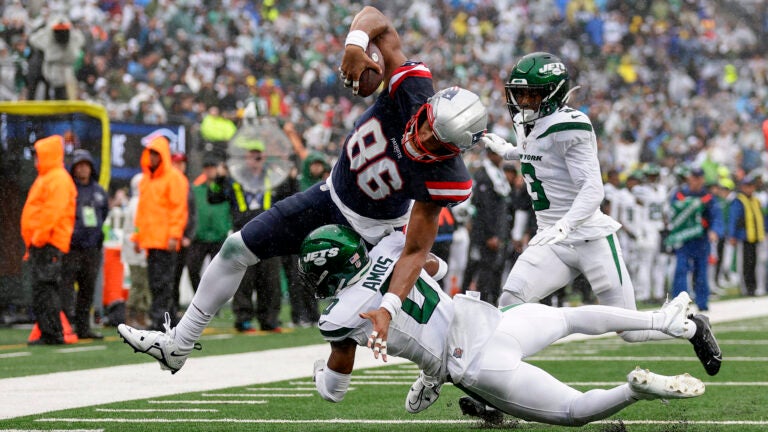 The Patriots are finally in the win column.
It wasn't pretty, but Mac Jones and the Patriots managed to land enough punches on offense to ground the Jets and a woeful offense commanded by Zach Wilson.
The Patriots are now 1-2 this season, while the Jets fall to 1-2.
Here are a few early observations from New England's victory at a rainy MetLife Stadium.
A win is a win.
It wasn't exactly a riveting performance from Mac Jones and the Patriots on Sunday afternoon.
Some of the concerns regarding New England's offense weren't exactly remedied on a slippery field at MetLife Stadium, while the Patriots' defense feasted against an impotent Jets offense that more or less operated without a functioning game.
But regardless of whatever qualifiers you want to toss out there, the Patriots did enough to get in the win column with a 15-10 victory against a deeply flawed Jets roster without Aaron Rodgers at the helm on offense.
Considering how talented the Jets' defense is, the Patriots will take a performance like Sunday, especially with New England's run game (157 rushing yards) finally landing some punches after two stagnant weeks against the Eagles and Dolphins.
New England will probably kick itself for not putting this one away in the second half. New York nearly had a chance to pull off the upset, only for a Hail Mary play to come up just short off the fingers of Randall Cobb.
Even with some ugly stretches, a win is welcomed over a catastrophic 0-3 start.
Some good and bad from New England's offense
Sunday's game was expected to be a rock fight, especially given the state of both New York and New England's offensive personnel entering Week 3.
But Mac Jones and Co. did enough to secure a win. Granted, you didn't need to rack up that many points to separate yourself from a Zach-Wilson-led offense.
A 58-yard touchdown score from tight end Pharaoh Brown served as the sought-after big play for New England on Sunday, with a third-quarter kick from Chad Ryland giving the Patriots the lead for good.
Mac Jones finished Sunday's game 15-of-29 on throws for 201 yards and one touchdown with zero turnovers. It wasn't perfect, especially with Jones underthrowing a ball to rookie Demario Douglas that could have been a touchdown in the third quarter.
New England's offense was also knocked for some self-inflicted miscues in the third quarter, with the Patriots knocked for two false starts, 12 men on the field, and a personal foul in that frame.
But if there are two positives to harp on. New England's run game finally broke through. After averaging just 3.5 yards per carry through the first two weeks, the Patriots reeled off 157 yards on the ground in Sunday's win.
Ezekiel Elliott led the way for New England with 80 yards on the ground.
Some of the gains made in the run game were also a direct result of a bounce-back showing from the Patriots offensive line. With Trent Brown back in at left tackle, Jones was not sacked in Sunday's win.
Zach Wilson is … not good.
How bad was Zach Wilson and the Jets' offense on Sunday afternoon?
I think this about sums it up.
Or maybe this.
On New York's first three drives, the Jets generated 12 yards … on their first 11 plays. At the half, New York had 39 yards, five punts and three first downs off 27 plays.
By the time the dust finally settled on Sunday afternoon, the Jets generated just 171 total net yards, with most coming in the fourth quarter.
Wilson was 18-of-36 on throws with 157 passing yards and a 61.9 QBR in the loss.
Even though New York had more success as the game went on (especially with the Jets relying more on the run game), New England had plenty of success for most of the afternoon by playing base defense and basically daring Wilson to throw.
New England's defense won't be pleased by their play in the fourth quarter, however. Even though Myles Bryant was hit with a questionable pass-interference call that paved the way for a New York's lone touchdown of the game, it's not a good look to let Wilson orchestrate an 87-yard drive.
New York had a chance to either tie or win the game in the closing minutes in the fourth quarter, but Matthew Judon closed things out with a safety against Wilson.
The Pharaoh Brown game?
If you had Brown being the top offensive conduit for New England, you were lying.
But good on New England's blocking tight end for making a major impact in this one, headlined by his 58-yard touchdown score — his first TD since Jan. 3, 2021.
Along with his score, Brown earned some punishing snaps at fullback, while also gaining 13 yards with a run under-center play action that featured a gnarly stiff arm. Brown could be a useful tool on New England's offense.
Injuries continue to plague Patriots.
The Patriots managed to leave East Rutherford with a victory, but an already banged-up New England roster took another hit on Sunday.
New England's defense is already thin at cornerback with Jack Jones (IR), Marcus Jones (IR), and Jonathan Jones (inactive for two straight games) on the mend. But New England's D-line is also now in rough shape, as Daniel Ekuale (elbow) and Davon Godchaux (ankle) were also ruled out midway through Sunday's game.
On offense, Cole Strange was taken out of the game in the third quarter due to a knee injury, with rookie Atonio Mafi replacing him as the game went on. Hunter Henry also appeared to tweak something in the fourth quarter, but returned to the field over the final minutes of the game.
Demario Douglas is out of the doghouse.
After spending most of New England's Week 2 loss on the sideline after a costly fumble, Patriots rookie Demario Douglas seems to have escaped Belichick's doghouse.
The rookie was called on heavily on special teams to field punts with Marcus Jones out, but Douglas also was targeted three times and reeled in one 15-yard catch. He likely would have had his first touchdown had Jones not underthrown that pass in the third quarter — and the lack of pass interference on this play also hampered the rookie's production.
As Douglas continues to factor heavily into New England's offense, it was another rough showing from JuJu Smith-Schuster, who only reeled in one catch for five yards and failed to reel in two third-down conversions in the fourth quarter.
ODDS AND ENDS
New England's best play on offense came off of a play-action sequence. Might be wise to start dialing up a few more of those as the season carries on.
—-
Another week, another game where Brenden Schooler makes an impact play on special teams for New England. Could he be vying for a Pro Bowl nod this season?
LIVE UPDATES
3:59: These back-shoulder fades to JuJu aren't working.
3:52: Judon gets the safety. 15-10 Patriots.
3:49: Here's the game right here.
3:48: Wooof.
3:45: Hunter Henry is banged up.
3:40: This is a 3-point game.
3:39: Brutal for Myles Bryant.
3:37: The Jets offense … is cooking?
3:32: A third-down completion … for Zach Wilson?
3:25: And now some frustration spilling out on the field.
3:23: Jets offense is losing its mind on the sidelines.
3:20: Patriots play the Saints in two weeks.
3:13: Sloppy execution on offense.
3:11: Cole Strange questionable to return with a knee injury.
3:09: Nice pass-breakup from Gonzalez.
3:00: Mafi was in for Strange on that putrid drive for New England.
2:40: Patriots reel off a 10-play, 4:34 drive that leads to another Ryland field goal. 13-3 game.
2:38: DL Daniel Ekuale (elbow) and DL Davon Godchaux (ankle) are out.
2:26: Ryland's attempt from 57 is no good.
Patriots lead, 10-3, at the half.
2:25: Sure looked like pass interference there.
2:24: Doesn't seem like JuJu is in the mix on this 2-minute drill for New England.
2:19: 10-3 game.
2:17: DL Daniel Ekuale (elbow) and DL Davon Godchaux (ankle) are questionable to return.
2:12: Looks like Judon was shaken up on that fourth down play.
2:11: Jets convert on the fourth down. Best drive of the day so far for New York.
2:03: Another impact play from Brendan Schooler on special teams.
1:56: Another look at Brown's TD.
1:50: Pharaoh Brown with a 58-yard touchdown. 10-0 Patriots.
Sure feels like 50-0, given the Jets offense.
That was the first touchdown for Pharaoh Brown since Jan. 3, 2021.
1:50: Pop Douglas sighting.
1:48: Jets fans are literally losing their teeth because of Zach Wilson.
1:44: Jets. 15 plays: -1 net yards.
1:43: Zach Wilson is dreadful.
1:41: Ryland can't convert on the 48-yard kick. Still a 3-0 game. Jets still hanging around.
1:38: Don't understand running up the middle on 2nd-and-16.
1:37: Cole Strange hit with a hold just as Patriots get into the red zone.
1:35: Nice third-down pick from Bourne. 17 yards.
1:34: Nice gain from Stevenson. Little RPO trickery.
1:30: Jets have generated 11 yards on 12 plays.
1:28: Keion White forces a fumble, but Jets recover.
1:25: Good punt from Baringer. Jets start at the 6.
1:23: And heeeere comes the rain. Tough drop from Stevenson.
1:16: Gonzalez shadowing Garett Wilson today.
1:15: Seems like the Patriots are daring Zach Wilson to throw. Sounds like a good strategy.
1:10: Chad Ryland connects. 3-0 Patriots for their first lead of the season.
1:08: Gesicki reels one in for a first down. 18-yards. Matches longest play from scrimmage against Miami.
1:07: This turf is trash. Now Stevenson slips.
1:06: 3-and-out for the Jets.
1:05: Anfernee Jennings with a huge tackle for loss. Good play for him after sitting out the first two games.
1:04: And Garret Wilson slips on the first play.
1:04: Sam Roberts a surprise starter for New England.
1:01: Patriots win the coin toss. They defer. Zach Wilson and the Jets up first.
12:55: As expected from the NY Post.
12:35: Some good news for those hoping for a big game from Pop Douglas.
12:27: Going to be a big game for Myles Bryant.
12:24: No real surprises, especially with Trent Brown back.
12:10: A look at warmups.
12:05: Could be a rough afternoon for special teams and the passing game.
12:01: Poor weather conditions at MetLife.
11:50: At the very least, Douglas figures to factor heavily into special teams today, especially with Marcus Jones out.
11:33: Jonathan Jones is a tough loss, especially given Jack Jones and Marcus Jones both landing on IR. Conor Roche has more on Jonathan Jones' injury and its impact.
Christian Barmore was limited this week with a knee injury, but seems like he's good to go.
11:33: Patriots inactives are up.
11:29: Zach Wilson? 0-4 in his career against the Patriots.
11:26: Seems like a good sign that both Strange and Mike Onwenu are warming up.
11:25: Top name to watch might be Demario Douglas today, especially after getting effectively benched last week. New England needs his explosive playmaking.
11:21: The Jets sure seem ready…
11:20: Greetings ahead of what is looking like a must-win game for the Patriots today. Any predictions?
Sign up for Patriots updates🏈
Get breaking news and analysis delivered to your inbox during football season.