Patriots
The Patriots are not a bad team. We just don't know what they are because the hapless Jets are not a barometer.
The sound you heard when [Zach] Wilson's final heave was batted away, deflecting off receiver Randall Cobb's hand before settling safely on the turf, was all of New England exhaling.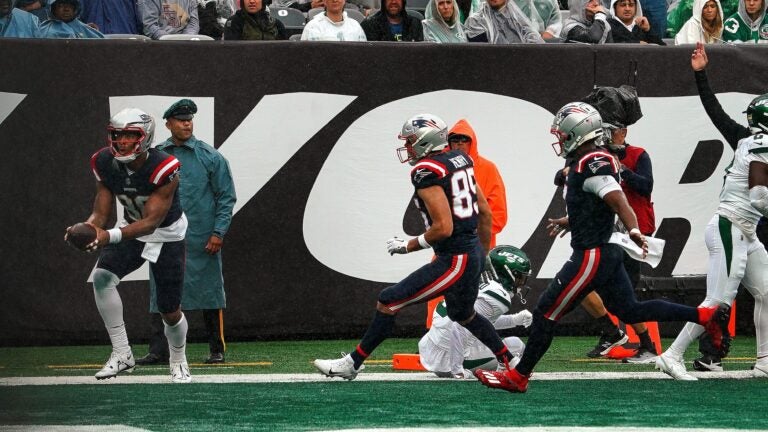 Welcome to the Unconventional Review, an instant reaction to standouts, stats, and story lines from the Patriots' most recent game …
During his postgame media availability after a frustrating 24-17 loss to the Dolphins last Sunday night, Matthew Judon made a point to offer immediate assurance that the Patriots are not a bad team.
This Sunday, he made the crucial play that assured, for this week, that we would not have a reason to think of them as one.
Judon sacked hapless Jets quarterback Zach Wilson in the end zone with 2 minutes and 15 seconds remaining, the safety giving the Patriots a 15-10 lead that, despite a nearly successful Hail Mary attempt on the game's final play, would hold up as the final score. The win was the Patriots' 15th straight against the Jets, and more important, their first of the season.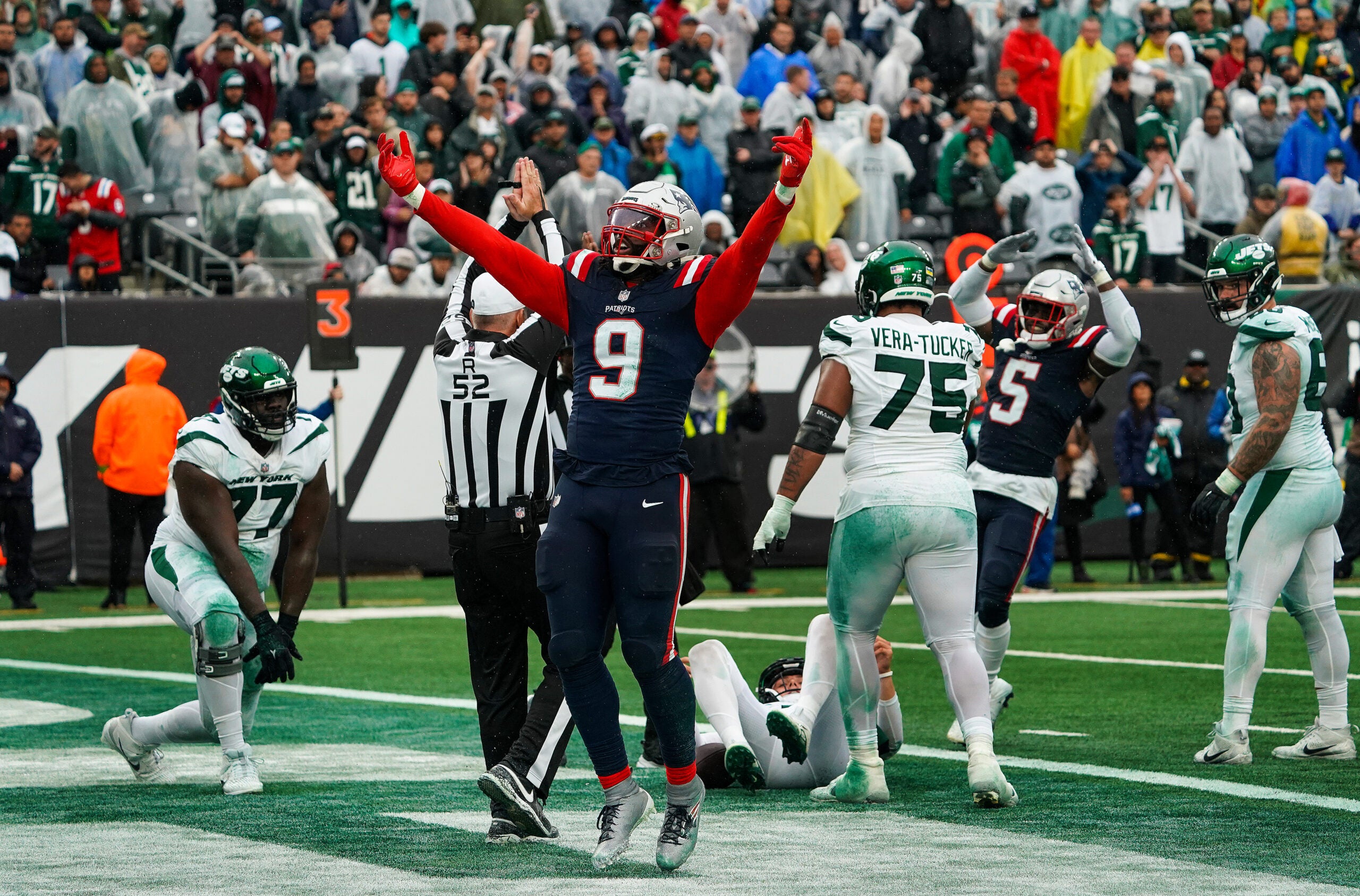 The sound you heard when Wilson's final heave was batted away, deflecting off receiver Randall Cobb's hand before settling safely on the turf, was all of New England exhaling.
The Patriots did what they needed to do to win, and not a whole lot more. And that's fine for now. Style points can come later. They needed a win, desperately, and they got it. The offense couldn't make a play to close the game, and that has to be remedied soon, but it's easy to forget that the Jets are richly talented on defense. They make things difficult.
The Patriots defense, save for one out-of-nowhere 13-play, 87-yard touchdown drive in the fourth quarter, was excellent. The Patriots were aided, predictably, by Wilson, who has a top-notch arm and not a single other attribute of a competent NFL quarterback.
The Jets went just 2 of 14 on third down, gained 38 rushing yards on 22 attempts, and managed just 84 total yards outside of that aforementioned outlier of a drive.
It remains to be seen what kind of team the Patriots will become. They're a flawed one for sure. But Judon was right. They're not a bad one. Three hard-fought games into the season, they're no longer a winless one.
Some further thoughts, upon immediate review …
Three players who were worth watching
Players suggested in the Unconventional Preview: Cole Strange, Garrett Wilson, Demario Douglas
Pharaoh Brown: I'm just going to assume that everyone among us had Brown scoring the first touchdown of the game. Pretty obvious call if you ask me. All right, so maybe no one, least of all miscommunicating Jets defensive backs Sauce Gardner and Jordan Whitehead, saw his perfectly executed 58-yard catch-and-run at 11:38 of the second quarter coming. After all, the veteran tight end's last TD came as a Houston Texan in the final week of the 2020 season, on a 7-yard pass from Deshaun Watson, so it has been awhile. Brown's TD put the Patriots up, 10-0, and rates as their longest pass play of the season.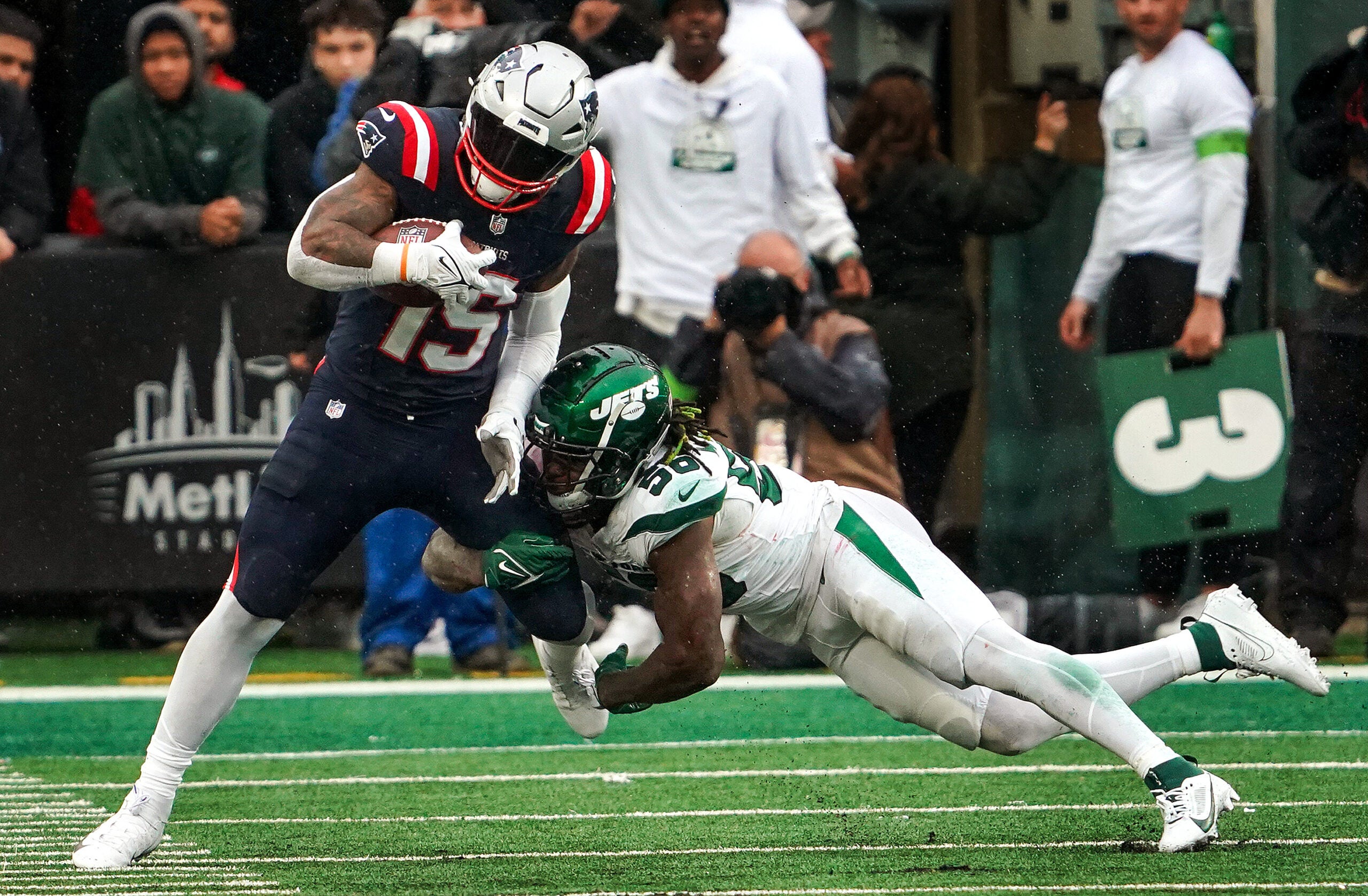 Ezekiel Elliott: This is not intended to express concern about Rhamondre Stevenson (19 carries, 59 yards, with a long of 10). With good health, he'll be the Patriots' best offensive player come season's end. But the veteran Elliott felt like the more trustworthy option, didn't he? He finished with a season-high 80 yards on 16 carries, with a long of 14. On the first possession of the fourth quarter, he ran five straight times for 13, 4, 6, 3, and 6 yards before the drive stalled when Jones couldn't sneak for the first down. He had some spring in his step, and it's going to be fascinating to see how he fares against his old Dallas teammates next week.
Christian Gonzalez: The rookie first-round pick, often matched up with Garrett Wilson (5 catches, 48 yards, presumably longing for those hopeful days of training camp catching Aaron Rodgers's passes), had one of those high-end cornerback kind of games where you know he's doing his job extremely well because you barely hear his name all day. I wrote before the season it would be unfair to expect him to have a rookie season similar to Gardner's last year. I would like to retract those words. It's not that he's going to be a special player. It's that he might already be there.
Grievance of the game
The Patriots did a decent job of reducing the mistakes — leaky offensive line play, costly penalties, and turnovers — that plagued them in the losses to the Eagles and Dolphins. The Patriots didn't turn over the ball in lousy weather conditions, and Jones was not sacked. That's progress. But they did have one aggravatingly sloppy possession midway through the third quarter, when in a span of five plays, they committed three penalties — a JuJu Smith-Schuster illegal block in the back, negating a Mike Gesicki catch, and back-to-back false starts by Trent Brown and Michael Onwenu. The Patriots committed six penalties overall, one more than they had last week against the Dolphins. Have to clean that up, particularly on the offensive side, where they succeed only when they're precise.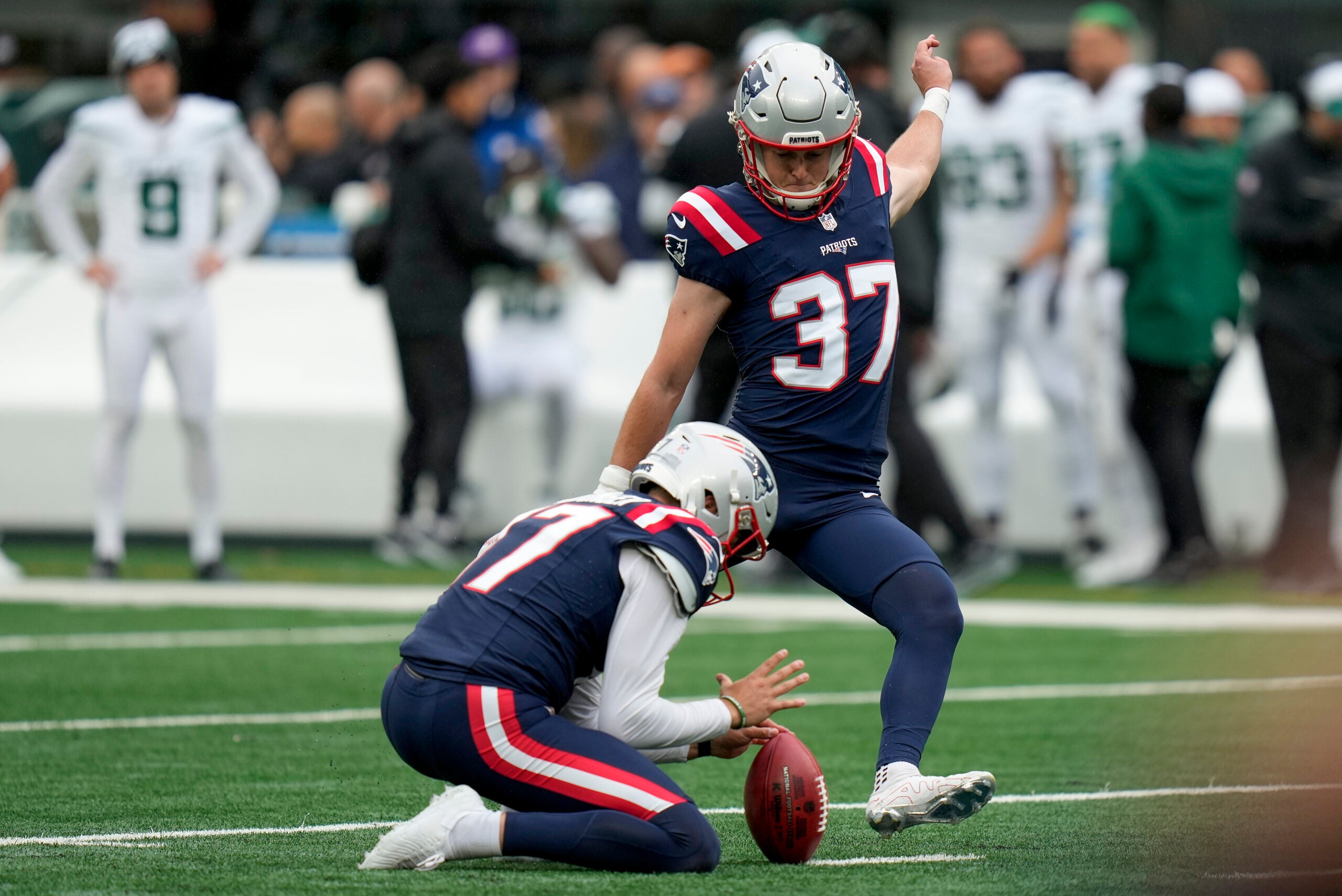 Three notes scribbled in the margins
Predicted score: Patriots 20, Jets 10
Final score: Patriots 15, Jets 10
Have to be feeling pretty good about Bill Belichick's decisions to spend a fourth-round pick on kicker Chad Ryland and then keep him over the steady but distance-limited Nick Folk. Ryland went 2 for 4, scoring the game's first points (and giving the Patriots their first lead of the season) with a 48-yard field goal to cap the first possession. He later drilled a 51-yarder in the third quarter for a 13-3 lead. The two misses — a wide-right 48-yarder early in the second and a hooked 57-yarder after a bad snap on the final play of the first half — were tolerable given the circumstances. The coach does seem to trust him now … Belichick talks about the Jets' Thomas Morstead like he's the Ed Reed of punters. After his 75-yard free kick traveled from the Jets' 20 to the Patriots' 5 following Judon's safety, we can see why … We've got an easy choice for favorite play of the game here, at least among those that don't involve deep threat Pharaoh Brown: On second and 6 with 8:22 left in the first half, Patriots safety Jabrill Peppers trucked a would-be blocker and buried Dalvin Cook, who gained 3 yards but would have had many more if not for Peppers's effort. That was Rodney Harrison-level stuff right there.
Sign up for Patriots updates🏈
Get breaking news and analysis delivered to your inbox during football season.