Patriots
Mac Jones says 'nothing was intentional' with hitting Sauce Gardner during Patriots-Jets game
"It's football, so just trying to get up and go back to the huddle, like I just said. Nothing there."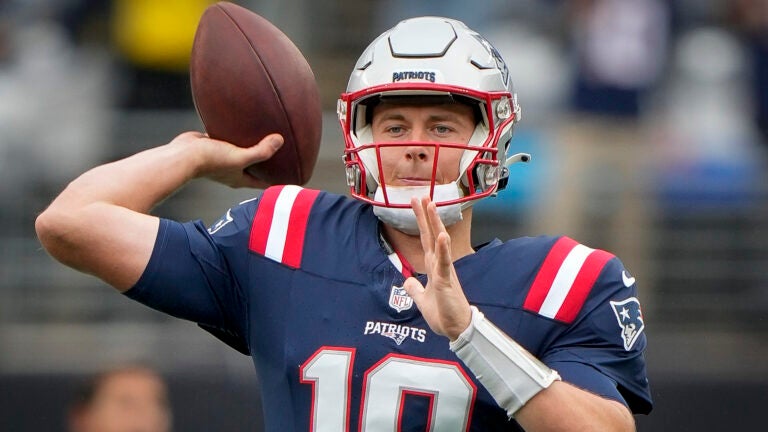 Mac Jones and the Patriots left East Rutherford with a win on Sunday afternoon.
But the New England quarterback is facing some controversy after Jets cornerback Sauce Gardner accused Jones of striking him below the belt after a scrum at the line of scrimmage.
"That's probably the first time that ever happened to me," Gardner said after New England's 15-10 win. "[Jones] got tackled, and he reached his hand up to try to get me to help him up. And I just moved his hand out of the way. So then he gets up, he just [came[ up to me like, 'Good job.' But while he's saying that, he hit me in my private parts. … I definitely wasn't expecting that."
Mike Florio of Pro Football Talk reports that the NFL is investigating the incident, with The Athletic's Dianna Russini posting a video of the incident — courtesy of a league source — that offers a closer view of the altercation between Jones and Gardner during the fourth quarter.
During his weekly appearance on WEEI's "Jones & Mego Show", Jones said that he never intentionally hit Gardner during the fracas.
"Sauce is one of the best corners in the NFL. I have a lot of respect for him. On that play, nothing was intentional," Jones said. "I just got up and went back to the huddle and that's it."
When asked if he inadvertently hit Gardner while trying to get back up from the field, Jones didn't offer much.
"It's football, so just trying to get up and go back to the huddle, like I just said," he added. "Nothing there."
Jones is no stranger to being accused of dirty play over his three seasons in the NFL.
"Top 5 Dirtiest QB all time. Conrad Throwbler," former Patriot Chris Long tweeted on Monday in response to Sauce Gardner's grainy video of the sequence.
In November 2021, Panthers defensive end Brian Burns wished "happy hunting" for all defensive linemen against Jones after he claimed the New England QB twisted his ankle on a fumble sequence.
A year later, Jones drew the ire of Bengals cornerback Eli Apple after diving at his feet during a fumble return. Jones was fined twice for a total of $23,976 for two separate incidents during that Week 16 game against Cincinnati.
"He tripped me," Apple said postgame. "I thought it was a dirty play. He's done that before. I've seen it."
Once again, Jones was asked on WEEI about whether or not he has cultivated a reputation across NFL circles as a dirty player.
"I can't control that stuff. I try to be really competitive and go out there, be a really good teammate, compete and come to work every day… I definitely care about football a lot and this game means a lot to me and means a lot to the other guys I play with," Jones said. "I hope that they can see that."
As for whether or not he has heard from the NFL in terms of an official investigation, Jones remained mum.
"This week, for me, is about improving," Jones said. "I'm just focused on just really watching the tape of the game we just played and try to clean up some of those throws."
Sign up for Patriots updates🏈
Get breaking news and analysis delivered to your inbox during football season.
Newsletter Signup
Stay up to date on all the latest news from Boston.com