Patriots
Former Patriot Chandler Jones says he was hospitalized against his will, 'injected' with unknown substance
"I'm still confused on what I did wrong. I'm stuck here."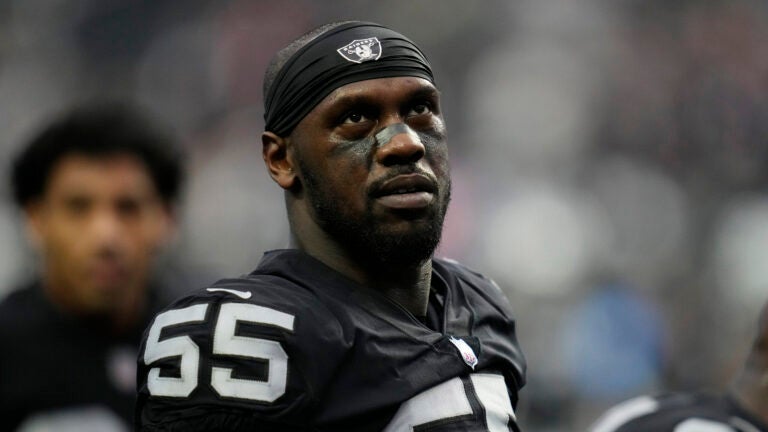 Former Patriot and current Las Vegas Raiders pass rusher Chandler Jones said in a social media post on Monday night that he was taken to Southern Hills Hospital "against my will" by the Las Vegas Fire Department before being placed in Seven Hills Behavioral Health Hospital in Henderson, Nevada.
Jones posted a series of messages on the social media platform X (formerly Twitter) regarding his alleged stay at Seven Hills, which included several journal entries, along with a statement of "patient rights" from Seven Hills that were highlighted in areas that Jones believes the behavioral health facility did not follow.
"I'm still confused on what I did wrong. I'm stuck here," Jones noted, although his social media post seemed to indicate that he was out of the facility on Monday.
According to Jones's journal entries, the 33-year-old defensive lineman alleges that "5 to 7" Las Vegas Fire Department officials arrived at his home, telling him that he had been put on a "court hold" by the Las Vegas Police Department.
"I haven't done anything wrong," Jones wrote. "The police said people were concerned about me because of my posts online. I answered my front door and a group of 5 to 7 [LVFD] were there to put me in an ambulance where I was later injected and I asked them not to. I had no cell phone or no communication.
"I was taken to Southern Hills Hospital and then transferred to Seven Hills, where they tried to force me to take meds and injections."
Jones, who added that he was not sure what he was injected with on the way to the hospital, said that he later tried to call Raiders general manager, Dave Ziegler, for help, but received no answer.
Jones has not played this season with the Raiders, and was placed on the non-football illness list last week last week by the team due to what the organization described as a personal matter.
Jones alleged on social media earlier this month that the Raiders sent a member of the city of Las Vegas' crisis response team to his house after he criticized team officials such as owner Mark Davis, Ziegler, and coach Josh McDaniels.
Sign up for Patriots updates🏈
Get breaking news and analysis delivered to your inbox during football season.