Patriots
Patriots legend Ty Law has harsh response to ex-Steelers' accusations of cheating
"You're getting the ball. Don't be mad at us because your O-line can't block."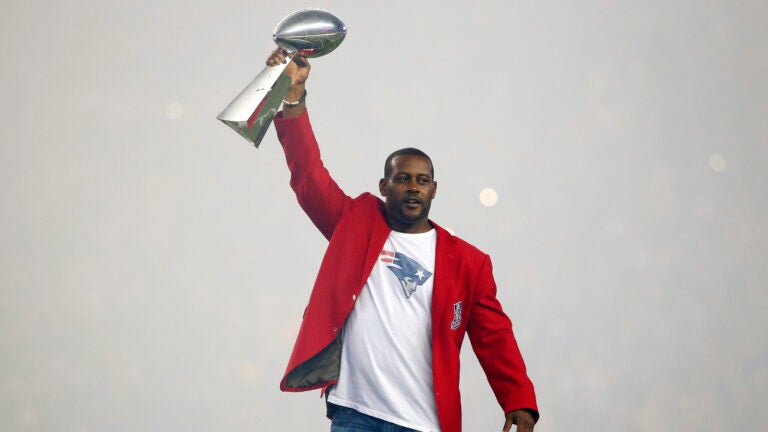 Add Ty Law to the long list of former Patriots who are less than pleased with accusations by Ben Roethlisberger and Jerome Bettis that New England stole the Steelers' signals during the AFC Championship Game in January 2005.
During an appearance on the "Footbahlin with Ben Roethlisberger" podcast, Bettis claimed that the Patriots were aware what play the Steelers were going to run on a critical 4th-and-1 in the first quarter — ultimately calling a timeout after spotting a particular signal on Pittsburgh's sideline.
"Who normally goes to the sideline on timeouts? The defensive captains, right? They told the nose guard, [Ted] Washington, they pulled him to the sideline," Bettis said. "Big 400-pound guy, he don't want to go to the sideline and come all the way back," Betts said. "What he want to go to the sideline for? … They stopped us on fourth down. That's a critical play in the game."
"They had our signs and they called a timeout to get them ready for that play because they knew it was coming. No question in my mind. I remember vividly because I thought, 'Why is this big dude going to the sideline?'"
New England ultimately snuffed out Bettis' run up the middle on the fourth-down play to force a turnover — with Tom Brady subsequently hitting Deion Branch for a 60-yard touchdown on the very next play. The Patriots went on to beat the Steelers, 41-27, en route to another Super Bowl title.
Since Bettis' claims, various Patriots and media members have poked holes in the Hall-of-Fame running back's conspiracy, noting that New England did not even call a timeout before the fourth-down play.
Speaking on WEEI on Thursday, Law was a bit more upfront with Bettis' comments.
"I'm gonna call my boy Jerome out on this one," Law said during his weekly appearance on "The Greg Hill Show". "Jerome Bettis, you are full of s—. Absolutely full of s—. First of all, it's fourth-and-one. What is your nickname? The Bus. We know you're getting the ball! Fourth-and-one, big ass running back in the back. You're getting the ball. Don't be mad at us because your O-line can't block."
On Tuesday, former Patriots nose tackle Vince Wilfork noted that Bettis' claim falls flat, considering that Ted Washington wasn't even on the 2004 Patriots roster.
Fellow ex-Patriot Matt Chatham opted to go more in-depth with his retort against Bettis, breaking down the play in question and showing that New England's nose tackle didn't make a lateral move to anticipate Bettis' run up the middle in search of a first down.
Even former Patriots cornerback Asante Samuel, who has made a habit out of criticizing Bill Belichick at any available opportunity, has called out Bettis and Roethlisberger for their claims this week.
Sign up for Patriots updates🏈
Get breaking news and analysis delivered to your inbox during football season.
Newsletter Signup
Stay up to date on all the latest news from Boston.com