Patriots
'Our goals are different and bigger than that': How Bill Belichick, Patriots reacted to Christian Gonzalez winning Rookie of the Month
"It's great for him. It's not really what we're in it for, though."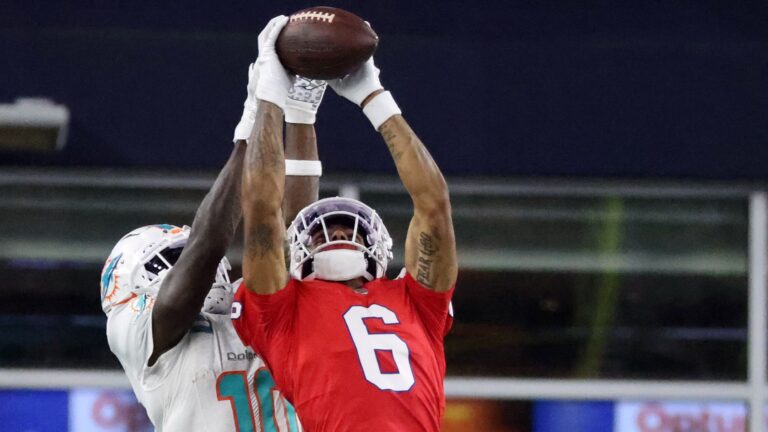 The Patriots might have a losing record through the first three games, but one of their rookies has already earned a high honor.
Christian Gonzalez was named the NFL's Defensive Rookie of the Month for his play in September on Thursday. Speaking to reporters for the first time since Gonzalez earned the honor, Bill Belichick was happy for the cornerback. However, he also emphasized the importance of team success first, sharing his thoughts on the matter in typical form.
"It's great for him. It's not really what we're in it for, though," Belichick said Friday. "So, just trying to win games, get better. Of course, getting a recognition like that is probably a good sign that things are going fairly well, but there's still a lot to work on. Every week's a new challenge.
"Congratulations, but really our goals are different and bigger than that."
Belichick has obviously made it a point over the years to state the importance of team success above all else, typically keeping focus on the challenge ahead. But he's also given his players shout-outs and compliments when he's felt due, as well.
In fact, earlier in the week, Belichick compared Gonzalez to a former Patriots star who had a lot of success during his time in New England as he praised him.
"Well, one of the best things about Christian, especially at that position, is he's very even-keeled," Belichick said in an interview on WEEI's "The Greg Hill Show" on Monday. "He's not overly emotional one way or another. He's got a good, calm demeanor. A lot like [Stephon] Gilmore did."
As Belichick compared Gonzalez to a Defensive Player of the Year winner, Matthew Judon compared him to one of the game's top corners over the last decade.
"He's trash," Judon jokingly told reporters at first on Thursday. "Nah, just the skill and the poise that he plays with at cornerback for a young player is kind of unseen. You see it in the greats. You kind of seen it when Jalen Ramsey came out and he just, whoever he was in front of, he just stayed in front of and he covered any match.
"He has a lot of potential and a lot of skill. We're just trying to tap into all his talents and everything he can do. I think he can be a matchup guy in this league. He can travel and follow whoever he wants to. But he got a long way. He got a long way and it's just one of the many accolades, personal accolades, that he's gonna get for himself."
Meanwhile, Patriots defensive end Deatrich Wise Jr. praised the rookie's poise and character behind the scenes, crediting that for helping him earn the honor.
"Very deserving," Wise said. "He's always been a 'Do Your Job' type of player. Since the first day, we've seen how good he was. I've said it before. He's one of those silent assassins. But you can tell his play is a lot louder than how he is.
"I'm very happy for him and looking forward to seeing what he does this week."
The Patriots will likely need Gonzalez to continue his strong start in Week 4 when they take on the Cowboys. He'll likely go up against CeeDee Lamb, often viewed as one of the game's top receivers, who had 149 receiving yards in his last matchup against the Patriots.
Gonzalez has 16 combined tackles, a sack, and an interception so far this season. Opposing quarterbacks have completed 15 of 22 passes for just 148 yards when targeting Gonzalez this season, as the rookie covered the likes of DeVonta Smith, A.J. Brown, Tyreek Hill, and Garrett Wilson.
Sign up for Patriots updates🏈
Get breaking news and analysis delivered to your inbox during football season.