Patriots
'That's not the type of business that's being done there': Eric Mangini says Mac Jones needs to put his ego aside in New England
Mangini has publicly spoken about Jones's attitude multiple times this year.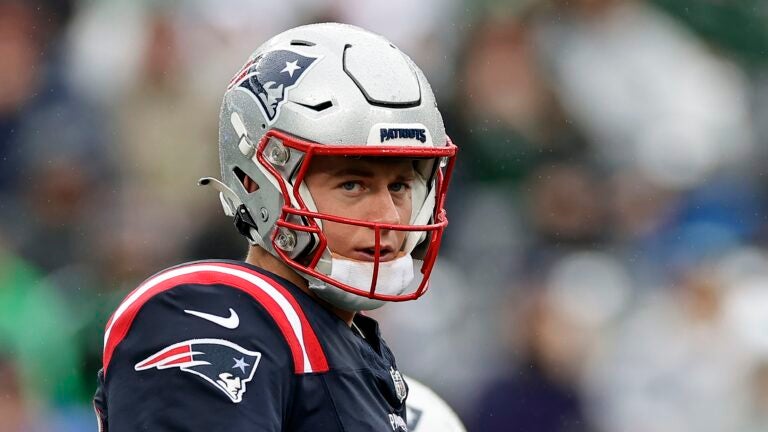 Patriots quarterback Mac Jones is a topic of conversation following his incident with New York Jets' cornerback Sauce Gardner Sept. 24.
Former players and fans alike are labeling the 24-year-old as a dirty player. Devin McCourty also contributed to the discussion and said Jones "has to stop" the behaviors that come across as dirty.
Former Patriots' defensive coordinator Eric Mangini gave his thoughts on New England's quarterback, citing past situations and Jones's "cheap shots".
"In New England, we were always trying to get an advantage and we were going to push and get advantages," Mangini said on The Herd with Colin Cowherd. "But it wasn't going to be about hitting people in inappropriate places or cutting people or taking cheap shots. That's not the type of business that's being done there."
Jones's below-the-belt hit on Gardner wasn't the first occurrence to spark people to categorize him as dirty. He kicked Chicago Bears' safety Jaquan Brisker in the "private parts" on Oct. 24, 2022 while sliding into the player. Brisker said it was intentional.
Jones also grabbed Carolina Panthers' defensive end Brian Burns's leg in Week 9 in 2021 after Burns strip-sacked the then-rookie. Jones took him down by doing so and Burns ended up suffering an ankle injury.
"You get in line with the way they do things in New England, and then whatever ego you have, that gets put aside," Mangini said Friday. "The greatest player of all time put aside his ego year after year after year. And you think you're going to come in here with your little resume, and your very little success, and do that in this building?"
Mangini has called Jones out for "arrogance" in the past. The former coach told Trey Wingo of The 33rd Team in June 2023 that the quarterback had "a little arrogance to the way that he approached things." Mangini cited Jones reportedly seeking advice outside of the Patriots' organization last season when the player was struggling under a new offense. He brought that case up again three weeks into the 2023-24 season.
"And then, when he has the situation he had last year, to go outside of the building, which is not done ever, to break that rule, it's hard to overcome," Mangini said.
Jones reportedly sought external help amidst the team's 2022 offensive struggles. New England head coach Bill Belichick got word of his quarterback's inquiries for assistance and was unhappy with him, according to NFL analyst Chris Simms in Jan. 2023.
Mangini implied Jones's ego comes from his accomplishments as Alabama's quarterback. The quarterback saw success as the school's starting quarterback at the end of the 2019 season and in 2020.
"You have a certain level of success, but when you take a step back, you think it's all you," Mangini said. "You don't realize how lucky you were to be drafted there, and how well it fit your skill set, and who you were taking over for, and that nobody cares about what you did at Alabama. Nobody cares about your other success."
Sign up for Patriots updates🏈
Get breaking news and analysis delivered to your inbox during football season.