Patriots
Against Micah Parsons and the Cowboys, is this finally the week Mac Jones delivers a signature win for the Patriots?
Jones and the Patriots need to beat a team that is widely expected to beat them. They get another chance Sunday. It's about time they seized it.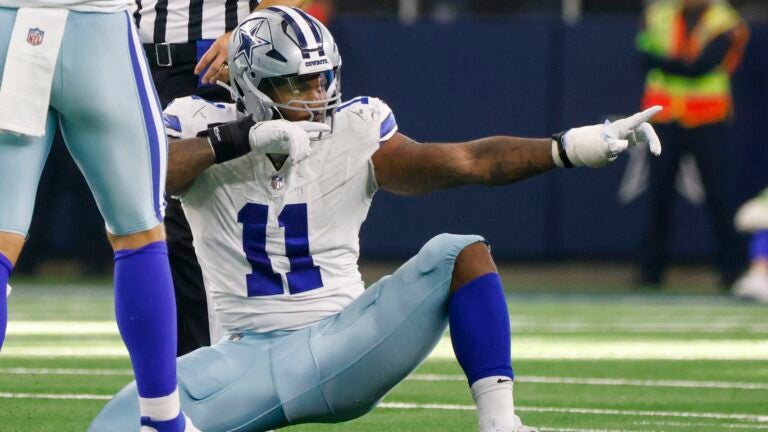 Welcome to Season 12, Episode 4 of the Unconventional Preview, a serious yet lighthearted, nostalgia-tinted look at the Patriots' weekly matchup . . .
One of the rare valid points in the never-ending discourse regarding whether Mac Jones is the answer at quarterback for the Patriots is that, three games into his third season, he is yet to be even a main reason they won a game over a high-quality opponent.
The biggest win of his tenure came when he threw three passes, completing two for 19 yards, in their 14-10 win over the Bills in Week 13 of the 2021 season. That game was played in weather that replicated a wind tunnel, but the victory — their seventh straight, improving their record to 9-4 — constitutes the high point of this still-developing post-Tom Brady period of Patriots history.
There have been other opportunities for definitive victories, but the Patriots' hopes have tended to fall just incomplete. They could have beaten the Eagles in Week 1 this year, but lost by 5. They could have beaten Brady and the Buccaneers in Week 4 in 2021, but lost by 2.
And perhaps most memorably, they could have beaten this week's opponent, the Dallas Cowboys, in Week 6 of that '21 season. They even took a lead with 2 minutes 11 seconds remaining on Kendrick Bourne's 75-yard catch and run. But Dallas, which got 445 passing yards and three touchdown passes from Dak Prescott, tied it with 20 seconds left, then won in overtime, by 6.
The conversation has changed since that night, when our review of the game noted that Jones's "resilience is remarkable for a young quarterback." The Patriots are 10-15 since that wind-tunnel win over the Bills, and the kind of quality wins that seemed so possible after that OT loss to the Cowboys just have not come.
It's not all Jones's fault. Most of it is not his fault. But for assorted reasons — an inept de facto offensive coordinator last year, limited skill-position talent surrounding him this year — he has not been able to deliver anything resembling a signature win.
Another chance comes Sunday against the Cowboys, this time in Texas. The Cowboys are 2-1 after suffering an embarrassing 28-16 loss to Josh Dobbs and the Cardinals last week. That stemmed some of the talk of the Cowboys being a Super Bowl contender, but Prescott leads an offense that is tied for fifth in the NFL in points (28.7 per game), while Dallas's aggressive, quarterback-hunting defense is ranked third (12.7 points allowed per game).
Much of the complaining about the Patriots three games and one win into the season has been overwrought and devoid of patience and perspective. But this is the truth: Jones and the Patriots need to beat a team that is widely expected to beat them. They get another chance Sunday. It's about time they seized it.
Kick it off, Ryland, and let's get this one started . . .
Three players to watch other than the quarterbacks
Micah Parsons: The Cowboys' havoc-wreaking pass rusher — who has four sacks, eight quarterback hits, and an astounding 20 pressures already this season — is not the second coming of Lawrence Taylor, for one reason.
There is no second coming of LT.
The Giants legend is a singular force, the most disruptive defensive player in the history of the NFL. Or, as a particular former Giants defensive coordinator put it this past week between offering plaudits for Parsons, "I would just say, I wouldn't put anybody ahead of Lawrence Taylor, period," said Bill Belichick. "Now, maybe I'm prejudiced, but I mean, I saw that guy every day for over a decade [while with the Giants], and he tilted the field for a decade."
Parsons's combination of speed and strength actually reminds me of another Hall of Fame pass rusher: the Patriots' own Andre Tippett.
Tippett was the closest thing the AFC had to Taylor during their mutual heyday in the mid-1980s. Tippett used to overwhelm blockers — I can still envision him rolling in like a storm cloud, flattening his blocker to the turf, and engulfing helpless quarterbacks — and Parsons has the same awesome style.
Parsons is 6 feet 3 inches and 245 pounds, the same height and 5 pounds heavier than what Tippett was listed at in his playing days. Parsons has 30½ sacks through his first 36 regular-season games. Tippett started slower, failing to record a sack as a rookie in nine games during the strike-shortened 1982 season, before notching 27 in 31 games over the 1983 and '84 seasons.
Tippett recorded exactly 100 sacks in 11 seasons. Parsons, with good health, has a fine head start toward reaching the triple-digit club.
Even with the Patriots appearing to finally have some continuity with their offensive line — left tackle Trent Brown was outstanding last week against the Jets — Parsons is almost certain to add to his count Sunday.
By the way, we'll always wonder how close Parsons came to being a Patriot in the 2021 draft. I dug up two mock drafts this past week — Todd McShay's 3.0 version for ESPN and Vinnie Iyer's with The Sporting News — that had him landing in New England at No. 15 overall. Cowboys owner Jerry Jones and his yes-men . . . er, brain trust, played that first round brilliantly, trading down from No. 10 to 12 (the Eagles moved up to take receiver DeVonta Smith, giving Dallas a third-round pick along with the first-round switcheroo) and getting Parsons three picks before the Patriots took Mac Jones.
Christian Gonzalez: How about this for a start to an NFL career? The 21-year-old cornerback was named NFL Rookie of the Month on Thursday after more than holding his own in matchups with top-notch receivers such as Tyreek Hill, A.J. Brown, and Garrett Wilson through the first three weeks of his career. Gonzalez has 16 tackles, a sack (in the fourth quarter against the Eagles), an interception (a leaping grab while covering the Dolphins' Hill in Week 2), and three passes defensed, while missing just one snap all season.
Hopes were high for Gonzalez when the Patriots selected him with the No. 17 overall pick. He hasn't just met them but exceeded them, emerging as a bona fide No. 1 cornerback at a time when the Patriots have been dealing with attrition at the position.
Gonzalez's instant impact has been the most enjoyable aspect of the season. But difficult challenges rarely skip a week for NFL cornerbacks. This week, Gonzalez will have to contend with CeeDee Lamb, who tormented the Patriots in the meeting two years ago, catching nine passes for 149 yards and two touchdowns, including the winning 35-yarder in overtime during which he ditched Jalen Mills in a different zip code.
Lamb is off to his usual productive start with 19 catches for 273 yards, though he is yet to score a touchdown. Dallas's other receivers — including one-year Patriot Brandin Cooks and Michael Gallup — have a combined 12 catches for 144 yards, so Lamb will draw the brunt of the attention.
Stephon Gilmore: During his appearance on WEEI's "The Greg Hill Show" this past week, Belichick mentioned that Gonzalez has a similar demeanor to Gilmore, who spent four excellent seasons with the Patriots, including being named the 2019 AP Defensive Player of the Year. "He's not overly emotional one way or another, and he's got a good, calm demeanor — a lot like Gilmore did," said Belichick.
That's a high compliment. Gilmore was both low-key and supremely confident, valuable personality traits for a cornerback. He was perpetually unfazed, and though he's 33 now and modestly diminished from him prime, he's still an intelligent, perceptive player of whom Mac Jones must be constantly wary.
Gilmore was ideally suited as a high-end No. 2 cornerback alongside ballhawk Trevon Diggs, but he has had to elevate to the No. 1 spot with Diggs's season-ending ACL injury. The Cowboys have allowed just 130.7 passing yards per game (second-best in the NFL), but the full fallout from Diggs's injury remains to be seen.
Grievance of the week
The discourse around one particular topic this past week did get somewhat annoying, if only because the answer is so obvious. Is Mac Jones a dirty player? Of course he is! He's as dirty as a Duke shooting guard. He has so many weasel-move transgressions against him now — starting with twisting the ankle of Panthers pass rusher Brian Burns during his rookie season up through his odd way of saying "greetings!" to the Jets' Sauce Gardner last Sunday — that it's fair to wonder whether he entered Slap, Gouge, and Trip competitions as a child rather than Punt, Pass, and Kick. Dirty? Mac? Let's put it this way: Are we sure he isn't related to Bill Laimbeer? (Also: Who cares? The defensive players he agitates get plenty of chances at payback.)
The flashback
Years before he made a habit out of calmly making clutch field goal (45-yard game-tying kick in the Snow Bowl) after clutch field goal (winning 48-yarder in Super Bowl XXXVI) after clutch field goal (winning 41-yarder in Super Bowl XXXVIII) in impossibly pressurized situations, Adam Vinatieri first won over Patriots fans not with his leg but his footspeed. During the Patriots' 12-6 loss to the defending champion Cowboys in Week 16 of the 1996 season, the rookie Vinatieri saved a touchdown by running down former Olympic sprinter Herschel Walker from behind on a kick return. It's one of my favorite pre-dynasty Patriots clips to watch on YouTube, because you have to see it to believe it, and after you see it, you just want to watch it again. It's crazy that Vinatieri was in the NFL has recently as 2019. No idea what became of Walker.
Prediction, or it's still strange that Drew Bledsoe played for Dallas
I think this is the week. I do. The formula looks like this. Matthew Judon and the Patriots' versatile defense take advantage of the Cowboys' depleted line — which could be without left tackle Tyron Smith, center Tyler Biadasz, and right guard Zach Martin — and shut down Tony Pollard while forcing Prescott into uncharacteristic mistakes. Gonzalez defends Lamb to at least a draw. Rhamondre Stevenson, averaging just 2.9 yards per carry, finds that absent burst against a Cowboys run defense that gave up 222 yards to the Cardinals, and Ezekiel Elliott (80 helpful rushing yards against the Jets) burrows his way to the end zone against his former team. With the ability to run the ball, the Patriots won't require Jones to make too many plays in the passing game while simultaneously dodging Parsons and the Dallas rush. But Jones will make the plays he has to make. Finally, the Patriots will get the kind of feel-good win that used to be so routine. Patriots 26, Cowboys 24.
Sign up for Patriots updates🏈
Get breaking news and analysis delivered to your inbox during football season.