Patriots
Mac Jones reportedly won't be fined for alleged incident with Sauce Gardner
The NFL didn't have enough "sufficient video evidence" to discipline Jones, according to a report.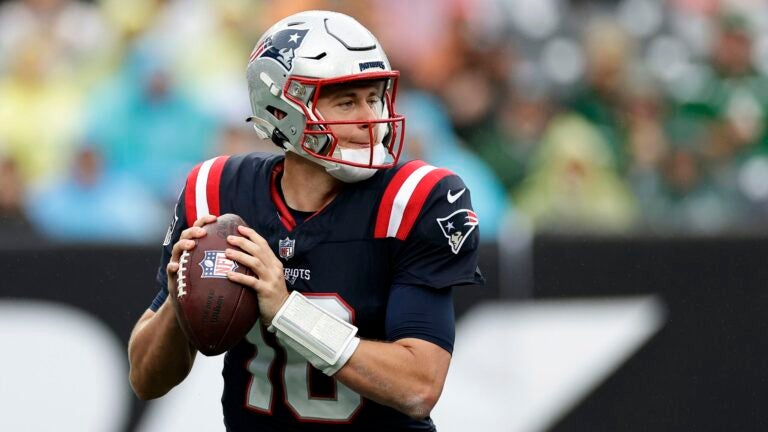 The alleged cup-checking saga involving Mac Jones and Sauce Gardner will end without any discipline.
Jones won't be fined for what Gardner claimed the Patriots quarterback did to him in New England's 15-10 win in Week 3, the NFL Network's Tom Pelissero reported Saturday. Following Sunday's game, the Jets cornerback said Jones hit him in "private parts" during a shoving match between both teams in the fourth quarter.
Gardner tossed Jones to the ground after he thought the quarterback hit him down low. A day later, Gardner took to social media to try and back up his claim, posting a video of the skirmish.
"Posting this so I don't get fined lol," Gardner wrote in the video accompanying the post.
While Gardner believed he had video evidence of Jones hitting him below the belt, the NFL didn't deem it as enough "sufficient video evidence" to back up his claim, according to Pelissero.
It was reported earlier in the week that Jones wouldn't be suspended for his alleged move, but a fine was still on the table.
Even though the NFL has now determined that there wasn't enough evidence for Jones to be fined, there was much debate on whether Jones did hit Gardner in the "private parts" during the week.
Jones denied any intent to hit Gardner.
"Sauce is one of the best corners in the NFL. I have a lot of respect for him. On that play, nothing was intentional," Jones said in an interview with WEEI's "Jones & Mego" on Monday. "I just got up and went back to the huddle, and that's it."
Jones put an end to answering any further questions about the situation on Wednesday.
"Like I just said earlier, just really focused on the Cowboys as you can see," Jones told reporters when asked about the incident. "Just trying to prepare for a good defense and that's my focus. Trying to control the controllables. Looking forward to building this week, we have practice today, got practice tomorrow and Friday. So, prime-time game in a great stadium with a great football culture, so that's what I'm kind of looking forward to."
While Jones tried to move on, one of the biggest NFL discussions during the week surrounded whether the Patriots quarterback was a dirty player or not. Three other players (Brian Burns, Jaquan Brisker, Eli Apple) have alleged Jones of committing an unnecessary move on them in the past. But only one of those resulted in a fine.
Sign up for Patriots updates🏈
Get breaking news and analysis delivered to your inbox during football season.