Patriots
Bill Belichick gave his thoughts on benching Mac Jones, what he plans at quarterback for Week 5
"I didn't think there was any point in leaving him in the game," Belichick said of benching Jones.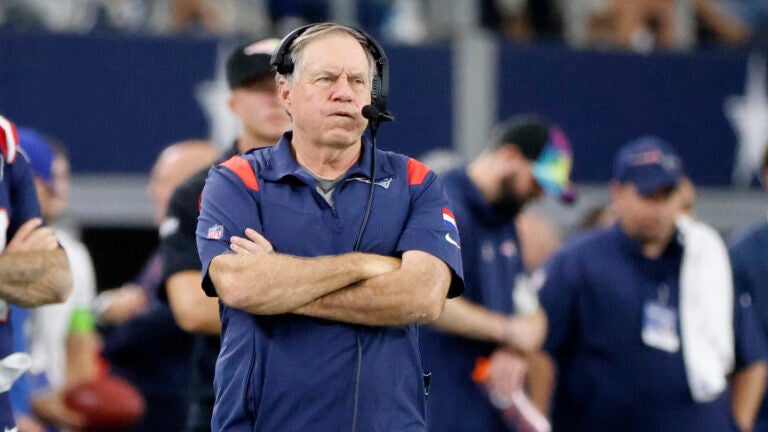 Patriots coach Bill Belichick, never particularly loquacious, was especially brief after losing 38-3 to the Cowboys on Sunday.
"We obviously didn't do much of anything well enough to be competitive tonight," he said in his opening remarks of the postgame press conference.
Belichick added that he still believes in the 1-3 Patriots.
"I think we're a lot better team than we showed out there tonight, but that's what we showed and that's what it was," he said. "We've got a lot of work to do."
Asked why he thinks the Patriots — a team that struggled on both sides of the ball against the Cowboys — are better than what was shown on Sunday, Belichick cited the games prior to Week 4.
The main story of the game once the outcome had been determined was Belichick decision to remove starting quarterback Mac Jones.
"I didn't think there was any point in leaving him in the game," Belichick said of his second half choice to bench Jones and put backup Bailey Zappe in the game.
Belichick was asked if Jones was benched due to bad performance.
"No, I said there was no point in leaving him out there," he replied, "so I took him out."
Inevitably, the question was put to the Patriots' coach: Will Jones continue as the starter going forward?
"Yeah," Belichick responded, before repeating his previous statement about not seeing a point in leaving Jones in the game with the outcome decided.
The other bad news for New England during the game were injuries to crucial defensive players Christian Gonzalez and Matthew Judon.
"We'll see," Belichick said in reply to whether there was an injury update.
Gonzalez, the Patriots' talented first-round pick cornerback, exited in the first quarter with a shoulder injury.
Given his capacity at the position — and the Patriots' already being short at cornerback due to injuries — Belichick acknowledged that the defensive game-plan had to be shifted once Gonzalez went out.
"I don't think any of us played or coached well enough to be competitive today," he said of the collective team performance. "It's everybody."
As for addressing Jones' performance, or potentially helping boost his confidence, Belichick gave a straightforward remedy.
"We need to go out and play well."
Sign up for Patriots updates🏈
Get breaking news and analysis delivered to your inbox during football season.