Patriots
Patriots fall to the Cowboys, 38-3: Quick observations from an embarrassing loss
Mac Jones was knocked for three turnovers in New England's lopsided loss down in Dallas.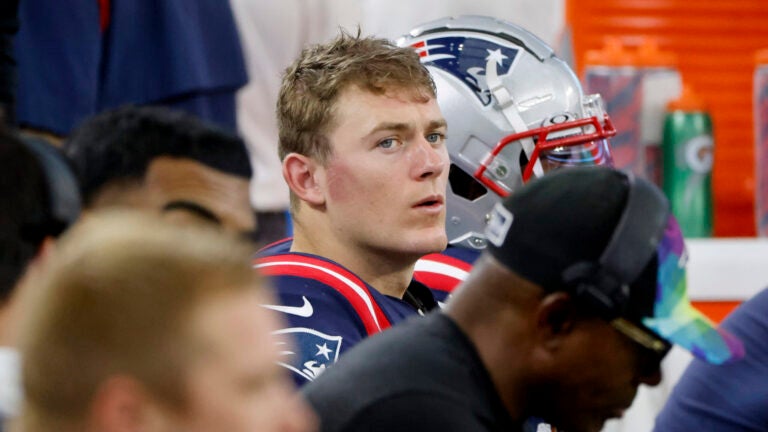 The 2023 Patriots season has already hit a new low.
After escaping East Rutherford with a close win over the Jets in Week 3, the Patriots completely imploded down in Dallas on Sunday — with a disastrous showing from the offense snowballing into a 38-3 loss.
Mac Jones (12-of-20, 150 yards, two interceptions) was benched midway through the third quarter, with New England's stagnant offense handing Dallas a commanding 28-3 edge at the half.
Sunday marks the worst loss of the Bill Belichick era (by point differential) at 35 points. The previous record was set in 2003 during a 31-0 loss against the Bills.
The Patriots are now 1-3 on the season, while the Cowboys are 3-1.
Here are a few early observations from New England's loss at AT&T Stadium.
Disaster in Dallas
The Patriots offense left a lot to be desired through the first three games of the 2023 season.
Entering Week 4, the Patriots sat 26th overall in scoring offense (17.3 points per game). They only generated three plays of 20+ yards over those three games.
But Sunday represented a new low for Mac Jones and the Patriots, with New England's QB1 eventually getting pulled from the game with 3:41 left in the third quarter — and the Patriots trailing, 31-3.
It was the same frustrating script for New England's offense in Dallas, with lapses in execution and costly turnovers in the early stages of Sunday's game putting the Patriots in a deficit that they could not crawl out of.
New England trailed 28-3 at the half, with Dallas scoring two touchdowns in the second quarter off of turnovers. Dante Fowler strip-sacked Jones on the six-yard line during New England's third drive of the night, with Leighton Vander Esch recovering the pigskin and running into the end zone to give the Cowboys a 15-point advantage.
After a 3-and-out, New England's next drive in the second quarter also ended in disaster, with a poor throw from Jones to Kendrick Bourne getting snagged by Daron Bland en route to a pick-six.
Jones was knocked for another pick by way of Bland coming out of the half, leading to a Dallas field goal that made it a 31-3 contest. That was enough for Bill Belichick and New England's coaching staff, with Zappe called on for the remainder of the game.
Zappe completed four of his nine passing attempts for 57 yards in the loss.
Gonzalez, Judon hurt
It was a rough night for the Patriots defense, due in large part to the injury bug.
Two of the bright spots in a largely listless Patriots season have been the play of Christian Gonzalez and Matthew Judon on New England's stingy defense.
But both key cogs exited Sunday's game due to injuries, with Gonzalez missing most of the contest with a shoulder ailment.
Gonzalez tackled Cowboys running back Tony Pollard and appeared to land awkwardly on his right arm. Gonzalez immediately grabbed the arm in pain. Even though he walked off under his own power, Gonzalez was ruled out in the second half.
The reigning Defensive Rookie of the Month in September, Gonzalez was going to earn the lion's share of reps against Dallas' No. 1 wideout, CeeDee Lamb. As soon as Gonzalez made his way off the field, Dak Prescott and Dallas' offense took advantage, with Lamb torching Myles Bryant for a touchdown.
To make matters worse, Judon exited Sunday's game in the fourth quarter with an elbow injury.
It was a frustrating showing for New England's defense, even beyond the critical injuries.
Entering the fourth quarter, the Patriots' defense allowed just one touchdown — and limited Dallas to an 0-3 showing in the red zone. And New England still trailed, 31-3. Can't do much with that offense sputtering to such a disastrous degree.
O-line continues to struggle
Another day, another brutal showing from New England's offensive line.
Granted, the Patriots were going to be in for a rough night when going up against a Dallas defense anchored by Micah Parsons.
But beyond continued woes against the pass rush (two sacks), New England's struggles at the line of scrimmage once again led to a disappointing performance from the run game.
Granted, New England wasn't going to be running the ball all that much after falling into another sizable deficit. But New England gained just 2.3 yards per carry on the ground in Sunday's loss.
—————
LIVE UPDATES:
7:20: Final: Patriots fall to the Cowboys, 38-3. A brutal showing.
7:12: Ryland's kick is no good. It's still 38-3.
7:07: Now it's 38-3. The worst loss of the Belichick era (points wise) was a 31-0 loss to the Bills in 2003. This is shaping up to be even worse.
6:51: Matt Judon is now hurt. He's heading to the blue medical tent.
6:35: Zappe is indeed in the game.
6:31: Looks like Bailey Zappe is coming into the game.
6:28: A 3-and-out for New England … sounds like an improvement.
5:53: 28-3 at the half. Sound familiar?
5:41: Pick-six. This is ugly. 27-3.
5:38: Parsons is back.
5:33: No Micah Parsons to start this drive.
5:30: Now it's 21-3 Dallas. Gonzalez continues to be AWOL.
5:24: And now the Patriots follow up that fumble with a 3-and-out.
5:23: What more is there to say? 18-3 Cowboys.
5:10: Can't be running sideways on those punt returns, Douglas.
5:08: Patriots put Jalen Mills on CeeDee Lamb for that 3rd down.
5:04: The QB rush doesn't work on 4th-and-1. Turnover on downs.
5:01: Christian Gonzalez is questionable to return. Shoulder injury.
4:58: Jones continues to make plays under pressure. Nice pick-up from Gesicki.
4:56: Zeke runs for nine yards on his first drive.
4:56: Dak Prescott through two drives: 10-12, 122 yards, TD.
4:55: It keeps getting worse for New England. Gonzalez heads to locker room.
4:54: Christian Gonzalez heads to the medical tent — and then Myles Bryant gets torched by CeeDee Lamb for a touchdown. 10-3 Cowboys.
4:51: Gonzalez heads into the medical tent.
4:49: Christian Gonzalez is shaken up after making that tackle on Pollard.
4:43: All tied up at 3-3. A lot of personnel getting mixed in for New England on that opening drive.
4:38: Pop Douglas has arrived.
3:58: Pregame warmups:
3:47: New England's O-line tonight:
3:41: Ian Rapoport noted Sunday morning that New England could roll with Zeke as their featured back today against his former team. He had his best game in New England in Week 3 vs. the Jets.
3:38: Patriots inactives: WR Kayshon Boutte OT Tyrone Wheatley Jr. QB Will Grier (emergency QB) CB Jonathan Jones (ankle) OG Cole Strange (knee)
Good news up front as Davon Godchaux is cleared to play.
3:33: Greetings from the live blog! We'll have you covered throughout today's game.
Here's our look at four pivotal matchups in today's game:
Sign up for Patriots updates🏈
Get breaking news and analysis delivered to your inbox during football season.