Patriots
'We all have some confidence issues': What the Patriots said about Mac Jones's benching
"Definitely not going to beat anybody good when I'm turning it over like that."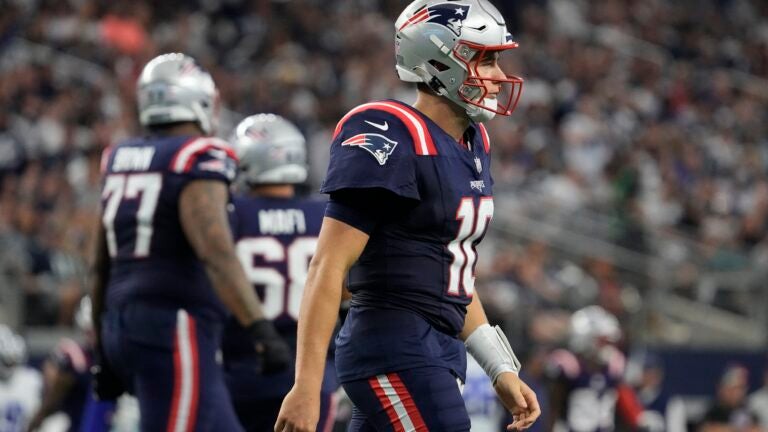 Mac Jones was benched during a disastrous loss in Dallas, but Patriots players are still backing him publicly.
"I'm very confident in Mac," defensive lineman Deatrich Wise Jr. said. "Listen, Mac is a worker. He is a competitor. He tries to make players. Sometimes when you try to make plays, it doesn't always go your way. But he's been here three years, and he's made some great plays in his career.
"This game is one of those games that just happened," Wise continued. "We're still behind him, and we'll be behind him tomorrow, and the day after that."
Tight end Hunter Henry said the Patriots need to perform better collectively, and that the blame can't all be placed on Jones after New England's 38-3 loss in Texas.
"That's my guy, I'm going to support him," Henry said. "I think everybody will. None of us are happy. We all have to be better. I need to be better. Every single guy is going to have to look themselves in the mirror."
It's clear that the Patriots need improvement in all phases of the game after the collective beating they took Sunday. But there is no doubt that they need more production out of the quarterback position. Jones said so himself.
"Definitely not going to beat anybody good when I'm turning it over like that," Jones said.
Patriots coach Bill Belichick said that he didn't see a reason to leave Jones in the game during the blowout loss. He said that Jones wasn't benched based on performance, despite Jones costing the team 14 points with turnovers that were returned for touchdowns.
"I don't think any of us played well or coached well enough to be competitive today. It's everybody," Belichick said.
Offensive lineman David Andrews said it's more than just Jones who has issues to correct after Sunday's loss.
"I think we all have some confidence issues after a game like that," Andrews said. "It's a team game. I think it's all of us that have to look in the mirror and correct everything. It's not just his fault, it's a team game. We've got to do better, and everybody's got to hold up their end of the bargain. It'll never be one person's fault."
When asked about what his job status will be going forward, Jones said: "I think it will be a good test, for me just to stay focused on what I can control, and that's playing better. Just have to evaluate everything. It wasn't my day today, hopefully there are better days ahead."
Sign up for Patriots updates🏈
Get breaking news and analysis delivered to your inbox during football season.