Patriots
Truth be told, this is not a good Patriots team
In Sunday's 38-3 loss to the Cowboys in Dallas that felt even worse than the 35-point margin of defeat, the Patriots were uninspired, undisciplined, and unprepared.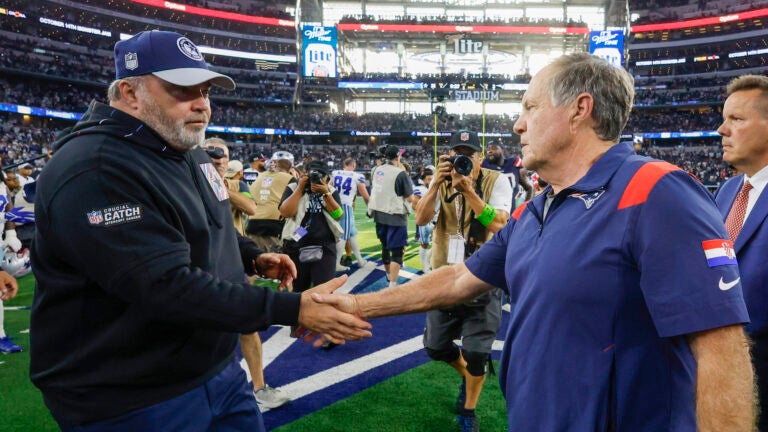 Welcome to the Unconventional Review, an instant reaction to standouts, stats, and story lines from the Patriots' most recent game …
This is the kind of loss that ought to force everyone to face the truth.
The Patriots are nowhere near a good football team, and right now it's impossible to spot on the horizon when they might be again. In Sunday's 38-3 loss to the Cowboys in Dallas that felt even worse than the 35-point margin of defeat, the Patriots were uninspired, undisciplined, and unprepared.
The mirage from the opening 5-point loss to the Eagles has faded. There's no moral victory to be found in the Patriots giving up 46 fewer points to the Dolphins than the Broncos did. The Patriots trailed 16-0 after a quarter to the Eagles, 17-3 at halftime to the Dolphins, and 28-3 at the half to Dak Prescott (28 of 34, 261 yards, touchdown) and the Cowboys.
Mac Jones played so poorly that he was replaced by Bailey Zappe, who went unclaimed on waivers at the end of training camp. That debate about who is the most mediocre of two evils will rage on sports radio all week.
The offensive line, quarterback, and receivers alternated mistakes. The defense, which might have been the saving grace of this team, lost Matthew Judon and Christian Gonzalez to injuries. And for the first time, I'm not certain Bill Belichick — who was outwitted by Mike McCarthy — knows how to repair it. Where is Zach Wilson when you need him?
Some further thoughts, upon immediate review …
Three players who were worth watching
Players suggested in the Unconventional Preview: Micah Parsons, Christian Gonzalez, Stephon Gilmore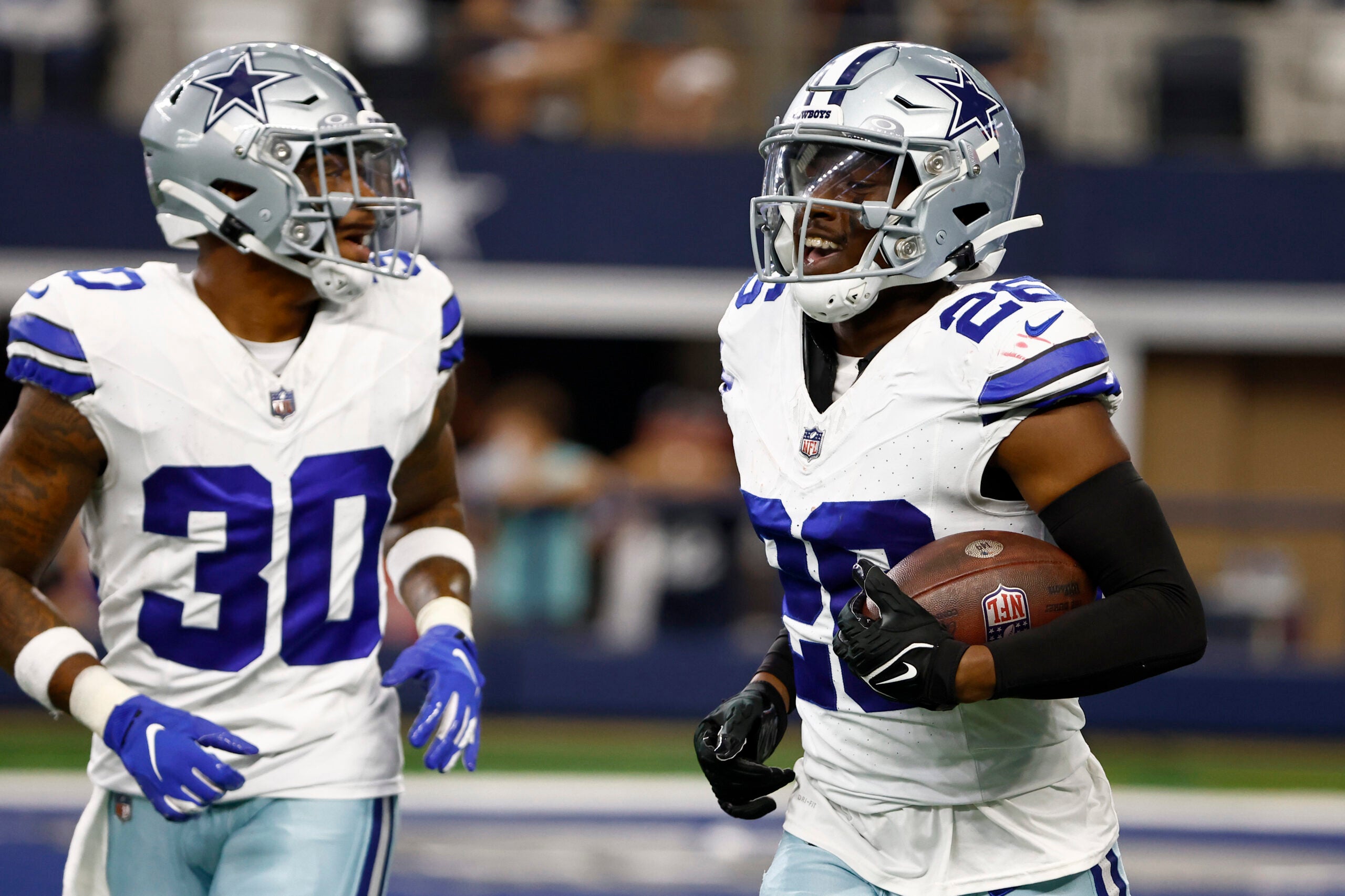 DaRon Bland: The Cowboys cornerback, elevated to a starting role with Trevon Diggs's injury, was Jones's chief tormentor, intercepting him twice. The first came in the final minute of the first half, when Bland picked off a Jones cross-field pass and returned it 54 yards for a touchdown and a 28-3 Cowboys lead. The pass was incredibly ill-advised — when a game starts getting wobbly, Jones forgets his limitations and makes the situation worse — but Jones had completed a cross-field pass a few plays before to Kendrick Bourne. He probably figured he could do it again. Bland saw the mallard coming the whole way. Bland picked off Jones again on the first series of the third quarter. Other than Prescott, Bland was the star of the game. But the problem with putting Bland's name in a headline is that people will assume you're talking about the Patriots offense.
Jake Ferguson: When Gonzalez went down with a shoulder injury with 1 minute 44 seconds left in the first quarter, I probably wasn't alone in assuming that Cowboys receiver CeeDee Lamb was about to become a problem. And wouldn't you know it, on the first play that Gonzalez was absent, Prescott went right to Lamb, hitting him for a 20-yard touchdown. Myles Bryant was scalded in coverage on that play, but overall the Patriots did an OK job on Lamb (four catches, 36 yards) considering that they are now down their top four cornerbacks. The surprise was that they didn't have answers for Ferguson, the Cowboys' second-year tight end, who came in with 29 career receptions (10 this season). Ferguson caught all seven passes Prescott aimed his way, finishing with a game-high 77 yards. Not a bad imitation of Jay Novacek right there.
Kyle Dugger: I really should probably list a half-dozen other Cowboys before getting to a Patriot. But Dugger did finish with 15 tackles, including 12 solo, which is worth acknowledging. Six of his tackles came on the Cowboys' first possession, when Dallas had to settle for a field goal after piling up 53 yards on its first three plays from scrimmage. He was in coverage, however, on multiple Ferguson receptions, including back-to-back 12- and 11-yarders at the end of the first half.
Grievance of the game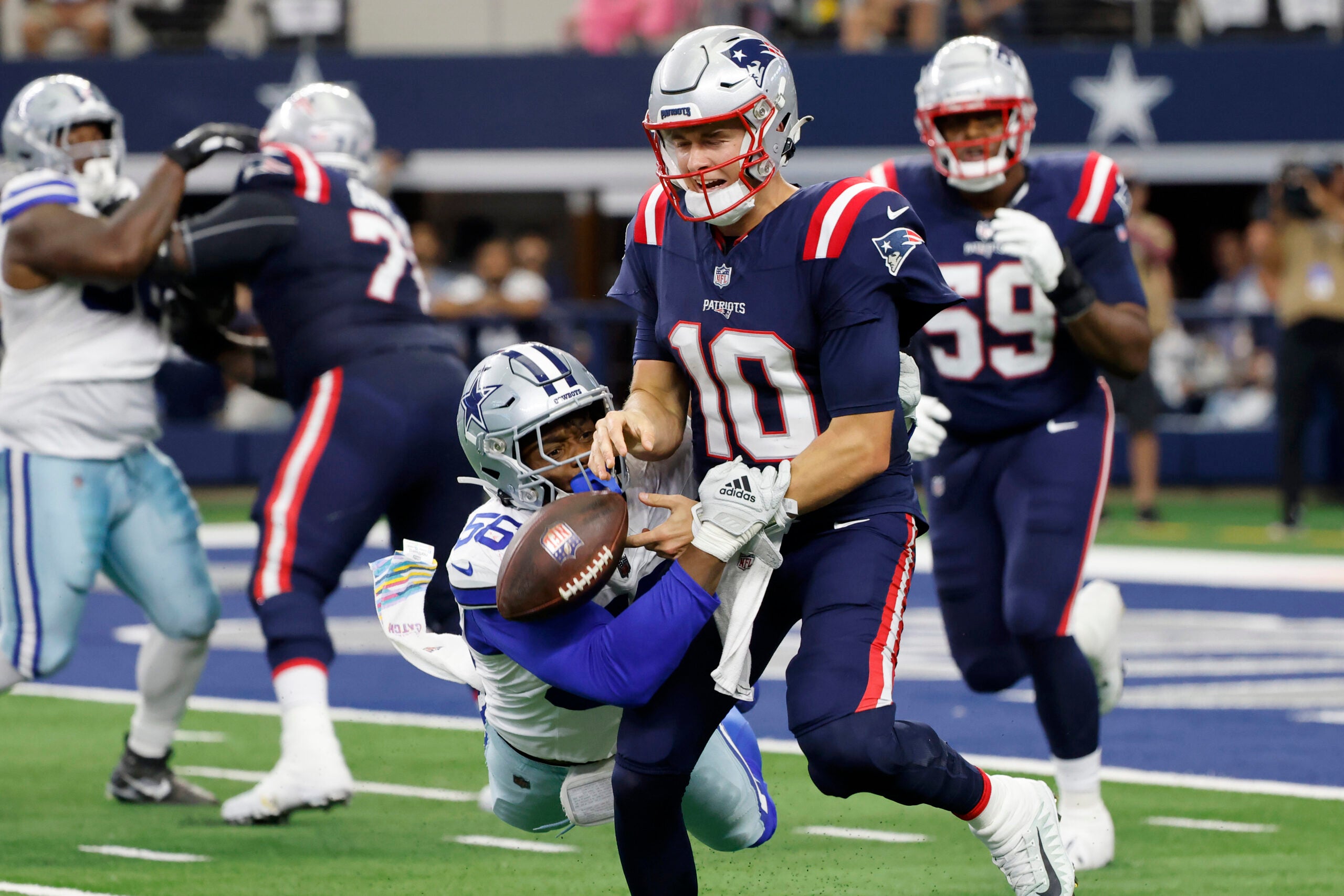 I'm supposed to come up with a grievance of the game? The whole game was the grievance, man. But if you're going to hold me to narrowing it down to a single sequence or play, it has to be this stretch early in the second quarter: Demario Douglas is buried on a punt return and loses 2 yards, taking the Patriots back to the 10. (Douglas is not yet trustworthy on returns.) Michael Onwenu is called for a false start, one of his three penalties in what was apparently some kind of bizarre Isaiah Wynn tribute; Rhamondre Stevenson runs for 3 yards (this is the high point); Jones, once again leaving us suspicious that his lauded intangibles and instincts during his Roll Tide days were a fib, takes off to the left, blissfully unaware that Dallas's Dante Fowler is closing in. Fowler pops the ball loose, Leighton Vander Esch scoops it up and jogs into the end zone from 11 yards out; Dallas punks the Patriots by having holder Bryan Anger throw a 2-point conversion to Chauncey Golston for an 18-3 lead. "We're gonna play sloppy, disjointed football that ends in disaster" is a more fitting mantra than "Do your job" at this point.
Three notes scribbled in the margins
Predicted score: Patriots 26, Cowboys 24
Final score: Nowhere close to that
The Patriots' longest run of the game came on former Cowboy Ezekiel Elliott's first touch, a 9-yard burst up the middle on the visitors' second possession. The Patriots managed a pathetic 53 yards on 23 carries against a Dallas defense that allowed 222 rushing yards to the Cardinals the previous week. Stevenson remains stuck in neutral, gaining just 30 yards on 14 carries. He has 164 rushing yards through four games — or three more than he had in his dazzling 25-carry, 161-yard performance against the Lions in Week 5 last season — and is averaging just 2.7 yards per carry … Elliott, after that initial burst, finished with 16 yards on six carries, reminding Cowboys fans not of the good ol' days but rather why he's no longer there … Douglas did make perhaps the Patriots' most exciting play of the season (excluding those featuring Pharoah Brown, anyway) with a 42-yard catch in the first quarter. Douglas deked and spun around with a move so clever that developers haven't figured out how to implement it in "Madden" yet.
Sign up for Patriots updates🏈
Get breaking news and analysis delivered to your inbox during football season.