Patriots
The excuses have run dry for Mac Jones
Mac Jones has gone from a promising rookie season to there being serious question marks as to whether he's the Patriots' long-term QB.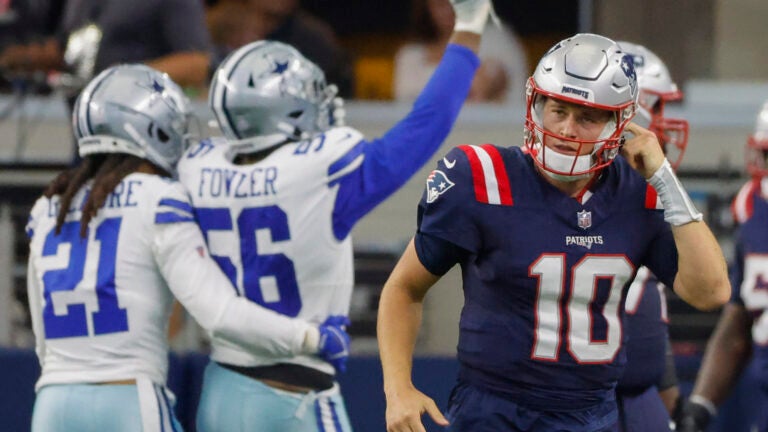 COMMENTARY
The Macscuses are getting exhausting.
No quarterback can have success in the NFL with a porous offensive line and receivers who can't separate. Show me a successful quarterback without a No. 1 option before lambasting Mac Jones. Bad coaching. Matt Patricia. Wet summer. Bailey Zappe's voodoo collection.
In the aftermath of Sunday's 38-3 loss in Dallas, a game that more than one local pundit referred to as a "franchise-altering loss" for the New England Patriots, there aren't a whole lot of Mac Backers with many positives or "whataboutisms" regarding the quarterback's performance.
Jones, who looked good on the Patriots' promising first drive of the game, completed only 12 passes on the afternoon, tossed two interceptions (one a pick-six), and invited the Dallas defense to finish up the scoop and score ball he kindly provided them. Jones made decisions on the football field Sunday that they try to drown out of a quarterback's head in pee-wee. Like throwing across your body, to the other side of the field, an imbecilic decision, but one he was able to get away with. Once.
The second time he did it, however (on the same series), the result was more predictable. Daron Bland snatched the pass away from intended target Kendrick Bourne and ran it into the end zone for a 28-3 Cowboys lead. (Some folks on the app formerly known as Twitter had a ball posting that score Sunday afternoon, albeit without any Belichick/OJ memes. Those might be going away for a while, kids.)
Jones finished the day with a 39.9 quarterback rating, his worst since a 15.6 rating against the Dolphins in his rookie season. Belichick pulled him in the second half in favor of Zappe, and everybody only wondered what took him so long to do so. The coach will have to wait at least another week to join George Halas and Don Shula as the only NFL coaches with 300 career regular-season victories, but do you really give a flying foot joke when the franchise he's in charge of is falling into a disrepair that's going to take years of refurbishment? For what, a banner? Like the "18-1" one? Sweet. That'll be worth it.
This is where the team that claims six Lombardi trophies finds itself, with a 1-3 record that says little more than it can (barely) beat the Jets. Everything in Foxborough is a reminder of the past for a team that looks increasingly clueless about what its future might resemble. Just look at the way this year's team was constructed — paying no attention to the holes on the offensive line, purchasing broken goods in JuJu Smith-Schuster because it represented the best "deal." Does anything about it suggest there's a cohesive plan whatsoever?
For better or worse (mostly the latter), it's been a dysfunctional introduction to the NFL for Jones, who despite having a farcical Pro Bowl selection to his name, has done little to help the Patriots believe he's the right quarterback for the job over the long haul. Jones has gone from a promising rookie season to creating an entire industry we never thought possible: Matt Patricia Apology Cards.
So caught up in the Mac Jones Excuse Caravan were we that we failed to even wonder if the complication might lie in the position, not the overmatched boob trying to make it look presentable. We were too busy busting on the people around him, blaming them for failing to give Mac Jones the tools he needs to succeed instead of realizing what's become evident now; the problem may be Mac himself.
It was hard to come out of Sunday thinking anything but.
"It wasn't a great day," Jones said. "I'm not going to let it carry over to next week. It's going to be done after I watch the film."
We'll see. For Jones's sake, it had better be.
This weekend against the New Orleans Saints represents his final stand. I'm not as interested in the quarterback that helped lead to the debacle in Dallas; I'm more curious about how that guy responds one week later. How does a first-round draft pick feel after getting yanked from a national Game of the Week? What we see out of Jones on Sunday might determine everything we should expect out of the player long-term. If he comes out blazing and gives you reason to believe against the Saints, feel free to hang onto that fading faith.
If he turtles and wilts yet again, Patriot fans can rightfully start talking about where they can get their next franchise quarterback in the 2024 draft. And the boos at Gillette might be majestic come around 4 p.m. Sunday afternoon.
No more Macscuses.
"I've got to put a better product out there to beat good teams," Jones said, disregarding the fact that his performance Sunday wouldn't have beaten the worst team in football. Never mind the good ones.
The excuses end there. This Sunday has now become the defining game of Mac Jones's young NFL career. If he responds positively, then let's keep talking. The team needs to pick up or decline Mac's fifth-year option by May, which means they're running out of time in order to avoid it turning into a Daniel Jones situation ($160 million owed over four years).
If he gags, then start buying draft magazines.
"I'm definitely disappointed," Jones said, "but at the end of the day, I'm going to keep grinding."
The 1-3 Patriots return to Gillette to face the 2-2 Saints Sunday. Jones will be grinding in a stadium where the excuses have run dry.
Sign up for Patriots updates🏈
Get breaking news and analysis delivered to your inbox during football season.