Patriots
What experts are predicting for Sunday's Patriots-Saints game
The Patriots opened up as the favorite for Sunday's game but are now a slight underdog.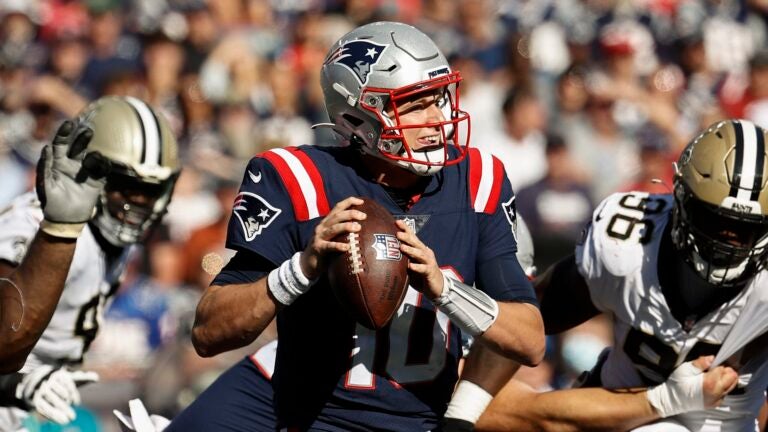 COMMENTARY
Four weeks in and the one thing that we can probably all agree on right about now is that the NFL has a lot of bad football teams.
Never mind the mess that's happening in New England, how'd you like to be a fan in Cincinnati, where Super Bowl dreams have turned into a team that has scored only 49 points over its first four games? It doesn't matter which team you go to MetLife for this season; they both stink. Steelers offensive coordinator Matt Canada may have found a way to create a worse offense than they have managed in Foxborough. The Broncos and Raiders seem destined for rock bottom, and they apparently still have a team in North Carolina.
As if to cement just how confident it is that the American public will lap up whatever inferior product is thrown out there with the "NFL" stamp on it, the schedule-makers began Week 5 with a thoroughly unappealing showdown between the Chicago Bears and the Washington Commanders. And yet, slaves to the product that we are, Amazon Prime probably saw record streaming ratings. It's what we do for some reason.
Heading into Sunday lies a mess of competition that should have consumers demanding a product recall. On the schedule this week: Titans-Colts, Texans-Falcons, Bengals-Cardinals, and Jets-Broncos.
Oof.
To be fair, there's also Sunday night's anticipated showdown between NFC titans San Francisco and Dallas, as well as compelling affairs with the Bills and Jaguars (Sunday morning, from across the pond) and seeing if the Vikings can be the second-straight sub-par team to slow down the Chiefs.
For the rest of America, Sunday's Saints-Patriots game probably seems as if it will be just as bleak as some of the aforementioned snooze-fests. After four weeks of being broadcast via each network's top team, the Patriots now play TV's second fiddle, although playing second tier with the tremendous Kevin Harlan on the call isn't so bad (Jets-Broncos, appropriately, gets Tiki Barber.)
But the best thing about October is that the NFL has finally escaped the month of September, which is treated more and more like the preseason throughout the league. You know, like the Bengals.
Maybe the Patriots are in a similar category. Or maybe they're just bad.
Which do you think is more likely?
This week's predictions:
Jim Derry, NOLA.com: Saints 20, Patriots 17. "In the end, I simply have to look at talent against talent to make a prediction. While the Patriots obviously have the advantage in the coaching department, I think the Saints are THAT much better. Derek Carr's accuracy will continue to be worse for the remainder of the season than his lifetime average, but I'm not sure that matters all that much in what should be an Alvin Kamara / Taysom Hill kind of game."
Globe staff: Five of six pick the Patriots (-1.5).
Greg Cote, Miami Herald: Patriots 20, Saints 16. "Bill Belichick is coming off the worst loss (38-3 to Dallas) of his storied coaching career. N'Awlins is coming off a bad home loss to Tampa, and Derek Carr will play through a sore shoulder if he plays at all. In a near pick-'em game, edge to the home team dialing up big defense that reflects Belichick's uncommon desperation."
Pete Prisco, CBS Sports: Patriots 21, Saints 17. "These two are both coming off losses where the offenses were horrible. Mac Jones is really struggling for the Patriots, while Derek Carr looked hurt last week. This will be a game dominated by the defenses. At home, give me the Patriots — even with the bad offense."
CBS Sports staff: Six of eight like New England (-1).
Sam Farmer, Los Angeles Times: Patriots 21, Saints 17. "The Saints have yet to score more than 20 points. The Patriots are coming off the biggest blowout loss in Bill Belichick's career. Go with the Hall of Fame coach bouncing back from embarrassment."
Jimmy Kempski, Philly Voice: Patriots (-1.5). "This is a matchup between two teams that are already on a steep downward trajectory after losing their Hall of Fame quarterbacks, and it's probably only going to get worse. I do like betting on Bill Belichick against any crappy quarterback, which is what the Saints have, no matter who they start.
ESPN staff: Five of seven go with the Saints.
Frank Schwab, Yahoo! Sports: Saints (+1). "New England is coming off a really bad game and while I generally would back Bill Belichick in that spot, the Patriots also have a lot of injury issues. Derek Carr didn't look healthy for the Saints last week and that's a concern, but I have more worries about the Patriots right now."
Sheil Kapadia, The Ringer: Patriots (+1). "On the one hand, the Patriots are 2-10 against the spread as underdogs over the past two seasons. On the other, there's no way I trust Dennis Allen and Carr in this spot. I have to pick this game. YOU DON'T HAVE TO, AND YOU SHOULDN'T."
MMQB staff: Six out of seven pick New England.
USA Today staff: Split.
SB Nation staff: Four of the seven go with the Pats.
Vinnie Iyer, The Sporting News: Saints 20, Patriots 17. "The Saints were dealt a bad hand with Derek Carr decided to play with a shoulder injury that severely limited his passing against the Buccaneers in Week 4. It's hard to think Carr will sit here. This is a tough draw for New England as it needs to account for Alvin Kamara, Michael Thomas and Chris Olave all over the field, and also need to be war y about the deep threat of Rashid Shaheed. The Patriots are crumbling through ground and air around Mac Jones and the Saints' defense will respond well on the road."
Bill Bender, The Sporting News: Patriots 19, Saints 16. "The Patriots are a brutal watch right now, and Mac Jones' job security as the starting quarterback is now on a week-to-week basis. New Orleans has struggled to generate offense with Derek Carr. This could make for a brutal watch. The Patriots played the Eagles and Dolphins tough at home. They squeak out a victory against New Orleans."
Mike Florio, Pro Football Talk: Patriots 13, Saints 9. "If the Pats blow this one, the wheels might come off."
Chris Simms, Pro Football Talk: Patriots 19, Saints 17.
It says here: Patriots 6, Saints 5. Print that prediction elsewhere and you'll be accused of exaggeration. Those people haven't watched the New England Patriots.
Sign up for Patriots updates🏈
Get breaking news and analysis delivered to your inbox during football season.