Patriots
It would be unfair to blame Mac Jones for all that's wrong with the Patriots, but he's their biggest problem
Jones desperately needs Sunday to be a get-right game, but the Saints are not an easy matchup.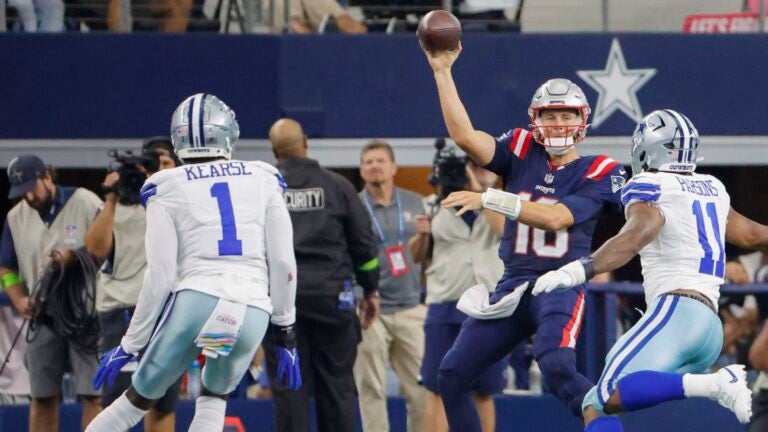 Welcome to Season 12, Episode 5 of the Unconventional Preview, a serious yet lighthearted, nostalgia-tinted look at the Patriots' weekly matchup . . .
Mac Jones will play the 36th regular-season game of his NFL career Sunday when the Patriots host the Saints. He's never played a more important one.
It would be unfair and wrong to blame the third-year quarterback entirely for last Sunday's embarrassing 38-3 loss to the Cowboys, which dropped the Patriots to 1-3 and convinced a significant portion of the remaining optimists that none of this is about to get fixed any time soon.
All of the Patriots' problems are intertwined. The offensive line was porous and uncoordinated. The running game is more of a light jog to nowhere. There is no legitimate No. 1 receiver, and there might not be a legitimate No. 2. Bill Belichick got severely outcoached by Mike McCarthy, who carries himself like a mediocre character actor playing a coach in a football movie no one will see. A talented defense, the possible saving grace, lost its two best players. It was bad, all of it.
But Jones was the biggest problem, because he got outside of himself, and he does not have the talent to get away with that. Three times he threw across the field, as if he'd been blessed with John Elway's arm rather than Chad Pennington's, and one was finally, inevitably returned for a pick-6 by the Cowboys' DaRon Bland. Jones has lost his sense of feel for the rush in the pocket, and his internal clock is on the fritz, as evidenced by a strip-sack that led to a Leighton Vander Esch recovery and score.
Jones's performance was the sad, modern embodiment of how old-school Patriots fans felt about Tony Eason, forgetting that Eason at least had one excellent year. Jones has regressed since his rookie season, when the Patriots started 9-4 and looked like they had secured their quarterback of the present and future. The Patriots are 8-14 in Jones's regular-season starts since, and after an optimistic opener against the Eagles, he has alarmingly regressed to the point that his alleged strengths — quick processing, accuracy, a command of the offense — are now question marks, too.
Jones desperately needs this to be a get-right game, but the Saints are not an easy matchup. Their offense has struggled (tied for 25th in points at 15.5 per game, which is still better than the Patriots, who are 30th at an abysmal 13.8). Quarterback Derek Carr is dealing with a shoulder injury suffered against the Packers in Week 3, but Alvin Kamara's return last week from a three-game suspension provided something of a spark.
Defensively, the Saints are aggressive and sturdy, allowing 19 points per game, ninth-best in the league. Savvy safety Tyrann Mathieu and cornerback Marshon Lattimore lead an opportunistic pass defense, and coach Dennis Allen is regarded as one of the league's better defensive minds.
It's not going to be easy for Jones to halt those bad habits and restore his confidence against this Saints D. But he must, and for once, his teammates have to rise to the occasion. Man, how he must miss directing that loaded offense from his Crimson Tide days.
Kick it off, Ryland, and let's get this one started . . .
Three players to watch other than the quarterbacks
Chris Olave: The Saints' talented second-year receiver is coming off easily the least productive game of his career. In the Saints' loss to the Buccaneers, Olave had just one catch on six targets for 4 yards. In his 18 previous NFL games, Olave's never had fewer than 40 receiving yards.
While Olave and Carr struggled to get on the same wavelength against the Buccaneers — there were plays to be made — that was not an issue in the Saints' first three games. Olave had eight catches for 112 yards in an opening win over the Titans, six for 86 yards in a Week 2 victory over the Panthers, and eight for 104 yards in a 1-point loss to the Packers in Week 3. He has not scored a touchdown in 2023 after catching four in a rookie season in which he had 72 catches for 1,042 yards.
The Patriots' secondary has been battered by injuries, with rookie star Christian Gonzalez likely lost for the season with a shoulder injury against the Cowboys, a crushing development considering his instant success was the most enjoyable thing about this team. It will be interesting to see whether J.C. Jackson, reacquired this past week after a well-compensated and disastrous stint with the Chargers, gets meaningful reps.
Keion White: The most disheartening development in the loss to the Cowboys was not the lopsided score or the ineptitude of the offense, but the injuries to Gonzalez and Matthew Judon, their two most dynamic defensive players. Their absences are a significant blow to the hope that the defense (allowing 297 yards per game, 10th in the league) could keep the Patriots competitive while the offense sorts out its issues.
White, the Patriots' second-round pick in this year's draft, impressed with his strength and explosiveness in preseason, and he should get the first crack at trying to fill Judon's spot. White has started one game and has played just 33 percent of the defensive snaps. But Jerod Mayo acknowledged that White would play more Sunday, "and we really need him to show up," the linebackers coach said. White has the talent and motor to make an impact, but he must remain disciplined. Judon was a menace in the meeting with the Saints two years ago, collecting 2½ sacks, 2 tackles for loss, and 3 quarterback hits. If White can put one digit in each of those categories, it would count as a productive day.
Cameron Jordan: Before the Dallas game, it was noted in this space that Cowboys superstar Micah Parsons was projected to end up with the Patriots in multiple 2021 mock drafts. Jordan is another player who was thought to be high on Belichick's wish list at draft time, in this case way back in 2011. The Patriots selected Colorado tackle Nate Solder at No. 17 overall, with Jordan on the board, and also held the No. 28 pick. But the Saints grabbed Jordan at No. 24, and the Patriots sent their second first-round pick to the Ravens (who selected Mark Ingram), for a second-round pick in 2011 (when they took Jordan's Cal teammate, Shane Vereen) and a first-rounder in 2012 (which they used to move up and select Dont'a Hightower).
I'd say it worked out pretty well for the Patriots, though an outcome in which Jordan had ended up in New England might have been fulfilling, too. He's had a superb career, compiling 116 sacks — more than anyone in Patriots history, by the way — in 196 games over 13 seasons. He has just a half-sack this season, but against a shaky Patriots line that still has no solution for its problem at right tackle, he has an excellent chance of adding to his total Sunday.
Grievance of the week
I have two fundamental memories of the Patriots' loss to the Saints in Week 3 of the 2021 season. James White, Super Bowl LI hero and quintessential Patriot through and through, suffered a hip injury that ultimately ended his career. For my money, he's the most reliable third-down back the Patriots have ever had, Kevin Faulk included.
The other memory? This, and it is not hyperbole: Jonnu Smith submitted the worst performance I've ever seen from a Patriots tight end that day. He was targeted six times, catching one for 4 yards. (Weirdly, those stats mirror Olave's performance last week.) Smith dropped at least four passes, including one that ricocheted like a Larry Bird touch pass to the Saints' Malcolm Jenkins, who returned it for a pick-6. Another drop came on fourth down.
Smith, who left the Titans to sign a four-year, $50 million contract ($38.5 million guaranteed) with the Patriots in March 2021, was an epic bust in New England. In 30 games with the Patriots over two seasons, he had 55 catches for 539 yards and a single, lonesome touchdown.
In March, the Patriots gave up on him, trading him to the Falcons, where he reunited with head coach Arthur Smith, his offensive coordinator for four seasons with the Titans. And guess what? Smith is actually competent again, possibly even good. He's second on the Falcons with 15 receptions and leads the team with 179 receiving yards. He's been the superior tight end to former No. 4 overall pick and annual regrettable fantasy football selection Kyle Pitts (11-121-0).
Smith was downright bad as a Patriot, never more so than in that 2021 Saints game. But I'm not sure he's entirely to blame for his New England flop. He's the prime example of a player from the outside that the Patriots liked, paid, and then completely failed to maximize. Sort of like JuJu Smith-Schuster this season.
The flashback
The Patriots don't have a rich history with the Saints, having met just 15 times. Twenty-five years ago, they played arguably the most entertaining of those games, a 30-27 Patriots victory in Week 4 of the 1998 season. It's certainly a fun game to look back on, particularly for some of the names involved. The Saints were coached by Mike Ditka, who would go 15-33 in three seasons in New Orleans. Ditka's legacy in New Orleans is his decision to trade the franchise's entire allotment of picks in the 1999 draft — plus two more in the 2000 draft — to Washington to secure the No. 5 pick and selected Heisman Trophy winner Ricky Williams, whom Ditka compared to Walter Payton.
The Saints quarterback in that game was another Heisman winner, former Florida star Danny Wuerffel, whose limited skill set was way too similar to Jones's, and let's not talk about this anymore. Robert Edwards ran for a touchdown for the Patriots, and Vincent Brisby caught the 14th and final touchdown pass of his career. The Patriots won the game with six seconds left when Adam Vinatieri drilled a 27-yard field goal. It would not be the final winning kick of his career, and it would be well down the list of his most memorable.
Prediction, or, fine, I liked Mike Ditka's Ricky Williams trade . . .
As much as this game is going to be a referendum on Jones, everyone on that offense would benefit if the Patriots can actually get the running game going. The linemen get to build up some momentum run blocking, the Saints' defense would have to be wary of play-action, and Jones's job would become so much more manageable.
The outcome is going to depend on whether they can. The Saints have the 11th-ranked run defense, but did give up 114 yards last week to a Buccaneers offense that had been struggling on the ground. Rhamondre Stevenson has officially become an enigma — he's averaging just 2.7 yards per carry after averaging 4.6 as a rookie and 5.0 last year. It's imperative that he get going. We say that every week. At this point, I'll believe it only after it happens. Saints 17, Patriots 13.
Sign up for Patriots updates🏈
Get breaking news and analysis delivered to your inbox during football season.