Patriots
The Patriots are off to the worst start in Gillette Stadium history, and other final thoughts
"We've got to work harder. We need more effort," Kendrick Bourne said. "It feels like we need to want it more."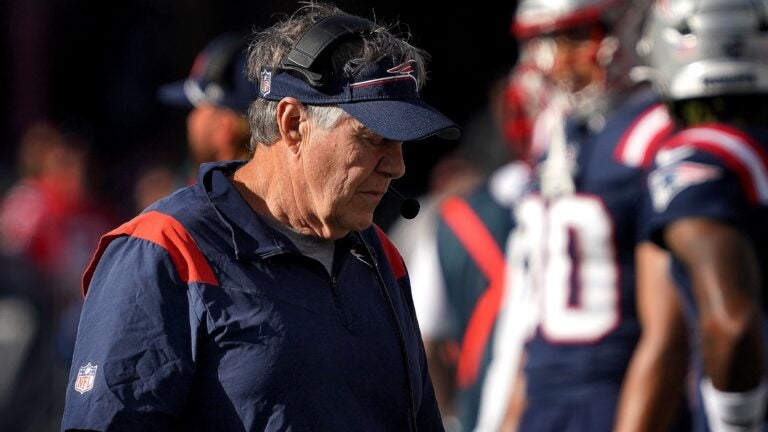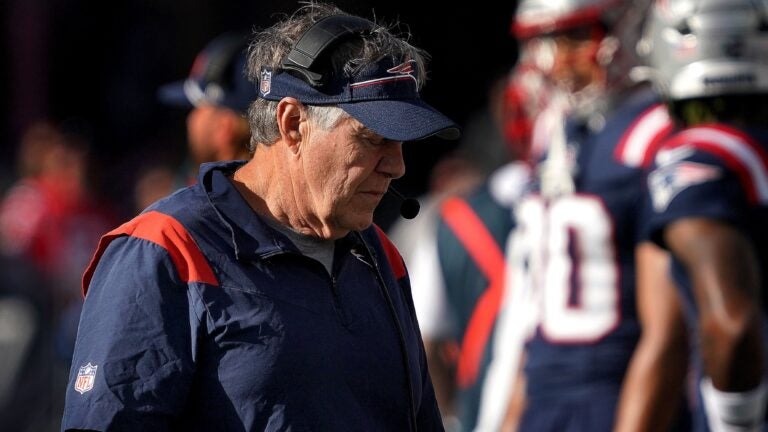 COMMENTARY
Gillette Stadium, which opened on Sept. 9, 2002, turned 21 years old last month.
Now that the stadium is old enough to drink, it's time to face a bit of an uncomfortable reality. The Patriots are off to their worst start since it opened all those years ago.
The Patriots are 1-4, and winless at home. They've been outscored 72-3 over the last two games. Only one New England player, tight-end Pharaoh Brown, has scored a touchdown over the past three weeks.
The last time a Patriots team started 1-4 was in 2000, head coach Bill Belichick's first year on the job. The Patriots dropped their first four home games in 2021, but even that team didn't suffer back-to-back losses of 34 or more.
Things are so bad in Foxborough, that when Belichick was asked to pinpoint the problem, he said the team needed to "start over."
"We all need to do a better job," Belichick said. "It's everybody, offense, defense, special teams, players, coaches. We've just got to do a better job than we're doing, including everybody."
Mac Jones is still the starter, Belichick said, despite going 12-for-22 with a pair of interceptions, and no touchdowns. J.C. Jackson said he was happy to return to Foxborough after a stint with the Chargers, despite the loss. Kendrick Bourne said the Patriots need to "want it" more.
Here are a few final thoughts in the aftermath of another awful loss.
A lackluster effort
Belichick was not satisfied with the effort his team put forth Sunday.
"I said we've got to do a better job all across the board. It's not good enough," Belichick said.
The effort level didn't sit well with Bourne either. He sighed when asked about the most important thing the offense is missing.
"We've got to work harder. We need more effort," Bourne said. "It feels like we need to want it more."
Offensive lineman David Andrews said he thought the team's execution was a bigger issue than its effort level.
"I think it's more of execution, you know," Andrews said. "We're turning the ball over and things like that. It just kind of snowballs from there. We'll look at it, correct it, come back to work next week, and try to put our best foot forward."
Belichick doesn't seem to trust his offense very much
The Patriots had the ball on fourth-and-3 on the Saints' 40-yard line early in the third quarter.
They were already down by 24, they were on the opponents' side of the field, and they still decided that they'd rather punt the ball away than try to gain three yards.
Moves like that suggest that Belichick doesn't trust his offense very much. Going for it wasn't even a consideration, Belichick said.
"Until we're better on third and fourth down, I don't think so," Belichick said.
Mac Jones's turnovers are costing the Patriots dearly
Three of Jones's interceptions, along with one fumble, have been returned for touchdowns this season.
That's four touchdowns the Patriots have given up because the quarterback has ball security issues.
The Patriots have dug themselves into at least a 16-point first-half deficit in four of their five games. The offense simply hasn't proven that it can execute at a high enough level to come back from those early struggles.
"Yeah, definitely not an ideal situation for anybody," Jones said. "And as an offense, the goal is to play better and put up points. So we all have to do that and got to practice that way and do things differently and figure out how to put up points."
J.C. Jackson answers "weird question" about Tom Brady
After Christian Gonzalez went down with a season-ending injury, the Patriots swung a trade with the Chargers to bring Jackson back to New England.
Jackson played with the Patriots from 2018-2021 and made a Pro Bowl appearance before leaving to sign with the Chargers in free agency.
Jackson paused for a moment before answering when asked if Foxborough feels the same without Tom Brady.
"Yeah, it pretty much feels the same. But, having Tom not here is, I don't know man, that's a weird question."
Jackson said he's happy to be back with the Patriots, despite the loss.
Seems like New England misses Nick Folk
Rookie kicker Chad Ryland missed his only field-goal attempt of the game. New England did not score, so he did not have a chance at an extra-point attempt.
The miss makes the 2023 fourth-round pick 4 for 7 on field-goal attempts this season.
Meanwhile, in Nashville, former Patriots kicker Nick Folk is a perfect 13 for 13 on field-goal attempts this year with the Titans. He's also made all seven of his extra-point attempts. The Patriots traded Folk for a seventh-round pick after drafting Ryland.
Sign up for Patriots updates🏈
Get breaking news and analysis delivered to your inbox during football season.