Patriots
Bill Belichick hinted at changes after latest Patriots loss, discussed in-game decision to bench Mac Jones
Belichick was also asked why he thinks he's still the right coach to lead the Patriots "starting over."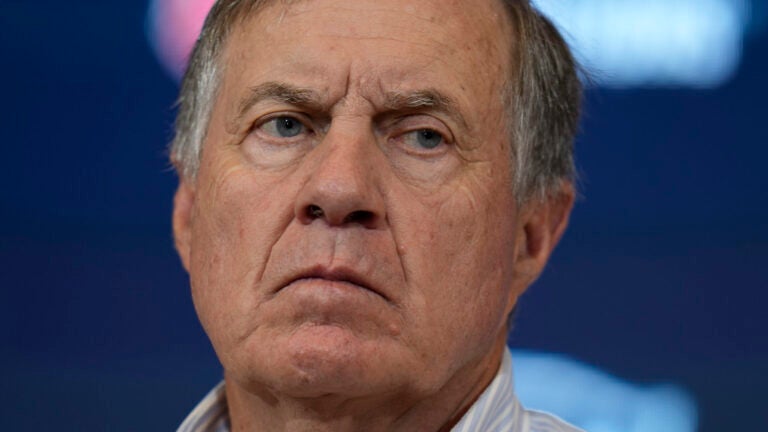 After the Patriots' 34-0 defeat at home against the Saints on Sunday, Bill Belichick remained somberly committed to his postgame pronouncement that the team will be "starting over."
Exactly what that means for the 2023 Patriots — now 1-4 after losing to New Orleans — remains to be seen.
"We'll just take a look at everything. Obviously we didn't do anything well enough yesterday," Belichick said on Monday in response to a question about starting over during his weekly interview with WEEI's "The Greg Hill Show."
As for the mood of the team following the latest loss, Belichick acknowledged the reality.
"Frustrated, but we'll just have to work our way out of it," he replied. "That's all there is to it."
Mac Jones was benched in the second half of the loss. It was the second week in a row that the third-year quarterback was replaced by backup Bailey Zappe, though (as he said Sunday) Belichick appears to still be committed to Jones as the starter.
Belichick noted that despite benching Jones in consecutive weeks, he believes he has a decent rapport with the team's 2021 first-round pick.
"I've got a good relationship with Mac since he's been here," he said. "Meet with him on a regular basis and we have a good line of communication. He works hard and I have a lot of respect for what he does."
As for the rest of the offense — a unit that has now failed to score a touchdown in multiple games — the question was put to Belichick on if he thinks the "current roster is good enough?"
"Well, we need to play better than we're playing," Belichick said in response. "Play and coach better."
In a follow-up, the Patriots' coach was asked if the team might make another trade (following last week's move to reacquire cornerback J.C. Jackson). Could there be an equivalent addition to the offense?
"Right now I'm focused on getting our team to perform better than we've performed," said Belichick.
One of his more expansive comments came on the topic of whether or not there is a specific area where the team could improve in its preparation.
"All good plays come with good fundamentals, so we need to be a better fundamental team in every area," Belichick explained. "Again, between schemes, coaches, players' awareness, situational awareness, we need to do a better job than what we're doing. I mean I don't think there's any one thing that's going to change it, or one player. We just all have to do a better job."
Towards the end of the interview, testament to the team's current position, Belichick was asked why he is the right person to "restart the organization with right now"?
"I'm going to do the best to help our football team," Belichick replied. "That's my job."
He reiterated the response in a follow-up question about whether or not his message is getting through to the current team.
Shortly after the radio interview, Belichick answered questions from reporters in a press conference.
With just one win through five weeks, New England's already distant playoff hopes appear to be all but gone. Does Belichick think this team can still make the postseason?
"Our goals are short term," he said. "It's this week, get ready for Vegas, and go out there and play the best we can."
The upcoming game against the Raiders (in Las Vegas) presents yet another chance to begin turning the team around.
To achieve that, Belichick admitted that there might be changes in the depth chart, or possibly even the coaching staff.
"We need to make some improvements in where we are," he told reporters. "We'll see what all that entails. We haven't gotten into it yet, but we will."
Eventually, questions circled back around to Jones, and the decision to bench him once again.
After offering that part of his rationale for removing Jones was due to preventing him from being hurt in a game that was out of reach, Belichick took issue with a question about if he considers Zappe a viable alternative.
"I'm sure if I left Mac in the game and he got injured, you'd ask why I left him in the game when it was 31-0," Belichick replied. "It is what it is."
As for what the team can do to improve, he cited an across-the-board approach.
"We just need to do a better job in every area. That's all of us."
Sign up for Patriots updates🏈
Get breaking news and analysis delivered to your inbox during football season.