Patriots
Patriots coaches and players try to explain what 'starting over' entails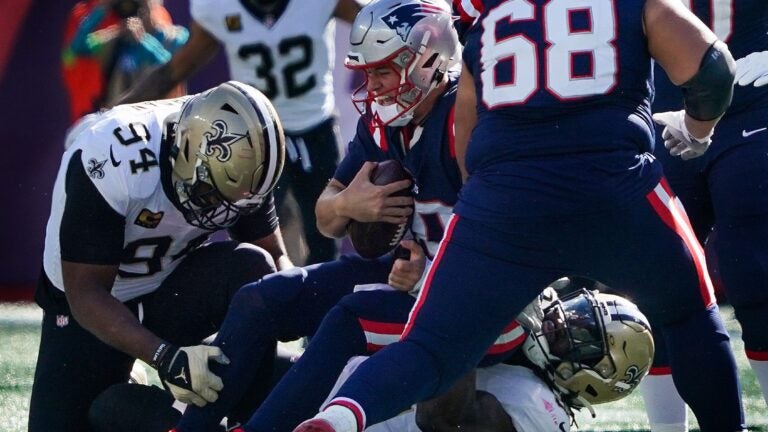 Just five games into the season, the Patriots are in danger of being written off by supporters and skeptics alike.
That's what happens when a team has been outscored, 72-3, over the last two weeks en route to a 1-4 start.
"There are always obituaries being written," Patriots offensive coordinator Bill O'Brien said Tuesday. "But there's a lot of football to be played. So, let's see if we can get better. To me, the NFL is about who can improve the fastest. We have a long way to go, don't get me wrong, but hopefully, we can get there."
Coach Bill Belichick said Sunday that the team needed to "start all over." The Patriots have yet to find their identity, linebackers coach Jerod Mayo said.
"I would say as the season goes on as a player, there are a lot of ebbs and flows," Mayo said. "What I try to relay to the defense is don't get discouraged, we're just going to go out there and do our jobs.
"I've been a part of teams like this where you're still trying to find your identity and are still trying to find out who you are. I think that's what Coach is talking about when he says to hit the reset button."
The Patriots are averaging an NFL-worst 11 points per game, and it's hard to say what the offense is doing particularly well, according to tight ends coach Will Lawing. They are averaging 83.8 yards per game on the ground, which puts them in the bottom third of the league. Meanwhile, quarterback Mac Jones has more turnovers (7) than touchdown passes (5).
Asked what the offense's strengths are, Lawing said, "I don't want to pinpoint anything in particular. When you perform like that on Sunday, it's hard to say that. We've just got to get back to the fundamentals and improve one day at a time and work our tails off to get to where we want get to."
The turnovers are New England's biggest issue, O'Brien said. Opponents have scored directly off four of Jones's turnovers. Taking better care of the football will be a big focus during the reset, O'Brien said.
"Fundamentals. Bill is right. Bill is exactly right," O'Brien said. "Bill's coached a lot of years in this league, 50 years thereabouts; I've been around a long time, not just in the pros but in college football.
"We've had good seasons. We've had seasons where things early on didn't go well. It always goes back to your fundamentals, your teaching progressions, your fundamentals as a player.
"It's a team sport. Everybody is sticking together and making sure that we take care of the little things. Those are the things that are hurting us."
Running back Ezekiel Elliott said having a short memory is key to starting over.
"I just think it means like a reset," Elliott said. "Not necessarily to start over, but like a reset. Obviously, we've got to analyze the last game and see what went right and what went wrong. I think when he said start over, he meant like a fresh memory, you know what I mean, a reset."
Defensive lineman Deatrich Wise Jr. said that Tuesday's practice was a step in the right direction. He said the coaches stressed the importance on players focusing on themselves and not what's going on outside the locker room.
"We're not where we want to be, but we have a lot more weeks left," Wise said. "We're optimistic about turning things around. We're changing our mind-set and focusing on going out and winning. Like Coach said, just getting back to the basics of playing football. The game is easy, but we make it hard."
Sign up for Patriots updates🏈
Get breaking news and analysis delivered to your inbox during football season.