Patriots
Bill Belichick was asked why he let Jakobi Meyers go. Here's his response.
"Well, he was a free-agent, and he signed with the Raiders."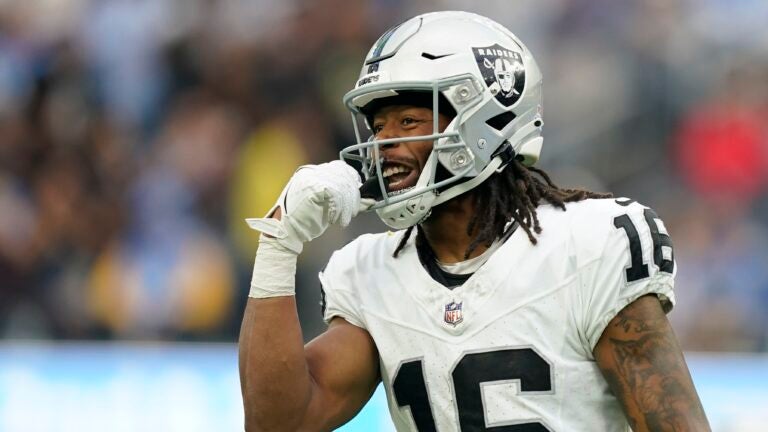 As the Patriots attempt to turn around an offense that is averaging an NFL-worst 11 points per game, it's clear that they miss Jakobi Meyers, who was Mac Jones's most reliable weapon last season.
Meyers led the Patriots in targets, receiving yards, and receiving touchdowns last season. He left the Patriots to sign with Las Vegas in the offseason. Now, as the Patriots game plan for the Raiders this week, they'll have to prepare to match up against Meyers.
"Jakobi is an extremely talented receiver," cornerbacks coach Mike Pellegrino said. "It's funny, when you watch him set routes up in a game it's like 'oooh, I've seen that a thousand times'. His lateral movement. His set up on his route. It's so clean. It's so shifty. I really appreciate his game, and I appreciate who he is as a person and what he does on the field too. He'll go in there and crack a safety that's twice his size. He's a tough dude."
So, why isn't he with the Patriots anymore?
"Well, he was a free agent, and he signed with the Raiders," Patriots coach Bill Belichick responded. "A lot of guys leave and change teams in free agency. But, yeah, Jakobi looks like he looked here."
Belichick said that the Patriots met with Meyers in free agency and were "relatively" close to hammering out a deal. But ultimately, the Patriots opted to bring in JuJu Smith-Schuster instead.
So far this season, Smith-Schuster has 14 catches for 86 yards and no touchdowns. Meyers has 25 catches for 274 yards and three touchdowns.
"We haven't been very productive offensively period," Belichick said when asked about Smith-Schuster's lack of production. "So, I'd be hard-pressed to say it's just one guy."
When asked if he's seeing enough separation from the Patriots' receivers, Belichick said: "We can be better in every area."
With an offense that has thrown six interceptions and lost four fumbles, the Patriots have issues in both the running game and the passing game.
While it's not clear what the solution will be, the fact remains that Meyers is no longer here to help.
Sign up for Patriots updates🏈
Get breaking news and analysis delivered to your inbox during football season.