Patriots
What Mac Jones said about retaining the Patriots' starting QB job after back-to-back benchings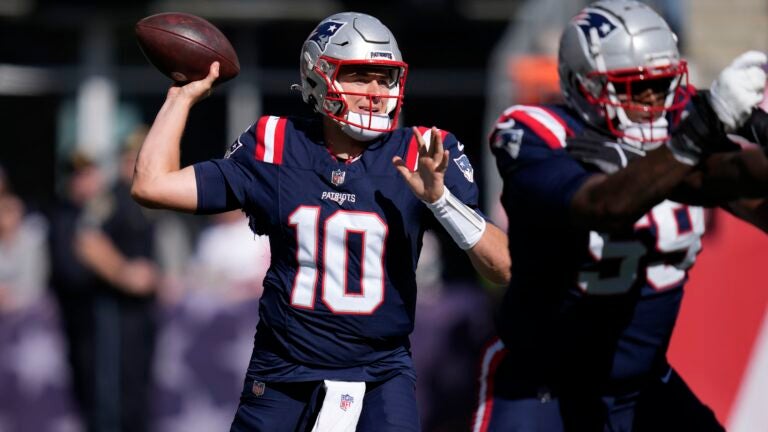 Mac Jones is expected to start for the Patriots on Sunday against the Raiders.
Coach Bill Belichick said Wednesday that he doesn't plan on making changes at the quarterback position. Offensive coordinator Bill O'Brien said the blame for the offense can't be placed on just one person.
Jones said he's grateful to have another shot, but knows that he has plenty to improve upon.
"I appreciate that. I think a lot of that is really good and a lot of things I need to improve on as a quarterback," Jones said. "So, that's what I think of. What can I do better? You know, what are the actual issues? Instead of just throwing stuff up in the air, let's look at the tape, you know, like the plays in the game, 11-on-11 and really see what's going on. That's the important part to me because you can always try to problem solve that way."
After Sunday's 34-0 loss to New Orleans, Belichick said that the team needed to "start all over."
Jones was asked what starting over means to him.
"Yeah, the fundamentals are really important to me," Jones said. "The footwork, I know we've talked a lot about. Footwork, where are my eyes? All that stuff. Then, obviously, also just having fun, too. That's what I think of, when I'm at my best I'm having fun, enjoying everybody."
"That's one of the good things that I can do, is communicate, and I need to do a better job of that," Jones continued. "We're out there playing a game that we love. Right now, it's not looking too good, but we've got to flip the switch, right? And start over and figure out ways to go out there and have fun, sling the ball around and guys go make plays and then celebrate with each other, too."
Jones said he's ready to move on after being pulled from blowout losses in back-to-back weeks.
"I always talk about how, really, each week is a new week," Jones said. "And I know it's tough to say that when they kind of looked very similar, but it is. It's a new week, and we didn't play our best. I didn't play my best in the last game, and we've moved on.
"Now, it's alright, we've got a really good opponent in the Raiders," Jones continued. "And I'm going to focus on – like I talked about – communicating with the guys, having fun, and then doing my part as the quarterback and communicating on the sidelines and all that stuff. So, that will really help. I know it will. It's been proven to do that, and I think that's what I'll focus on and not really focus on the results. The results will come. You've got to stick with the process and the communication."
Sign up for Patriots updates🏈
Get breaking news and analysis delivered to your inbox during football season.