Patriots
Is it time for the Patriots to unveil Malik Cunningham to give the offense a spark?
Bill Belichick said the versatile rookie has shown a lot of improvement in his game, so an opportunity could be coming.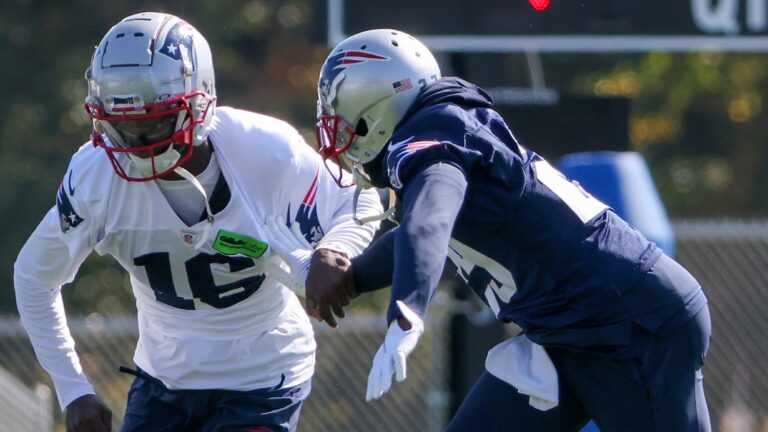 The Patriots desperately need a spark on offense.
They're averaging 11 points per game, dead last in the NFL. They've scored one touchdown over the past three games, and they've benched quarterback Mac Jones in back-to-back lopsided losses.
Kendrick Bourne is the only New England receiver averaging more than 40 yards per game. Bourne, who has two touchdown catches, is also the only Patriots receiver to score a touchdown this season.
The offensive line hasn't shown that it can protect Jones effectively or create enough running room for Rhamondre Stevenson and Ezekiel Elliott.
These are major problems that are unlikely to be fixed overnight. However, there are some measures the team can take as it attempts to inject life into the offense. Bill Belichick hinted at one potential move Friday, saying that rookie Malik Cunningham is getting closer to his first regular-season appearance.
"He's definitely trending towards — anybody who keeps improving is going to eventually probably get an opportunity to play," said the coach.
Cunningham primarily played quarterback in college at Louisville. He took some snaps at quarterback for the Patriots during the preseason but also has spent time practicing as a receiver and with special teams.
"Malik's really worked hard and made a lot of improvement," said Belichick. "He never really played in the kicking game at Louisville, so he's started to show up there.
"Never played receiver — didn't look very good, either, in the spring, but he's really improved there. He can catch the ball, but just route running and finding zones and things like that. But it's come pretty naturally to him."
The Patriots' depth at receiver has taken some hits recently. JuJu Smith-Schuster and Demario Douglas both have been dealing with concussions this week. Kayshon Boutte hasn't played since the opener against Philadelphia. Tyquan Thornton is in his first week back at practice after being removed from the injured reserve list.
There's also the possibility of using Cunningham at quarterback in a package or two. Jones is expected to start, but Cunningham brings a level of athleticism that the team's other players at the position don't have.
"He plays a good amount of quarterback, he's competent there," Belichick said. "He's a smart kid, works hard, and the opportunities he's had, he's shown a lot of improvement doing them. It's a little too early for an induction ceremony here, but definitely a lot of improvement."
Jackson settling in
With the first week of his second stint in Foxborough under his belt, cornerback J.C. Jackson says he's already feeling more comfortable. He said the Patriots' defensive scheme is "pretty much the same" as when he left in 2021, and that it feels good to reconnect with old teammates.
"Just seeing the older guys that I was already here with," Jackson said. "Seeing some of the coaches. Just being around some familiar faces makes me feel more comfortable."
Cornerbacks coach Mike Pellegrino said Tuesday that he viewed last week as a challenge for Jackson. Just how much could the veteran handle as he jumped back into the system less than a week after being acquired from the Chargers?
Jackson played 36 snaps in the loss to the Saints, which was half of the defensive total. He hadn't played that much since Week 2 for the Chargers.
"I thought he did a great job, just in general," Pellegrino said. "He did a great job with his retention of what he learned in the past. I told him that a thousand times, so I hope that he remembers it, I've scarred that into his brain.
"But all jokes aside, he did a good job coming in whatever day that was, putting his nose to the ground and just getting ready."
Familiar territory
Belichick smiled as he spoke about how much time the Patriots have spent in Las Vegas recently. He has made four trips to Allegiant Stadium in the last 14 months.
"Way more time in the last 14 months than all the rest of my life," Belichick said. "It's a good thing."
Former Patriots offensive coordinator Josh McDaniels is now Las Vegas's head coach. Jimmy Garoppolo, who backed up Tom Brady in Foxborough, is the starting quarterback. Jakobi Meyers, who was the Patriots' top receiver last year, is tied with Davante Adams for the team lead in touchdown receptions with three.
"It's pretty much the same conversation every week," Belichick said. "We know somebody. They know somebody. We've had somebody. They've had somebody.
"The more time that gets removed — last year was different — I'd say this year, there's more space in between, probably a little bit less of a factor. Certainly, we know them. They know us, but really you could say that every week."
Sign up for Patriots updates🏈
Get breaking news and analysis delivered to your inbox during football season.