Patriots
The loss to the Raiders last season may have broken the Patriots, and they get another shot on Sunday
That loss began a stretch from the final month of last season through the first five games this year in which the Patriots have gone 2-7.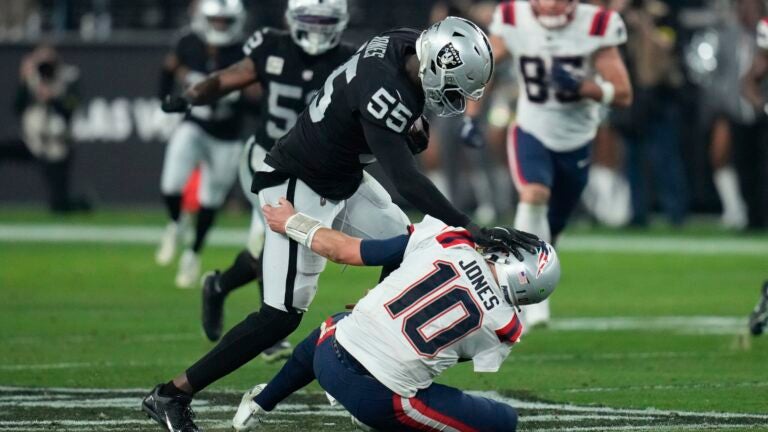 Welcome to Season 12, Episode 6 of the Unconventional Preview, a serious yet lighthearted, nostalgia-tinted look at the Patriots' weekly matchup . . .
Coming off the worst back-to-back losses in Bill Belichick's 24 seasons as coach, the Patriots now face the team against whom they suffered their most absurd loss during their ongoing backslide.
In Week 15 last season, the Patriots lost to the Raiders, 30-24, to drop to 7-7. The Patriots led by a touchdown with less than a minute left . . . and somehow managed to lose the game in regulation.
Keelan Cole tied the game with a 30-yard touchdown reception with 32 seconds left, and the Raiders were gifted victory when Patriots receiver Jakobi Meyers inexplicably lost all sense of judgment and heaved a backward pass that Chandler Jones returned 48 yards for a touchdown, pausing only to pound Patriots quarterback-turned-reluctant-tackler Mac Jones into the turf along the way.
In retrospect, that game might have broken the Patriots. That loss began a stretch from the final month of last season through the first five games this year in which the Patriots have gone 2-7. Jones was brutal against the Raiders and his former offensive coordinator with the Patriots, Josh McDaniels, completing just 7 of 23 passes for 65 yards over the final three quarters.
Jones's struggles have been so overwhelming recently that his career appears to be at an inflection point. He has four interceptions and two fumbles, with his miscues leading directly to three touchdowns, in back-to-back losses to the Cowboys and Saints. The Patriots have been outscored, 72-3, and allowed 69 consecutive points over those two games. Jones was benched in both games, but backup Bailey Zappe did nothing other than remind everyone how hard it is to play quarterback in the NFL.
---
So Jones starts this week, leading the NFL's 32nd-ranked offense (a pathetic 11.0 points per game), behind an injury-plagued and leaky offensive line, with an injury-plagued and uninspiring cast of receivers, trying to avoid a hat trick of benchings. Considering his relative promise as a rookie with McDaniels as his coordinator, it's shocking that it has come to this.
The Raiders, with old friend Jimmy Garoppolo at quarterback, are no juggernaut. Garoppolo has been inconsistent in his four starts (he missed the Week 4 matchup with the Chargers because of a concussion), throwing seven interceptions to six touchdown passes. The Raiders have scored just 15.8 points per game, tied for 29th in the league, but still more than 4 points better than the Patriots. They are coming off their second win of the season, a 17-13 decision over the Packers Monday night, and feature the kind of high-end talent the Patriots lack.
Kick it off, Ryland, and let's get this one started . . .
Three players to watch other than the quarterbacks
Jakobi Meyers: In a completely unsentimental sense, based entirely on skill set, there was some logic in the Patriots' decision to move on from their homegrown receiver this past offseason and sign JuJu Smith-Schuster instead. Smith-Schuster was better after the catch, and the Patriots were looking to get more athletic.
The rationale was OK. The outcome? Well, that has been a disaster. Smith-Schuster, who clearly remains compromised by a knee injury suffered last season, is averaging a paltry 6.1 yards on just 14 receptions.
Remember what Randy Moss was in 2007? Smith-Schuster, who is expected to miss Sunday's game after suffering a concussion against the Saints, has been the opposite. His yards per reception is .1 higher than Dan Klecko's 6.0 on three receptions during the 2004 season. Klecko, as you will recall, was primarily a defensive tackle.
Because the outcome has been a disaster, it's impossible to resist wondering why the Patriots so easily dismissed all of the positives that Meyers brought to the team. He had built a rapport with Jones, led the Patriots in receiving for three straight years, and was as reliable as the sunrise on third down. He was a player-development success story, having been signed as an undrafted free agent before the 2019 season. He was respected among his veteran peers for his work ethic, becoming everything that '19 first-round pick N'Keal Harry failed to become. And he wanted to stay.
I suspect he is going to light up the Patriots Sunday. He's cast correctly as the No. 2 receiver to three-time All-Pro Davante Adams (37 catches, 442 yards, 3 TDs), who must command the brunt of the Patriots defense's attention. Meyers has been typically productive for the Raiders (25-274-3), and he should get plenty of looks from Garoppolo against a Patriots defense that has just one interception. McDaniels is going to give Meyers the chance to seize the day against their former boss. Tuck this thought away: McDaniels never needs a nudge to break out a trick play or two, and Meyers, a former college quarterback, was 4 for 4 with two touchdown passes with the Patriots.
Maxx Crosby: Yeah, we should definitely prepare to hear Jim Nantz and Tony Romo say his name often and admiringly come Sunday. The Patriots have actually done a decent job against the Raiders' relentless two-time Pro Bowl pass rusher. In two previous matchups, Crosby managed a pair of sacks in the Patriots' Week 3 win in 2020, but didn't have any among his five tackles in last year's meeting. But it's hard to fathom, given the injuries and general porousness of their offensive line, how they might do so this week. Crosby is the reigning AFC defensive player of the week after contributing four tackles for loss and an important fourth-quarter sack on the Packers' Jordan Love Monday night. Crosby has five sacks, seven quarterback hits, and eight tackles for loss on the season, and last season he led the NFL in tackles for loss with 22. Patriots right tackle Vederian Lowe, who has allowed 25 pressures in four starts, has no chance one-on-one against Crosby. And since we're all second-guessing Belichick's drafts and personnel moves over recent seasons, here's something else to consider: The Raiders took Crosby with the 106th pick in the 2019 draft . . . five picks after the Patriots selected tackle Yodny Cajuste, who started five games for New England and is currently on the Giants' practice squad. Ugh.
Rhamondre Stevenson: It's easy to forget because of his complicity in the loss to the Raiders last year, having lateraled to Meyers to begin the final-play chaos, but Stevenson was a force of nature in that game despite dealing with an ankle injury in the days leading up to it that threatened to render him inactive. Stevenson had just five carries for 37 yards in the first half — he didn't get his first attempt until a little more than four minutes remaining in the first quarter. But he came out supercharged for the second half, running for 26 yards on his first carry after the break, adding a 34-yard touchdown run, and finishing with 172 yards on 19 attempts.
Stevenson has looked like he's been running in sand all season, for reasons understandable (the line is a sieve) and perplexing (is there an injury we don't know about?). He had just 24 yards against the Saints and 188 on the season, and is averaging just 2.8 yards per attempt. The Raiders — who have their own issues in the running game, with Josh Jacobs averaging just 2.7 yards per carry — rank 23rd in the league against the run, allowing 129.4 yards per game. If Stevenson can't get it going this week, it's reasonable to wonder if he will at all this season.
Grievance of the week
Nick Folk, traded by the Patriots to the Titans for a seventh-round pick at the end of training camp, has kicked flawlessly for his new team, hitting all seven of his field goal attempts and all 13 extra points. Chad Ryland, whom Belichick drafted in the fourth round out of Maryland, has not been flawless for the Patriots, missing four of his eight field goal tries. (He has made all five of his extra points, and that he has just five attempts is yet another indictment of the Patriots' offense.)
The gap in their success rates — and the fact that Folk made 89.3 of his field goal attempts during his three-plus seasons in New England — has led many among us to lament the kicking change as one more personnel mistake to add to Belichick's ever-growing pile. I don't think that's fair. We know why Belichick made the change. Folk is 38 and his lack of leg strength was becoming a concern. All of Ryland's misses have come from 48 yards or beyond, some in lousy conditions, others hindered by a bad snap.
He's enduring growing pains, but in the big picture, this was the right thing to do. There's plenty to complain about with Belichick's roster construction, but this was the right move, even if it hasn't paid off yet.
The flashback
It's probably not remembered as fondly as it could be because the Patriots ultimately got stomped into the turf by the Bears in a 36-point loss in Super Bowl XX. But the Patriots' run through the AFC playoffs in 1985 was probably the franchise's greatest achievement until Tom Brady and Belichick arrived to make Super Bowl victories the norm.
The '85 Patriots won three playoff games on the road — a 26-14 wild-card win over the Jets, a 27-20 divisional-round win over the Raiders, and then a 31-14 takedown of the Dolphins in the AFC title game.
The Patriots' win over the Raiders was eventful not just for the performance on the field — Craig James ran for 104 yards and a touchdown and Jim Bowman's fumble recovery for a touchdown in the third quarter provided the margin of victory — but for what happened afterward.
In the moments after the game, Patriots general manager Patrick Sullivan got into a confrontation with Raiders players Howie Long and Matt Millen. Sullivan admitted afterward that he had been heckling Long, a Charlestown native who had been critical of the Patriots organization, for much of the game. Long was not impressed. "He's the jellyfish of Foxborough," said Long, who said he faked like he was going to hit Sullivan. "I wish there weren't laws to protect this guy."
Millen actually did get a shot in, hitting Sullivan, by some accounts with his helmet, others say with his fist. Sullivan, who was then 33 and described, tale-of-the-tape style, as "of average size" in the Associated Press report of the incident, managed to keep his wits about him.
"I was seeing a couple of stars and my players pulled me away," he said. "Was I going to go after him? That would be pretty silly."
Prediction, or do you think Lester Hayes still slathers himself in Stickum? . . .
The Raiders' motto, at least during their dirty, rotten '70s heyday, was "Just win, baby." The loss to the Saints convinced me that the Patriots' motto this season should be the opposite. The roster is devoid of high-end young talent, save for injured cornerback Christian Gonzalez. The third-year quarterback, a former first-round pick, is not going to be worthy of an extension. It's time to go full rebuild, whether or not Belichick is here beyond this year. Fortunately, in a weird sort of blessing, the Patriots are capable of losing without resorting to doing so deliberately. Just lose, baby. Raiders 19, Patriots 13.
Sign up for Patriots updates🏈
Get breaking news and analysis delivered to your inbox during football season.