Patriots
Bill Belichick discussed Malik Cunningham, Patriots' penalties after loss vs. Raiders
"That's not a good formula."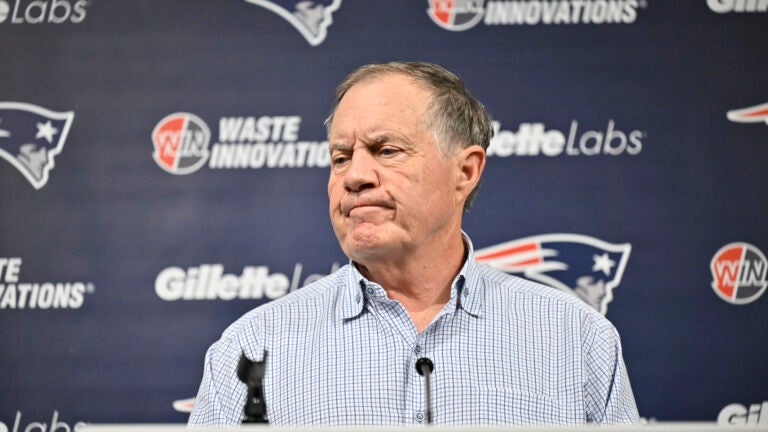 Following the Patriots' 21-17 loss to the Raiders, Bill Belichick once again gave a simple overview of his team's problems.
"Obviously we just couldn't quite make enough plays here tonight," Belichick began. "We had our opportunities and just need to do a better job here in just about every area. One of a number of things could've made the difference, and we just need to be coach[ed] better, play better, execute better."
It's a similar prognosis to what he's said in previous weeks, with the Patriots now falling to 1-5.
Unlike the previous two defeats, however, New England was able to keep the game close. The Patriots even had the ball back with a chance to potentially win the game late in the fourth quarter, but failed to put a drive together.
Part of the issue against Las Vegas was a consistent string of penalties (the Patriots committed 10 for 79 yards). Especially for a Belichick team that prided itself on playing mistake-free football for years, it was a clearly disappointing outcome for the longtime coach.
"We had penalties to start the game, and had three penalties in the last two minutes. That's not a good formula," Belichick acknowledged.
Sunday marked the regular season debut of undrafted rookie Malik Cunningham, who previously played in preseason but had been on the practice squad until this past week.
Cunningham saw limited time on designed plays (one, in which he split out wide after starting under center, resulted in a Ezekiel Elliott touchdown run).
Belichick was asked why the team signed Cunningham for the matchup against the Raiders.
"We have a lot of people that are hurt," he replied.
Is Cunningham the Patriots' backup going forward, or was this just a one-game assignment?
"We're just talking about this game," Belichick said.
With a third straight loss, and with the team appearing to have fallen completely out of any potential playoff race, the Patriots' coach was asked how personally he takes the current situation, given his past success.
"Right now it's just about this game," Belichick said. "Just take it week by week. That's the NFL."
Having been benched in the previous two Patriots defeats, Mac Jones managed to keep things more competitive on Sunday. He finished 24 of 33 for 200 yards, throwing one touchdown and one interception.
Yet when asked if he credited Jones for persevering through the last few weeks, Belichick kept his response general.
"As a team, we all responded pretty well. Competed well, like I said, we just didn't make enough plays to win.
Sign up for Patriots updates🏈
Get breaking news and analysis delivered to your inbox during football season.
Newsletter Signup
Stay up to date on all the latest news from Boston.com