Patriots
'Just trying to do too much': Mac Jones explains 'horrendous' interception
"Interceptions are part of the game and I didn't make a good throw."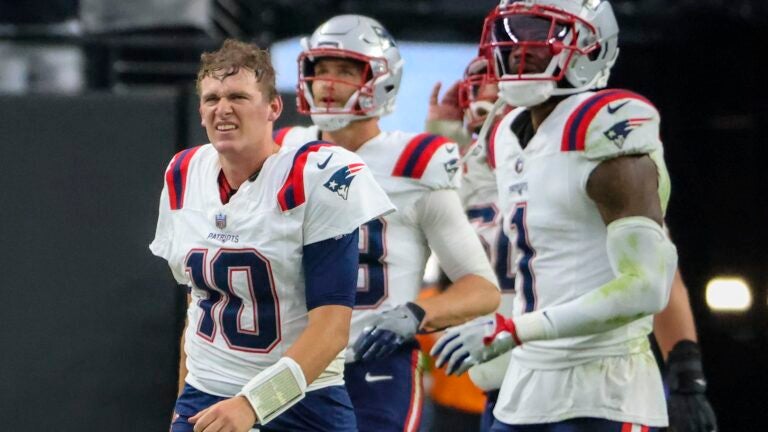 The Patriots were just outside Raiders' red zone, down by seven with 2nd-and-4 late in the second quarter when Mac Jones decided to improvise.
Jones scrambled out of the pocket towards the Patriots' sideline when he saw a Las Vegas player rushing towards him with his hands up. The third-year quarterback panicked and overthrew an open Hunter Henry by several yards.
The ball floated over Henry's head and right into the arms of Las Vegas's Tre'von Moehrig for an interception.
"Interceptions are part of the game and I didn't make a good throw," Jones said. "Just trying to do too much, they got three points from it or whatever and that's on me."
CBS's Tony Romo called the throw "horrendous", saying that it was one of a number of mistakes Jones wished he could take back from this season.
Jones now has seven interceptions against five touchdowns. Three of the interceptions have been returned for touchdowns. Patriots coaches have consistently identified turnovers as one of the biggest issues holding New England back this season.
"For us, we work so hard and all that stuff, we've put an emphasis on it and those are part of the game," Jones said. "But at the same time I like to put them in different buckets, like 'was it a forced penalty?' Were you giving the effort and they just called it? It is just was it is. "
"The unforced ones are the ones you want to take away, and we have too many of those," Jones continued. "Penalties, turnovers, all that stuff. Definitely have to improve, but you've got to keep swinging. If you don't swing, you're not going to get any hits, so you've got to keep swinging."
The morale in the Patriots locker room is "not good", Jones acknowledged. Sunday's loss to Las Vegas dropped the Patriots to 1-5. Plus, New England's next two games are against Buffalo and Miami, divisional opponents who have given New England fits in recent years.
"Obviously we just lost, so it's not good," Jones said. "But, I think we have a really good group of guys and if we choose to respond the right way, then it will be really good. If we don't, then it will go the other way. I know I'm going to be positive always, that's my goal.
"Trying to work hard like I've been doing and bring people with me," Jones continued. "I know we've been saying that, and the results haven't' been there. So, I guess maybe look at the process and see what we need to change to get better because the results aren't there."
Jones had a 75-yard touchdown pass to Ezekiel Elliott called back after Hunter Henry was whistled for a holding penalty. It would have been the longest play of the Patriots' season. DeVante Parker dropped a deep ball on the Patriots' final drive, that turned out to be a well-placed throw from Jones.
Still, Sunday's loss marks the third game in a row Jones has failed to throw a touchdown pass. He has turned the ball over in five of New England's first six games.
Elliott and Rhamondre Stevenson scored a touchdown apiece, but were held to a combined 80 yards. The offensive line gave up four sacks, while New England's pass-rush didn't generate any.
It was another frustrating performance for the Patriots' offense as a whole, though Kendrick Bourne's 10 catches for 89 yards can be viewed as a bright spot.
Neither Jones nor the unit he leads provided enough production to win.
"Definitely frustrating, but I just have to watch it all and learn and watch it with truthful eyes," Jones said. "That's all you can do. It just wasn't clean enough across the board, and there were penalties and all sorts of stuff we need to clean up. It's hard to win like that, and I'm definitely frustrated for sure."
Sign up for Patriots updates🏈
Get breaking news and analysis delivered to your inbox during football season.