Patriots
Patriots talked about starting over, but loss to Raiders looked eerily similar
You know what my grievance ought to be? That there are so many Patriots blunders, mistakes, and screw-ups every week that it's tough to narrow it down to just one.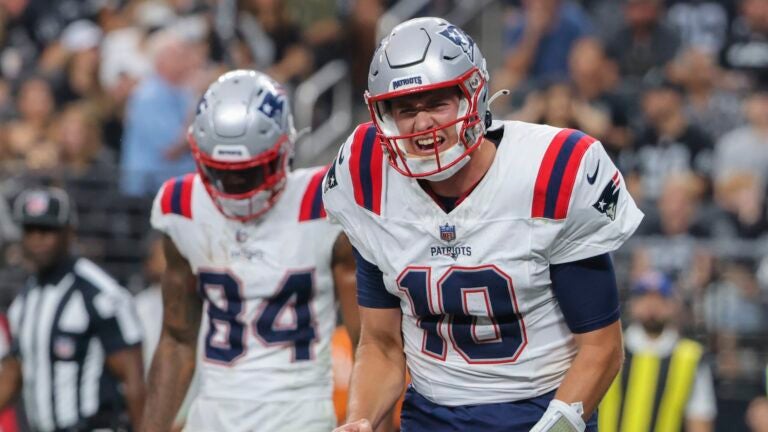 Welcome to the Unconventional Review, an instant reaction to standouts, stats, and story lines from the Patriots' most recent game …
After an embarrassing loss to the Saints last week, which followed an embarrassing loss to the Cowboys the previous week, Bill Belichick talked about how the Patriots had to start over.
They did make some changes during their 21-17 loss to the Raiders Sunday. They scored not one, but two touchdowns, their first since the win over the Jets in Week 3. They gave Malik Cunningham a real contract and a couple of plays to run. But otherwise, the restart looked an awful lot like what they were trying to put in the past.
Mac Jones did not complete a pass in the first quarter. The Patriots offense did not get into plus yardage until a 7-yard DeVante Parker catch in the second quarter. They fell behind by double digits yet again. They committed more penalties (10 for 79 yards) than the Raiders (6-42), who traditionally consider a high penalty count the cost of doing dastardly business.
The defense, especially considering the never-ending injury attrition, held up OK. But Jones had his obligatory terrible interception — a rollout and wild overthrow of Hunter Henry into the arms of the Raiders' Tre'von Moehrig — that makes one question whether his alleged feel for the game was always a myth. I swear, the NFL Films story of the 2023 Patriots season will be titled, "Stevenson for 3, incomplete to Henry, Jones sacked for minus-7."
Anyway, the Patriots are 1-5, with the Bills and Dolphins ahead.
Three players who were worth watching
Players suggested in the Unconventional Preview: Jakobi Meyers, Maxx Crosby, Rhamondre Stevenson.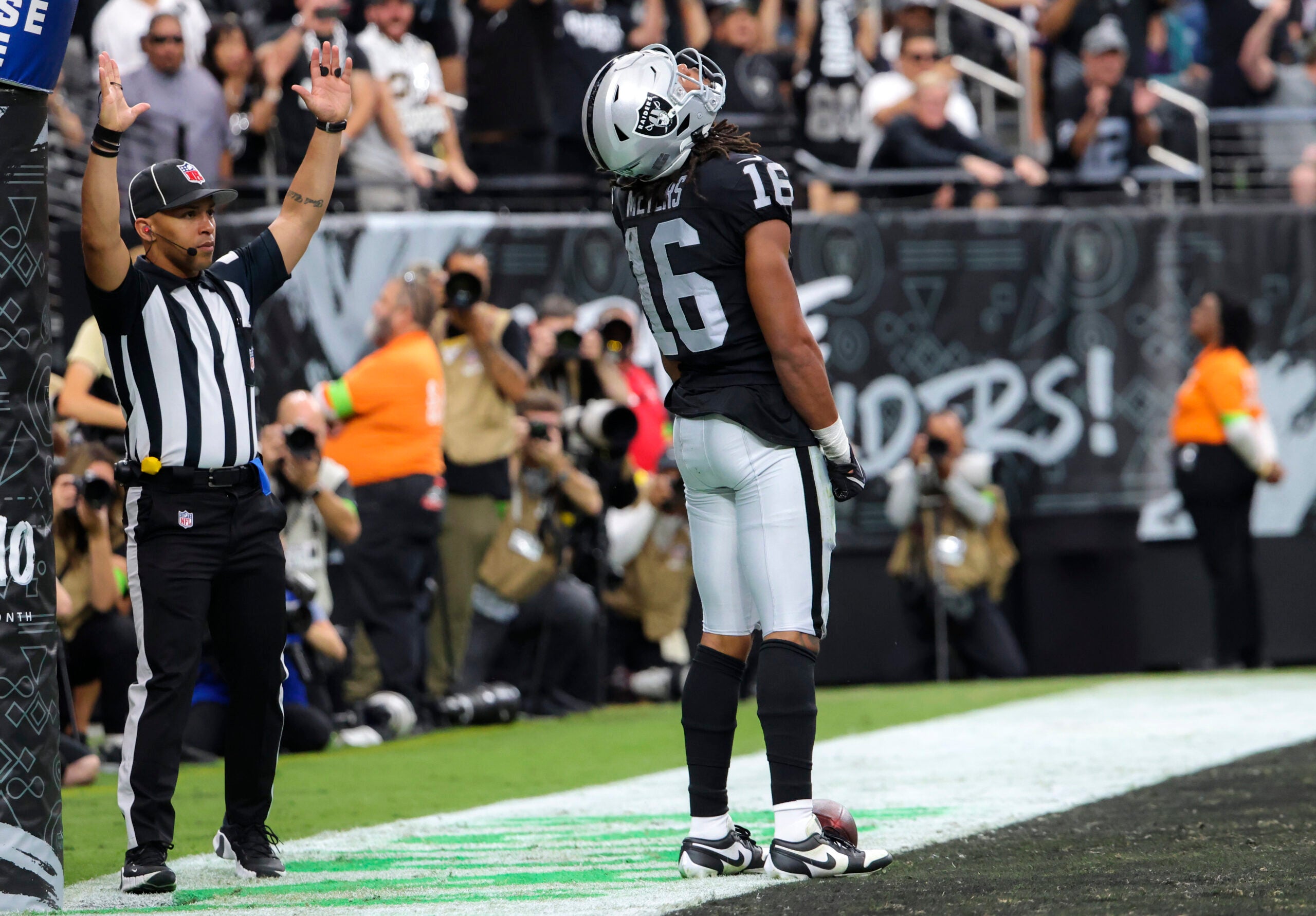 Jakobi Meyers: Most expected Meyers would do some October haunting against his former employers. And he did, in part because the Patriots were focused on taking away No. 1 option Davante Adams (two catches, 29 yards), and in part because Meyers — at least when he doesn't go on crazed lateraling sprees at the worst possible time — is the epitome of a reliable football player. Meyers scored the Raiders' first touchdown early in the second quarter, catching a 12-yard dart from Jimmy Garoppolo one play after the receiver had lunged for a first down, getting 6 yards on a third-and-5 situation. Meyers torched Myles Bryant on his TD, getting more separation than Parker has on every route combined during his Patriots career. Meyers also had an important catch shortly before halftime, making a 16-yard grab on third and 20 that set up Daniel Carlson's 37-yard field goal. Meyers finished with five catches for 61 yards, all in the first half. Unlike current Patriots receivers, he also proved that he learns from his mistakes, never attempting a backward pass even once Sunday.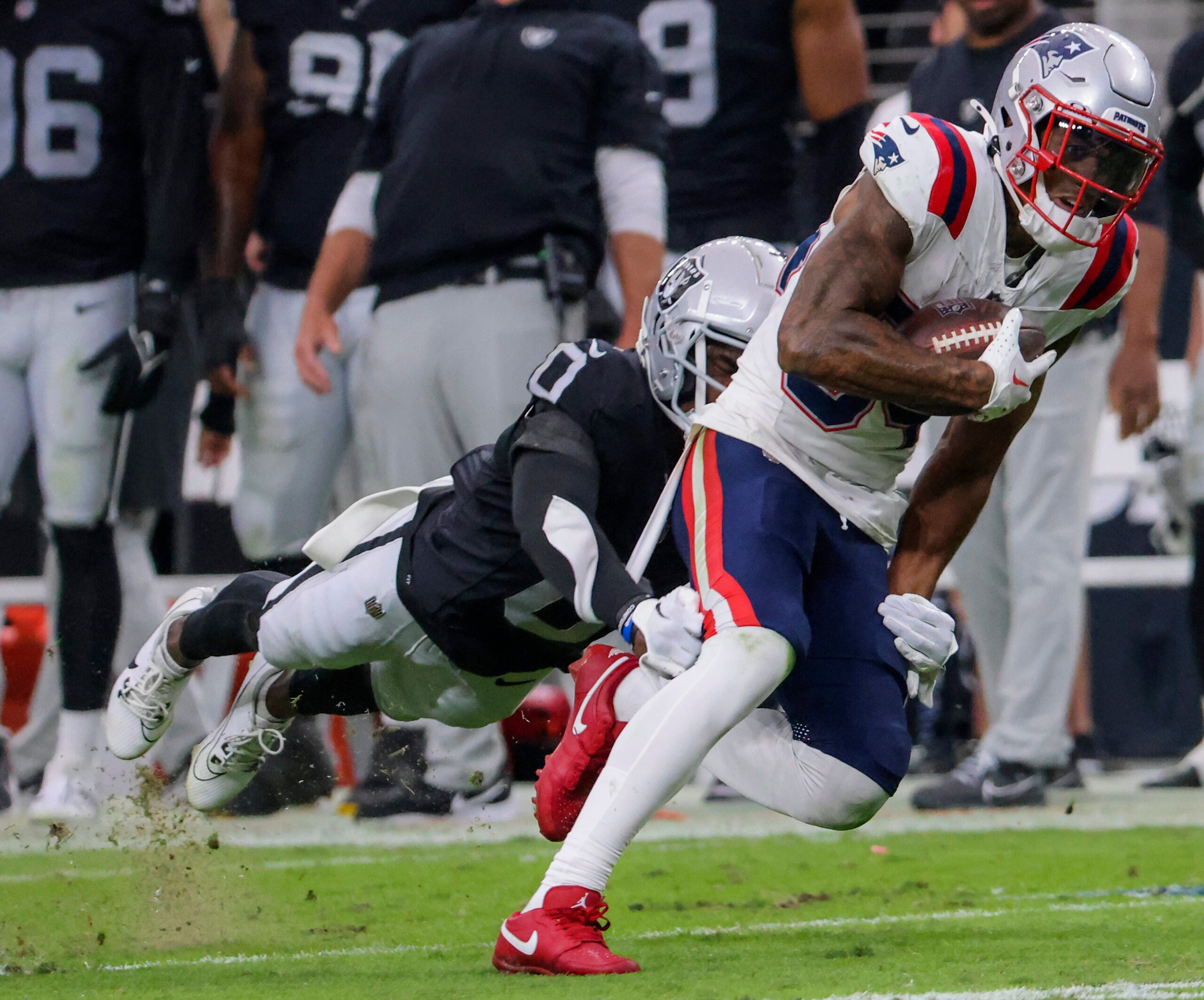 Kendrick Bourne: He's pretty much the only player on the Patriots offense that is enjoyable to watch more often than not. He always plays with energy, and has a knack for picking up extra yardage after the catch. Bourne was darned good, catching 10 passes on 11 targets — do you know how hard it is to catch 91 percent of your targets in this discombobulated Patriots offense? — for 89 yards. He delivered the Patriots' longest play from scrimmage (at least among those that weren't called back because of penalties), with a catch and nifty run for 36 yards in the second quarter on a drive that ended with a field goal. On the Patriots' methodical — probably too methodical, considering it required 17 plays and devoured 9 minutes, 30 seconds of game time — drive to cut the Raiders' lead to 19-17 with 3:33 left, Bourne made seven catches along the way, including a 15-yarder to convert a third-and-9 at the Raiders' 36.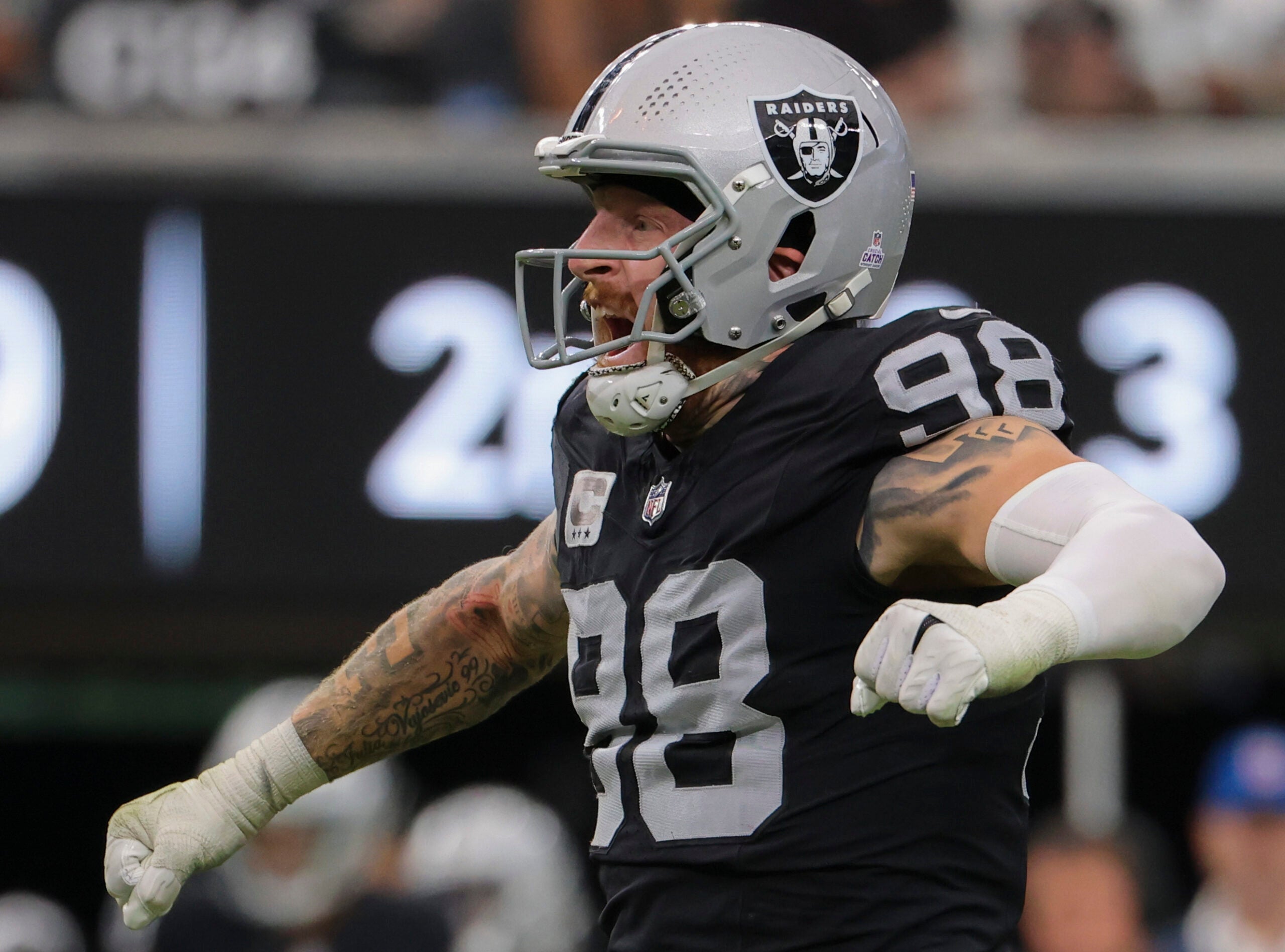 Maxx Crosby: The Raiders' relentless edge rusher finished with just a half-sack, but it was doozy. Crosby and Bilal Nichols essentially ended the game when they met at Jones's torso and hauled him down for a safety with 1:47 left, giving the Raiders a 21-17 lead. Crosby redeemed himself after a knuckleheaded play moments earlier, when he was called for roughing-the-passer, giving the Patriots a first down at the Raiders' 3 and setting up Rhamondre Stevenson's 1-yard touchdown run. Crosby finished with a team-high seven tackles, and his frequent presence in the pocket eventually had Jones thinking about him even when he was not around.
Grievance of the game
You know what my grievance ought to be? That there are so many Patriots blunders, mistakes, and screw-ups every week that it's tough to narrow it down to just one. But this week, even with the requisite boneheaded pick by Jones and the usual undermining penalties at the beginning and end of the game, the choice here is easy. In his two-plus seasons as the Patriots' starting quarterback, I'm not sure I've seen Jones make a better throw than the deep ball he dropped into Parker's hands with 1:59 left in the game and the Patriots down by 2. Unfortunately, that out-of-nowhere gem of a pass dropped out of Parker's hands and gently to the turf near midfield. It was an egregious drop at a crucial time, surely causing countless Patriots fans across this land to wonder yet again why Belichick gave this guy an extension.
Three notes scribbled in the margins
Predicted score: Raiders 19, Patriots 13
Final score: Raiders 21, Patriots 17
Stevenson and Ezekiel Elliott combined for 17 carries for 80 yards and two touchdowns. That's not going to remind any old-school Patriots fan of, oh, their '78 team's rushing attack, but that's decent considering the Patriots trailed by double digits before the game was 18 minutes old … Rookie tight end Michael Mayer had as many catches on the Raiders' first drive (3) as he had all season. He finished with five catches for 75 yards, including a 32-yarder, and is going to be a good one … The Patriots doubled their interception total on the season to two when Jahlani Tavai secured the rebound after Jabrill Peppers jarred the football and a few other objects loose from Adams with a vicious hit in the second quarter. Peppers reminds me of Lawyer Milloy sometimes.
Sign up for Patriots updates🏈
Get breaking news and analysis delivered to your inbox during football season.