Patriots
Mac Jones talks about teammates' belief in him, Jakobi Meyers, and more on WEEI
"I do feel like I have a lot of respect from the guys."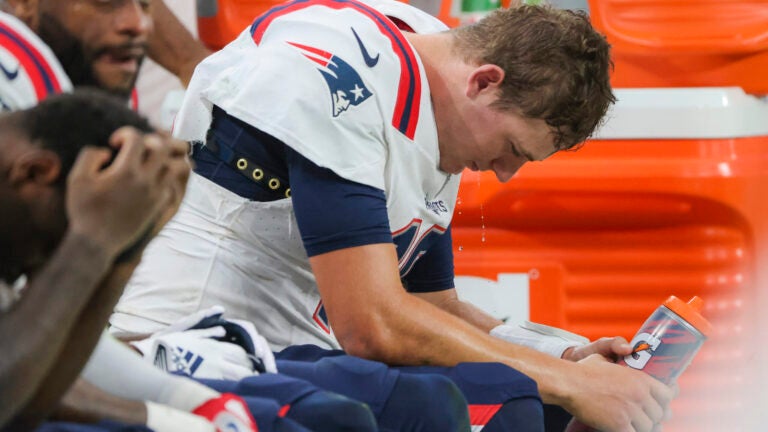 Patriots QB Mac Jones appeared on WEEI's "Jones & Mego" show on Monday, touching on a variety of topics — including his teammates' confidence in him, Jakobi Meyers, DeVante Parker's costly drop, and more.
Here are a few highlights from Jones' extended radio interview:
Jones pushes back on talk of teammates losing faith in him
The case can be made that the 2023 Patriots season has already been lost, especially after New England dropped two-straight games against relatively pedestrian opponents in the Saints and Raiders in Weeks 5 and 6.
But even before New England dropped a 21-17 contest in Vegas on Sunday evening, a narrative has been brewing regarding Jones and his standing at the top of New England's depth chart.
After getting benched in back-to-back losses to Dallas and New Orleans, Andrew Callahan of the Boston Herald noted during a radio spot with "Jones & Mego" last Friday that "at least a few, but probably many" members of the Patriots' organization were "firmly out" on Jones as QB1.
When asked about those reports on Monday, Jones pushed back against the assertion that he's lost the trust of his teammates amid New England's 1-5 start to the new season.
"Yeah, I do," Jones said when asked if he believes his teammates still have trust in him. "I have a lot of respect for the guys on our team. I've been with these guys for, some of them, three years, and some of them I played with in college or whatnot. I do feel like I have a lot of respect from the guys.
"There's a lot of things I want to do better as a player, and that'll really change some things. But at the end of the day, I've got to keep working, they've got to keep working, and I know they will, just like we all are. I know it sucks and it's frustrating, but at the same time, you've got to keep going forward and see who wants to battle."
Even if Jones hasn't lost his base of support in New England's locker room, it remains to be seen how Jones and the Patriots can right the ship amid numerous issues regarding porous O-line play, injuries up front, subpar playmakers, suspect coaching, and Jones' own lapses as far as decision making.
Even though Jones did not spend most of the second half of Sunday's loss to the Raiders stapled to the bench, he was still knocked for a brutal interception that resulted in another three points for Vegas.
Jones has now been knocked for five interceptions in New England's last three losses with zero touchdowns.
"I don't focus on that stuff," Jones replied when asked if he is worried about losing support with additional losses. "I really just focus on showing up to work every day, trying to be positive, really just working hard and finding out answers to the test. There are a lot of things that will pop up, and my goal is to figure out how do we solve those problems.
"It's all about problem-solving, and we just have to continue to do that. Every week is different. Obviously, there's a lot of things we need to do better."
Dealing with a "short leash"
Callahan's report was one of many narratives hanging over Jones going into Sunday's matchup in Sin City.
Hours before kick-off at Allegiant Stadium, NFL Network's Ian Rapoport reported that Jones was going to be on a "short leash" against the Raiders, especially after back-to-back benchings.
"A poor opening few series could potentially trigger another QB to take snaps in Las Vegas," Rapoport wrote.
Ultimately, Jones remained as New England's primary starter throughout Sunday's loss, with New England's backup QB in Malik Cunningham utilized in more of a gadget role with just six total snaps.
On Monday, Jones was asked if having such a short leash and slim margin for error can make it difficult for any QB to succeed in the NFL ranks.
"Um, no," Jones. "Just because I don't really pay attention to that stuff. Obviously, we talk about it in interviews and shows. For me, I just want to go out there and try and execute a little bit better each week and get better. Every week's different. Some weeks you're gonna run the ball a lot or play action a lot, and some weeks you're going to throw and do all those things.
"It just depends on the week and I try not to focus on all of the emotions from the outside and really just focus on the team, because I really care about the team and I really do have a really good relationship with a lot of the guys. We want to do better. We're trying, we're working, and we just gotta continue to do that."
Meyers burns Patriots in Vegas
One player who could help Jones and the Patriots is Jakobi Meyers, who served as New England's most dependable receiver for the previous three seasons before the team opted to let him walk in free agency.
Meyers, who signed with the Raiders back in March, doled out some revenge against his former club on Sunday, reeling in five catches on seven targets en route to 61 receiving yards and a touchdown against New England.
Meyers is now up to 30 catches, 335 receiving yards, and four touchdowns in five games with Las Vegas — with the former undrafted free agent out of NC State on pace for career highs in catches (85), yards (949) and touchdowns (11) with his new team.
Meanwhile, New England's top two receivers in JuJu Smith-Schuster and DeVante Parker have combined for just 222 receiving yards and zero touchdowns so far this season.
"I talked to Jakobi and it's part of the NFL, right? I mean, there's always the draft and there's always free agency, so it's always tough to keep all your teams together," Jones said of Meyers leaving New England in free agency. "But I have a lot of respect for Jakobi.
"Like I said, he's one of my closest friends around the NFL and he's a great player. So really just enjoy watching him and all the stuff that he does on film, on the field and and also off the field. Just a good guy and all that."
Parker's costly drop
On a night where New England came up just short of a much-needed win, DeVante Parker's brutal drop on the Patriots' final drive at Allegiant Stadium looms large.
Trailing 19-17 with New England on its own 9-yard line with 1:59 left, Jones uncorked a deep ball on second-and-11 for Parker, who was unable to reel it in.
Had Parker snagged the ball, it would have given the Patriots the ball close to the Raiders' 45-yard line, and in position to run a few more plays to get into field-goal range. Instead, New England's offense stalled once again, with a safety against Jones sealing the win for the Raiders.
Jones was asked about Parker's costly drop on Monday and how much it looms over yet another failed fourth-quarter comeback for New England.
"Yeah, DP's done a great job," Jones said. "He's a very good deep threat, in-cut runner and all those things. So he did a lot of really good things and I have all the faith in him in the world. So it's just one little game.
"At the end of the day, we're gonna keep working, get the timing down and all that stuff. So you can't put it on one person or one play. At the end of the day, it's all of us together. And we're going to stick together, because that's what good teams do."
Newsletter Signup
Stay up to date on all the latest news from Boston.com