Patriots
Time for fans of stumbling NFL teams to start dreaming about Caleb Williams coming to the rescue
Off to their worst start ever under Bill Belichick, the Patriots lost back-to-back games against the Cowboys and Saints this month by a combined score of 72-3. Nine of New England's remaining opponents are .500 or better.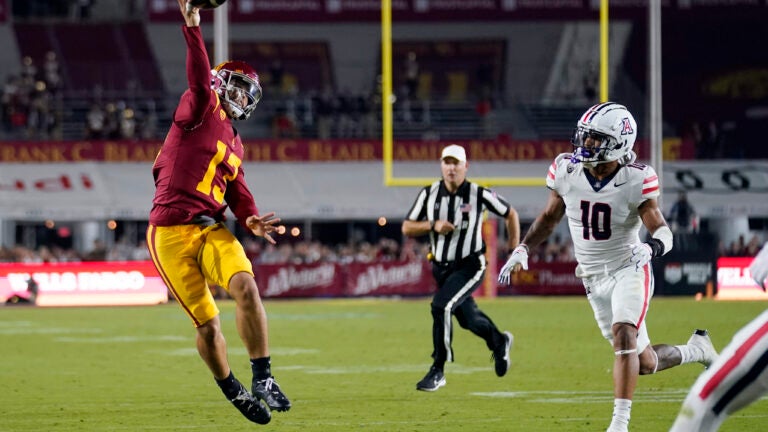 DENVER (AP) — The Patriots are barely better than the Panthers. The Bears are bad again. So are the Broncos, who have surrendered a half dozen premium draft picks for a coach-quarterback combo that's just not working out.
The Cardinals stink, as expected. So do the Giants, surprisingly. The Titans, Vikings, Packers and Chargers are also off to slow starts, although Green Bay and L.A. have played us five games because of early byes.
Each of them can take heart on their poor start because Caleb Williams could be coming to the rescue.
Notwithstanding Xavier Watts' dominance of the defending Heisman Trophy winner in Notre Dame's rout of USC over the weekend, we now have a big enough sample size to peg the franchises with the best chance to " Crash for Caleb."
Heading into Week 7, there's one winless team (Carolina, which traded it's first-round pick next year to Chicago), five teams that have won only once — including the aforementioned Bears — and four teams that have won twice.
Now, other teams could join them in the Williams sweepstakes but they'd have to leap-frog a whole bunch of bad teams to get into position to draft the Southern California quarterback and reigning Heisman Trophy winner considered the surest thing since Andrew Luck in 2012 when the Indianapolis Colts happily moved on from an injured Peyton Manning, who, as it turned out, still had MVPs and a Lombardi Trophy to capture.
Some scouts see in Williams the next Patrick Mahomes, a guy who can make any throw at any time or tuck it and beat defenders with his fleet feet.
Williams, who began his career at Oklahoma before following Lincoln Riley to USC last year, has thrown for 86 touchdowns against just 13 interceptions, three of which came in the Trojans' first loss of the season Saturday at Notre Dame. He's also run for 22 scores. All of this in just 32 games.
Whoever lands him in the 2024 NFL draft should be on the express lane back to respectability and can resume their quest to rise to the top rather than sink to the bottom for the chance to land what one coach in the mix has called a "generational player."
That coach-turned-commentator even suggested in an interview last November that the quest for the right to draft Williams might ultimately usher in a lottery system in the NFL like the NBA uses to discouraging tanking.
"At some point we're going to move to a lottery system in the NFL," he said, "because this is a player that possibly does that."
That prognosticator was Sean Payton, who was a Fox studio analyst during his yearlong sabbatical between coaching gigs with the Saints and Broncos.
Denver is off to a 1-5 start under Payton, whose relationship with Russell Wilson can only be described as rocky. The Broncos have lost three home games to underdogs, surrendered a franchise record 70 points at Miami and just lost to the Kansas City Chiefs for the 16th consecutive time in an era where the NFL prefers parity over rarity.
In his interview last November on the Colin Cowherd show that's making its way around social media again, Payton said the danger of tanking is losing the locker room. "But this player, I think, is the type of player that we would look back on in five years and say he's why the lottery exists now."
Tanking a game to maintain or gain a high draft pick, would be frowned upon by the league, which is in cahoots with legalized gambling more than ever, noted Payton, who told Cowherd of a couple of instances he knew of where teams didn't exactly try to win a season finale to maintain a higher draft position.
What about a weeks-long or even months-long slow burn? A team could dump veterans in the interest of a youth movement. Or they could play experienced players over younger, faster, maybe even better ones. Or run vanilla offenses or stay in base defenses.
There's all sorts of ways teams could ensure they weren't going to win many games so they could crash and just maybe land the generational QB to save the franchise.
Sometimes the old jalopy needs a complete overhaul, not just another oil change.
While many teams dream of winning the Super Bowl in Las Vegas on Feb. 11, many others are equally excited about the possibility of NFL Commissioner Roger Goodell stepping up to the podium in Detroit on April 25 to announce Williams as their pick.
Arizona (1-5): The Cardinals' have the toughest remaining schedule of the Caleb contenders. They only have one team left with a losing record, and that's Chicago in Week 16. Also on their schedule: division leaders Baltimore, San Francisco and Philadelphia.
Chicago(1-5): The Bears also own the Panthers' pick, so they have a double shot at landing Williams. They only have one division leader left on their schedule and that's Detroit, which they'll face in Weeks 11 and 14. The Panthers (0-6) have just one division leader scheduled right now and that's Jacksonville in Week 17.
Tennessee (2-4): The Titans' only remaining game against a team that currently has a losing record is at home against Carolina in Week 12. Four games against division leaders dot their remaining schedule with two games against Jacksonville along with trips to Tampa and Miami.
Denver (1-5): The Broncos' remaining foes are a combined 30-26 (.536), second-toughest schedule only to Arizona (.579). They face Kansas City again in two weeks. They're 0-12 against Mahomes and have lost 16 straight to the Chiefs. Since then, they've had 12 starting QBs, five head coaches and zero playoff trips.
New England (1-5): Off to their worst start ever under Bill Belichick, the Patriots lost back-to-back games against the Cowboys and Saints this month by a combined score of 72-3. Nine of New England's remaining opponents are .500 or better. Turns out Tom Brady probably had more to do with all those titles, after all.
New York Giants (1-5): Two of their last three games are against Philadelphia and only two games (Patriots and Packers) are against teams currently with losing records. This is the biggest surprise team in the Williams sweepstakes but Sunday epitomized their slump as they stalled at the 1 at the end of both halves.
Minnesota (2-4): The Vikings are coming off a 13-win season but so far their only wins are over the Bears and Panthers, who are a combined 1-11. Now, Justin Jefferson is hurt and they face the one-loss 49ers this weekend and finish with two of three games against the NFC North-leading Lions.
Green Bay (2-3): Coming off an early bye, the Packers might not belong on this list. They've averaged 10 wins over the last seven seasons, second on this list only to New England (10.7). At the other end, the Giants have averaged six wins and the Broncos 6.3 since 2016.
Los Angeles Chargers (2-3): The Chargers are the one team on this list that has a young, established, star QB in Justin Herbert. But they have a brutal remaining schedule that features two games against the Chiefs and games against division leaders Detroit, Baltimore and Buffalo. At least those are at home.
Sign up for Patriots updates🏈
Get breaking news and analysis delivered to your inbox during football season.