Patriots
9 Patriots who could be traded if New England sells at the deadline
Kendrick Bourne and Josh Uche could be appealing trade chips if the Patriots wave the white flag this season.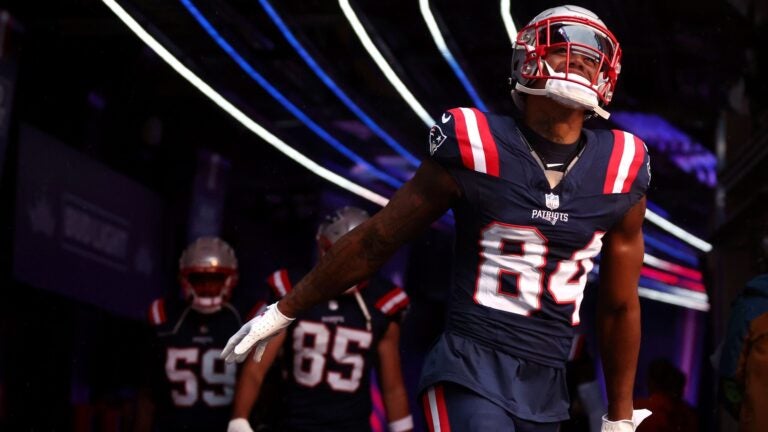 A 2023 Patriots season that initially started with so much promise has already managed to bottom out before we've even hit Halloween.
For all of the talk of Bill O'Brien's efforts to revive a stagnant offense, Mac Jones' about-face as a franchise QB, and the continued strides of a stout defense, most Patriots fans have already turned their attention to first-round mock drafts in search of hope for the future.
And if the Patriots want to accelerate an already daunting undertaking when it comes to reworking a broken roster, Bill Belichick and his staff might need to accept their status as sellers at the upcoming NFL trade deadline in order to recoup more assets.
New England has two more games on its docket before the trade deadline arrives on Tuesday, Oct. 31 at 4 p.m.
And with those two matchups set against imposing AFC East opponents in the Bills and Dolphins, there stands a very real chance that New England will enter that pivotal juncture of the season with an unsightly 1-7 record.
So if Belichick and Co. do opt to punt on this season and load up on draft capital and other controllable pieces for the future, who could the Patriots potentially move in the weeks ahead?
Let's look at some viable candidates.
LB Josh Uche
In what will be a recurring trend on this list, the Patriots could opt to part ways with Uche before he commands a higher payout this upcoming offseason as a UFA.
Even before New England's pass-rushing efforts dried up following the loss of Matt Judon to a biceps injury, the future for Uche in New England was murky at best — given the lack of tangible progress made between Uche, his representatives, and the Patriots on a potential new deal.
Now, with New England mired at the bottom of the NFL standings, the Patriots could decide to move Uche for a high draft pick rather than dole out a hefty new deal for the pass-rusher. Uche had a breakout season in 2022 with 11.5 sacks — all of which came in his final 10 games of the year.
Despite Uche's talent, the Michigan product has been dealing with several injuries that have hampered his production, while the loss of Judon has significantly hindered New England's overall pass-rushing capabilities.
The Athletic's Jeff Howe mapped out a scenario on Tuesday where the Patriots trade Uche to the Jacksonville Jaguars in exchange for a conditional second-round pick.
WR Kendrick Bourne
One of the few bright spots in New England's impotent passing game, Bourne was the Patriots' lone consistent receiving threat against the Raiders on Sunday — catching 10 passes (on 11 targets) for 89 yards.
It seems like the gifted playmaker is finally out the doghouse that Matt Patricia and Co. placed him in last season.
But with Bourne set to hit free agency this summer and his skillset likely better utilized as a WR2 or WR3 on a more competent offense, New England could potentially net at least a third-round pick if it moved Bourne at the deadline.
RB Ezekiel Elliott
Much like Bourne in the passing game, Elliott has been a source of relief amid the misery that has been New England's rushing attack in 2023. For all of the talk of Elliott's best days being behind him after getting cut by the Cowboys, the 28-year-old back still has something left in the tank.
His stats may not be all that flashy (193 rushing yards, 3.9 yards per carry), but Elliott posted 80 yards in New England's lone win over the Jets in Week 3, and scored the Patriots' first offensive touchdown in 12 quarters during the second half of Sunday's loss in Las Vegas.
He also had a 74-yard touchdown off a catch-and-run sequence against the Raiders, only to get it taken off the board due to a penalty against Hunter Henry.
Elliott, who signed a one-year deal with New England in August, will likely be better utilized as a short-yardage option on a team actually aiming for playoff contention in 2023.
LT Trent Brown
Yet another soon-to-be free agent, Brown has been arguably the most effective starter on an otherwise dreadful offensive line for New England. Even amid questions surrounding his consistency and effort, Brown has been far from the weak link on that unit.
Given how valued starting tackles are, especially at the deadline, New England could get a solid return if they opt to move Brown before the calendar flips to November.
That being said, the loss of Brown on New England's O-line will make an already heinous offense downright unwatchable for the rest of the 2023 campaign.
TE Hunter Henry
Much like Brown, New England's offense runs the risk of being a non-functioning entity if someone like Henry was stripped from the roster. That being said, the Patriots captain would be a coveted across the league given his red-zone production (at least prior to this year), as well as his blocking capabilities.
TE Mike Gesicki
If New England doesn't want to move on from Henry at the deadline, New England's second tight end on the depth chart in Gesicki could be an option. Signed to a one-year contract in March, Gesicki is more of a big-bodied wide receiver than a tight end, with his blocking deficiencies on full display against Maxx Crosby during Sunday's loss at Allegiant Stadium.
Still, he could come in handy for a team in need of more of a receiving threat at the tight-end position.
S Jalen Mills and/or S Adrian Phillips
Even following the retirement of Devin McCourty earlier this year, the Patriots have managed to stay afloat at the safety position this season thanks to the duo of Kyle Dugger and Jabrill Peppers.
But the play of those two have kept two veterans in Mills and Phillips on the outside looking in at regular reps. Mills has only logged 30 total snaps over the last two games, while Phillips — once a regular starter in previous New England defenses — has only been on the field for 20% of the Patriots' defensive snaps in 2023. That's a sharp decline from 62% last season and 82% in 2021.
Given their status as veteran players in the defensive backfield (with Phillips also a valuable asset on special teams), both Mills and Phillips could ultimately end up playing elsewhere to close out the 2023 season.
S Kyle Dugger
In a perfect world, the Patriots ideally don't have to move on from all of their soon-to-be free agents that came from that 2020 draft class — including Uche, Dugger, and Mike Onwenu.
Even though Dugger is set to command a sizable pay raise this offseason, he's the type of impactful defensive playmaker who New England might want to retain for the years ahead — even if the Patriots might be ready to wave the white flag on this current campaign.
Sign up for Patriots updates🏈
Get breaking news and analysis delivered to your inbox during football season.