Patriots
Former NFL quarterback explains why Patriots might want to trade Mac Jones
"Mac Jones has thrown 42 touchdowns. None of them have been to Pro Bowlers."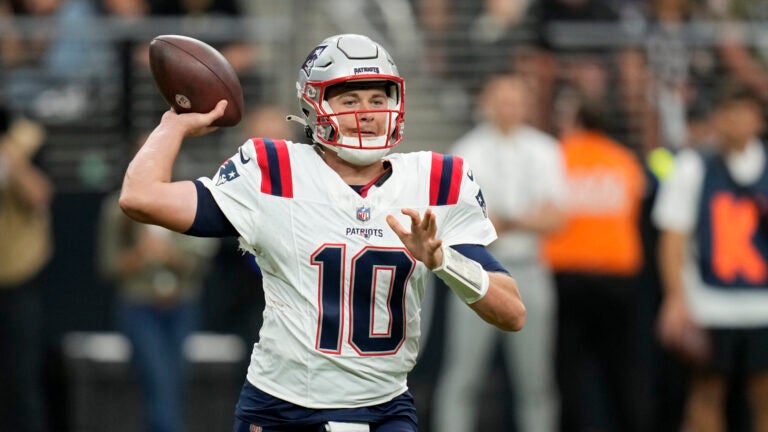 With the NFL trade deadline set for 4 p.m. on Tuesday, Oct. 31, the 1-5 Patriots could be looking at a fire sale in the coming weeks.
Proven playmakers set to hit free agency like Josh Uche, Kendrick Bourne, and Ezekiel Elliott could all be on the move, especially if it allows New England to recoup more draft capital.
But could New England also opt to trade Mac Jones?
The case can be made that Jones' value has never been lower. Through six games, Jones has only thrown for 1,208 yards and five touchdowns while getting knocked for seven interceptions. He's been benched in two of the Patriots' last three games.
But if another team thinks that Jones is a worthwhile reclamation project, former NFL quarterback Dan Orlovsky wouldn't be surprised if New England opts to move on from its QB1.
"Should they consider it? The answer to that question is yes, if they have made the determination they are done with Mac," Orlovsky said during a radio spot on WEEI's "Jones & Mego" on Wednesday. "And when I say they, it's Mr. Kraft. And then it's Bill Belichick.
"Now, both of those guys need to be in conjunction thinking that they're going to be together next year. And I know that's become a topic of conversation — Is Coach Belichick going to be there? Is Mr. Kraft going to do something? Obviously, the years of disappointment over the last three.
"So, if both of those guys are like, 'We're done with Mac Jones, we are definitely doing something else.' Then the answer to that question is unquestionably yes."
When asked on WEEI about what a possible return for Jones could be, Orlovsky speculated that a fourth-round pick could be an option for New England.
Even with Jones' lackluster stats this season, Orlovsky — who said Jones would be playing like Brock Purdy if he was on the 49ers — acknowledged that Jones could orchestrate a bounce-back season if he's surrounded with a more talented roster.
"Mac Jones has thrown 42 touchdowns. None of them have been to Pro Bowlers. Not a one," Orlovsky noted, as transcribed by WEEI.com's Mike Kadlick. "Brock Purdy has thrown 24. 19 of them are to Pro Bowlers. It matters."
Sign up for Patriots updates🏈
Get breaking news and analysis delivered to your inbox during football season.