Patriots
NFL insider believes Patriots might be working Malik Cunningham into 'significant' role on offense
"What Cunningham could give the Pats is a little bit of a different look at the position."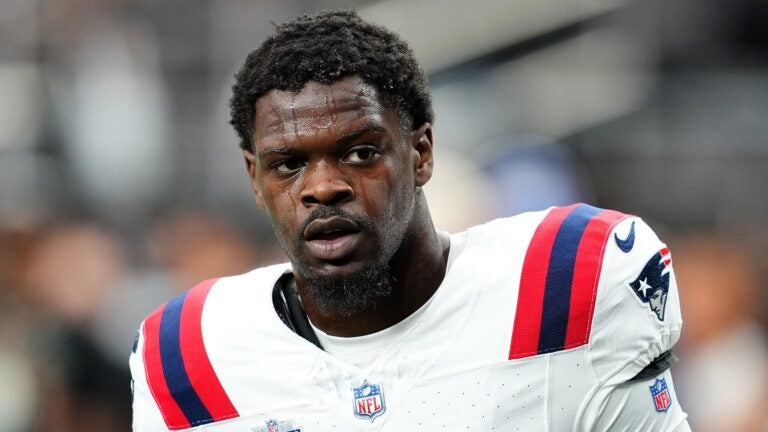 Malik Cunningham's season debut with the Patriots in Las Vegas didn't provide the shot in the arm that some expected for New England's woeful offense.
Situated on the practice squad for the first five weeks of regular-season play, Cunningham signed a three-year contract with New England last week. Now fixed on the active roster, Cunningham slotted in behind Mac Jones as the No. 2 QB entering Sunday's game against the Raiders.
But despite Cunningham's unique skillset and the unsteady ground that Jones finds himself on as QB1, Cunningham was more of a footnote than a featured player in what was another lackluster showing from New England's offensive unit at Allegiant Stadium.
Cunningham ultimately played just six snaps during Sunday's 21-17 loss, lining up as a receiver four times. He finished the game with zero targets, zero carries, and zero pass attempts. The one play seemingly drawn up for Cunningham in the fourth quarter was a fake handoff to Ezekiel Elliott, but it resulted in a Raiders sack and a loss of five yards.
It was a muted debut for Cunningham and a perplexing personnel decision for the Patriots, given that Cunningham has seemingly leapfrogged both Bailey Zappe and Will Grier on the team's depth chart.
As expected, Belichick didn't elaborate much on Wednesday morning when asked about the team's plans for Cunningham on offense moving forward.
"We'll work our way through that roster situation as we go through the week," Belichick said. "I'm not going to talk how we're going to play the game."
As for a scenario where Belichick would be comfortable playing Cunningham for extended reps at quarterback?
"I mean, look he's a young player so he's improving," Belichick added. "We'll see how it goes."
The Patriots might be keeping their cards close to their chest when it comes to Cunningham's usage and his role on a New England offense in desperate need of some playmakers.
On Wednesday morning, ESPN NFL insider Dan Graziano offered up his assessment of Cunningham and how New England plans on incorporating him into its stagnant offensive personnel.
"The Patriots signed practice-squad rookie QB/WR Malik Cunningham to their active roster over the weekend, and it wasn't a throwaway transaction," Graziano wrote. "I am told the coaches are discussing ways to work Cunningham into the game plan in a somewhat significant way, possibly as early as this week against Buffalo. The Patriots thought they put forth a better effort Sunday against the Raiders, but they still lost the game and are looking for a lot more from the quarterback position than what Mac Jones is giving them.
"Could Cunningham supplant Jones as the starter? Anything's possible, but we're a ways away from that being a consideration. What Cunningham could give the Pats is a little bit of a different look at the position, mixing in some quarterback runs and moving the pocket to help diversify and expand the passing game.
"Again, this is all still hypothetical at this point, because the Patriots are still not entirely sure what the rookie is capable of doing at the NFL level at this point. Cunningham was active for Sunday's game but played just six snaps. I wouldn't be surprised to see that number go up as New England continues to search for something to spark its dormant offense. Honestly, what do the Pats have to lose at this point?"
Graziano certainly makes a compelling argument when it comes to the state of New England's offense and the lack of risk that comes with potentially handing the keys to Cunningham at this point of the season. New England is already mired in a 1-5 start with two daunting matchups coming up against the Bills and Dolphins.
Whether it be utilizing him more as a gadget player or even asking him to take more snaps under center, the Patriots should find more avenues to add a dynamic player like Cunningham into their offensive schemes, starting on Sunday afternoon against Buffalo.
Sign up for Patriots updates🏈
Get breaking news and analysis delivered to your inbox during football season.