Patriots
Patriots 2024 NFL mock draft roundup: Who experts think New England will take in first round
Recent projections have the Patriots selecting anywhere from No. 3 to No. 8 overall in the 2024 NFL Draft.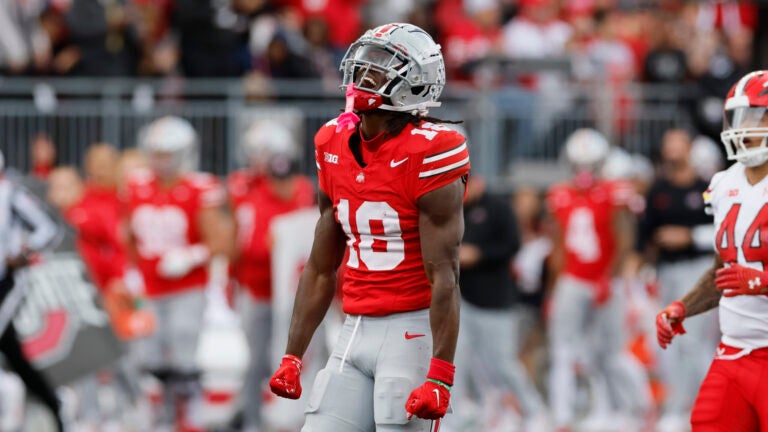 Just how quickly has the 2023 Patriots season managed to go off the rails?
We haven't even reached Halloween, but now seems like the appropriate time to start looking to the future — and any flickering embers of hope that can be found in the 2024 NFL Draft.
Even though New England still has 11 games left on its 2023 schedule, the case can be made that a new season that initially began with playoff aspirations has already been scuttled.
The Patriots are off to an unsightly 1-5 start, and with their next two matchups against the Bills and Dolphins, it wouldn't come as a surprise if Bill Belichick's team is staring at a 1-7 record by the time the trade deadline (and a potential fire sale) arrives at the end of October.
A broken offense could use multiple game-changers across the roster — be it a No. 1 wide receiver, a stout offensive tackle … and yes, even a new quarterback.
Thankfully, New England's poor showing so far in 2023 should put them in a position to secure a blue-chip talent from the collegiate ranks next April.
With the Patriots in free fall and a top-five pick looking more and more like a given, here's a look at who experts are saying New England will select in the first round of the 2024 NFL Draft.
The Athletic: Jared Verse, Edge — Florida State (6th overall pick)
Diante Lee of The Athletic has New England selecting an effective pass-rusher in Florida State's Jared Verse, who could form a deadly 1-2 punch alongside Matthew Judon in the years ahead.
Despite New England's offensive woes, several noteworthy prospects are already off the board in The Athletic's mock when the Patriots select, including Caleb Williams, Marvin Harrison Jr., and Penn State left tackle Olu Fashanu.
"Verse would be the most talented edge rusher drafted by the Patriots since Willie McGinest in the mid-1990s," Lee wrote. "He has the speed, motor, versatility and size to toggle between even and odd fronts — something we know Bill Belichick values. His opponents are doing everything in their power to keep him from affecting the game, but he's been good as a run defender, and his gravity has created opportunity for his teammates to thrive."
CBS Sports: Olu Fashanu, LT — Penn State (5th overall pick)
Little has gone right for New England's woeful offense so far this season. But even amid the issues at quarterback and a receiving corps lacking in high-end talent, the argument is there that any QB is destined to fail with such a porous offensive line in front of him.
With the fifth overall pick, CBS Sports' Ryan Wilson has New England selecting its left tackle of the future in Penn State standout Olu Fashanu.
"This is worst-case scenario for them in that they can't get a quarterback. … We were all surprised last year when the Patriots didn't take a tackle at all," Wilson wrote. "They drafted three interior offensive linemen — two who had to start as rookies in Week 1 because Cole Strange and [Mike] Onwenu were hurt. … You don't have any outside help, so I drafted Olu Fashanu here."
Draft Network: Marvin Harrison Jr., WR — Ohio State (4th overall pick)
Keith Sanchez of Draft Network has New England added arguably the most impressive wideout prospect in recent memory in Marvin Harrison Jr. The son of the Colts Hall-of-Fame wideout, Harrison is already a physical force at 6-foot-4 and 205 pounds — but is also bolstered with elite speed and crisp route running.
A No. 1 receiver capable of both hauling in deep passes and carving up defenses through slants and screens would make a world of a difference on this lackluster Patriots personnel.
"The Patriots' previous draft selections on the offensive side of the ball are now costing them games—they have one of the least talented offenses across the board," Sanchez wrote. "Ohio State WR Marvin Harrison Jr. is one of the cleanest evaluations you will get at the wide receiver positions so they should feel comfortable to make this selection. This will give the Patriots a No. 1 receiver, something they haven't had in years."
Pro Football Focus: Bo Nix, QB — Oregon (8th overall pick)
New England may need to really bottom out (and see a few other bottom-feeders across the NFL secure a few more wins) in order to get a legitimate shot at landing USC QB Caleb Williams with the No. 1 overall pick.
But even if New England doesn't stand at the top of the draft board, there should be plenty of talented signal callers available in the top 10 of the 2024 Draft, with Trevor Sikkema of Pro Football Focus predicting that the Patriots land Oregon QB Bo Nix.
"It feels like the Patriots will be on the hunt for a new quarterback next offseason," Sikkema wrote. "If they choose to address the position in the draft, Nix is an option. As a very good dual-threat player, Nix has improved his game dramatically from his Auburn days, with a cumulative 69.3 passing grade under pressure the past two years and an 89.9 passing grade this season."
NBC Sports Chicago: Drake Maye, QB — North Carolina (5th overall pick)
Glynn Morgan of NBC Sports Chicago has New England selecting arguably the No. 2 QB in the upcoming draft class in UNC signal caller Drake Maye. Despite Caleb Williams's potential pro-ready skillset, former NFL QB Dan Orlovsky noted last week that he believes Maye should be in contention for the No. 1 overall pick in April .
"The Patriots may have to make several hard choices sooner than later, revolving around its head coach/general manager and third-year starting quarterback," Morgan wrote. "Head coach Bill Belichick is a future first-ballot Hall-of-Famer, however, his time as the team's general manager may cost him his job.
"Conversely, Belichick's selection of quarterback Mac Jones could be the main contributing factor in Belichick's possible release. Taking Maye may save Belichick and the Patriots from absorbing Jones' fifth-year option."
Walter Football: Amarius Mims, OT — Georgia (6th overall pick)
Walter Cherepinsky of Walter Football has New England taking another potential franchise tackle in Amarius Mims out of Georgia.
"New England's offensive line is a disaster. Mac Jones sucks, but it's not like he has any help from the poor protection," Cherepinsky wrote. "Amarius Mims has gotten lots of positive feedback from the scouting community. He has a tremendous skill set and lots of upside."
DraftTek.com: Drake Maye, QB — North Carolina (3rd overall pick)
DraftTek.com has New England finishing with the third overall pick in the 2024 Draft, putting them in a spot to grab Maye after both Caleb Williams and Marvin Harrison Jr. both come off the board.
"Tom Brady may have led the Pats to multiple Super Bowls with a habitual lack of talent at the WR position, but Mac Jones isn't Brady," DraftTek's latest mock draft noted. "Rumors swirl that Jones has lost the confidence of his teammates. But with key injuries to the defense (Judon, Gonzalez, Jack Jones) and OL, and really the faith in the ability of Bill Belichick to coach effectively anymore, the team has finally hit rock-bottom (or have they).
"2024 may be the year that Belichick finally steps down (whether his decision or owner Kraft's) setting the stage for a total rebuild. Belichick, like a blind squirrel, has the ability to pull out a coaching miracle every now and then, and that may keep the Pats away from Caleb Williams territory. But a rebuild behind Drake Maye isn't a bad consolation. Let's just hope that the 2024 GM can supply him with pass-catching weapons."
Sign up for Patriots updates🏈
Get breaking news and analysis delivered to your inbox during football season.