Patriots
Mike Vrabel ribs Tom Brady over former QB's unlikely attendance for Patriots Hall of Fame induction ceremony
The former Patriots teammates have had some funny back-and-forths over the years.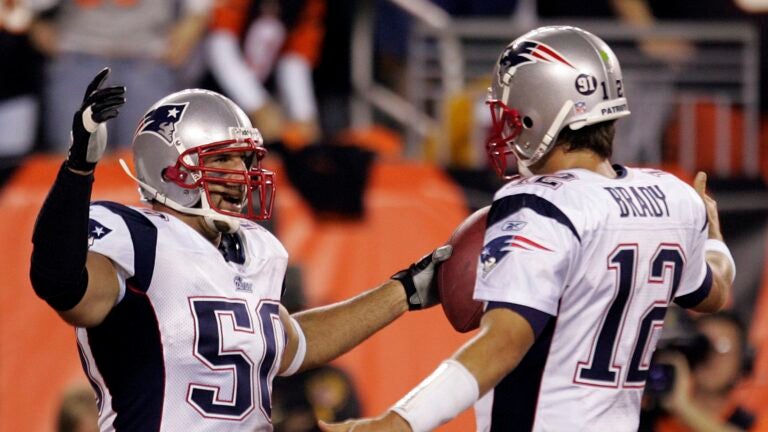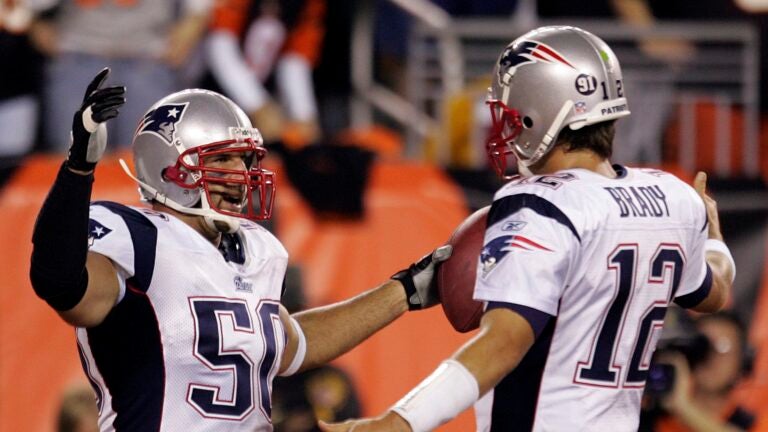 Mike Vrabel and Tom Brady have had some friendly trash talk over the years, dating back to their time as teammates with the Patriots over two decades ago.
Vrabel took another teasing shot at the quarterback on Friday. In an interview with 98.5 The Sports Hub's "Zolak and Bertrand," Vrabel was discussing which former teammates of his would be attending his induction into the Patriots Hall of Fame on Saturday before he took aim at Brady.
"Tom texted and said congrats. I'm guessing that means he won't be able to attend," Vrabel said. "He probably has some cosmetic event planned and won't be able to make it on Saturday morning."
When Scott Zolak jokingly asked Vrabel "what year did [Brady] start to get weird," the soon-to-be Patriots Hall of Fame inductee said he reminisced about the old days with Brady.
"I texted him and said, 'Remember when you used to be ruthless and it was just all that crap talking back and forth?'" Vrabel said. "That's just why we loved to come to practice every day and work. Guys would be on the show team and talking back and forth and just competing and practicing. I was like, 'When did you change?'
"We were just joking and it was great to catch up with him yesterday."
Brady and Vrabel first notably began roasting each other during their time with the Patriots, spending eight seasons as teammates. There were a couple of instances when the two would make a friendly wager on the yearly Michigan-Ohio State game, where each former player went to school. Brady would rock Vrabel's old Ohio State jersey in some of the years the Buckeyes defeated his Wolverines, doing so again in 2012 when the former Patriots linebacker was a coach at his alma mater.
They continued their trash talk when the Patriots visited the Titans for joint practices in 2019. Vrabel gave Brady some friendly barbs ahead of their first joint practice together that summer. The next day, Brady gave Vrabel a mini trophy to commemorate the Titans' win over the Patriots in 2018.
"It was a nice gesture from me to him and hopefully he appreciates it," Brady told reporters of the gift he gave to the Titans head coach.
Brady and Vrabel were reunited again in 2021, when the Buccaneers had joint practices with the Titans. Vrabel took the first jab at Brady in that go-around.
"Jack Brady talking with his favorite former Patriot. Also pictured, Tom Brady," Vrabel wrote in a social media post with a picture of him, Brady, and Brady's eldest son.
Brady took another swing though a couple weeks later.
"Mike's kind of an [expletive] if you get to know him," Brady said with a straight face. "He went to Ohio State. Obviously I don't like him."
"There's a healthy competition between us even though he's fat and out of shape now. Physically, he's declined to a really sad state."
Vrabel recognized that he might get teased again by different teammates on Saturday. He just has one wish.
"I would hope [someone roasts me]," Vrabel told The Sports Hub. "As much as I gave, I have to probably be ready to accept a little bit.
"But as long as I have the microphone last, I think we'll be fine."
Sign up for Patriots updates🏈
Get breaking news and analysis delivered to your inbox during football season.