Patriots
The Patriots have struggled in recent years against the Bills, and there's no reason to believe that will change on Sunday
With 20 players on the injury report as of Thursday, the Patriots are neither healthy nor good as they try to end a three-game losing streak in which they've been outscored, 93-20.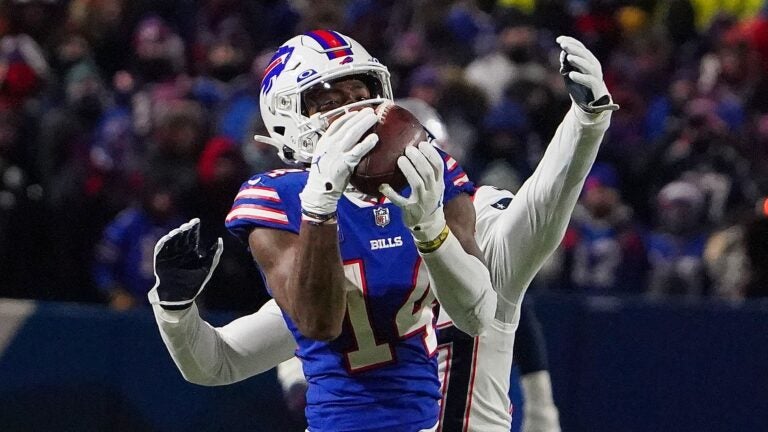 Welcome to Season 12, Episode 7 of the Unconventional Preview, a serious yet lighthearted, nostalgia-tinted look at the Patriots' weekly matchup . . .
The Buffalo Bills have sent the Patriots into the offseason in each of the last two seasons. In January 2022, the Bills ended Mac Jones's promising rookie year — feels like way longer ago than that, doesn't it? — with a 47-17 throttling in the wild-card round of the playoffs.
Last year, the Bills beat the Patriots in the emotional regular-season finale in which Nyheim Hines took back the opening kickoff 96 yards for a touchdown. That was Buffalo's first play since safety Damar Hamlin suffered cardiac arrest after absorbing a blow to the chest the previous week against the Bengals, a game that was canceled after the near tragedy. The Bills advanced to the playoffs. The Patriots retreated to the golf course.
This year, it feels like the Patriots season is over before the AFC East opponents have even played each other. The hapless and bland Patriots are 1-5 after a competitive but typically error-prone loss to the Raiders last Sunday, and with 20 players on the injury report as of Thursday, they are neither healthy nor good as they try to end a three-game losing streak in which they've been outscored, 93-20.
The 4-2 Bills have been far from flawless. They required a goal-line stand with no time remaining on the clock (a pass interference penalty preceded the unusual circumstance) to beat the lowly Giants, 14-9, last Sunday. Quarterback Josh Allen threw for a modest 169 yards and two touchdowns, and also tossed his sixth interception of the season, just one fewer than Jones. Hey, that counts as a positive note, almost.
Kick it off, Ryland, and let's get this one started . . .
Three players to watch other than the quarterbacks
Stefon Diggs: If there is another receiver in recent seasons who has tormented the Patriots as often as Diggs, the name is eluding me now like he eludes Patriots cornerbacks. In seven career games against the Patriots — during which his team is 5-2 — Diggs has 45 receptions for 618 yards and six touchdowns, or an average of 6.4 catches for 88.3 yards per game. Over a 17-game schedule, that works out to 109 catches for 1,501 yards and 15 touchdowns. In the Week 18 matchup last season, Diggs had seven catches for 104 yards, including a 49-yard touchdown in the fourth quarter in which he ditched Patriots cornerback Jonathan Jones.
After some offseason drama that indicated there might be a rift between Diggs and Allen, they've resumed dynamic duo status. Diggs has 49 catches for 620 yards and five touchdowns this season, and has surpassed 100 yards in five of his last six games. He remains by the far Allen's favorite target, though Gabe Davis (21-341-4) is also dangerous.
Diggs has had particular success against J.C. Jackson, who returned to the Patriots two weeks ago after rookie stalwart Christian Gonzalez went on injured reserve after suffering a shoulder injury against the Cowboys. Jackson is a ballhawk — he has more interceptions (26) than any other NFL player since the start of the 2018 season, and he has made occasional plays against the Bills, picking off two passes in a September 2019 matchup. But it's hard to fathom that the Patriots will slow down Diggs Sunday. Bill Belichick's longstanding approach of trying to take away an offense's best skill player has a long history of being unsuccessful against Diggs.
Rhamondre Stevenson: The best hope for the Patriots' 31st-ranked scoring offense (12 points per game, better than only the Giants at 11.8) is . . . let's see . . . for Tom Brady to come out of retirement, and their linemen to turn into modern-day versions of John Hannah, Bruce Armstrong, and Jon Morris. Since all of that is unlikely to happen, the simplest and most realistic hope is that the 26th-ranked running game (83.7 yards per game) comes to life. Though the Patriots didn't run much against the Raiders, falling into their usual double-digit deficit early, the running game was relatively effective. Stevenson and Ezekiel Elliott combined for 80 yards on just 17 carries, with each picking up a touchdown and averaging over 4 yards per carry. (Elliott could have tacked on 74 yards and another touchdown had what would have been the biggest offensive play of the season not been called back by a ticky-tack Hunter Henry holding call.)
Stevenson — who went over the 1,000-yard mark in last season's finale against the Bills, gaining 54 yards on just six carries — showed more burst against the Raiders than he has at any point this season. There is a legitimate chance that he has his best game of the season, perhaps by far, against the Bills. The Bills have allowed 133.7 rushing yards per game (25th in the league), and it's hard to foresee improvement with outstanding former Boston College linebacker Matt Milano sidelined with a broken leg.
Malik Cunningham: The former Louisville star quarterback and brief sensation in the preseason played six snaps against the Raiders in his anticipated-mostly-out-desperation-and-boredom debut — two at quarterback, two as a slot receiver, and two as an outside receiver. He was sacked for a 5-yard loss, did not throw or catch a pass, but did play a supporting role in the direct snap to Elliott on his touchdown run. Cunningham wasn't exactly reminiscent of Kordell "Slash" Stewart's much-hyped multipurpose role as a rookie with the 1995 Steelers. But hey, it even took Slash time to get going — he was inactive his first five games as a rookie and did not see the field in his sixth before Bill Cowher and offensive coordinator Ron Erhardt started deploying him in a triple-threat role. The Patriots staff seems pleased with Cunningham's progress; the three-year deal he signed the day before the Raiders game and his elevation (with some risk) to the backup quarterback role are confirmation that he's doing something right. He'll probably never throw accurately enough to be a starting quarterback (insert your own Mac Jones joke here), but I'm looking forward to seeing more from him in the coming weeks in the multipurpose role. He's one of the few interesting players on this team.
Grievance of the week
It's extremely easy to forget now, but DeVante Parker looked like everything he is supposed to be the last time the Patriots played the Bills, in the 2022 regular-season finale. Parker hauled in two of Mac Jones's three touchdown passes, a 2-yarder to knot the score at 14 with less than four minutes left in the first half. With a little less than 12 minutes to play in the game, Parker made a sensational leaping grab for a 26-yard touchdown to cut the Bills' lead to 28-23. He finished with six receptions, 79 receiving yards, the pair of touchdowns, and a glimmer of hope that he could be a reliable contributor in 2023.
That has not happened. He has rarely been a contributor at all, and often a detriment. He had a decent game (six catches for 57 yards) in his season debut in Week 2 against the Dolphins. In the four games since, he's been roughly as productive in sum as he was in Week 18 last season, catching seven passes on 14 targets for 79 yards. The low point came against the Raiders, when he had one catch for 7 yards, dropped a pinpoint deep throw late in the game, then excused his inexcusable drop by saying the throw hit his fingertips, the implication being that it wasn't quite perfect enough. We could fill this entire space rehashing dubious Belichick personnel moves over the last few years, but signing Parker to a three-year extension in late June is rocketing toward the top of the list.
The flashback
I suppose the much-needed feel-good approach to this would be to highlight one of the Patriots' 15 straight victories over the Bills from 2003-10, which began with the season-opener-avenging 31-0 victory the final game of the '03 regular season and ended in Week 3 in 2011, when Rian Lindell hit a 28-yard field goal as time expired in a 34-31 Bills win. But let's set those aside for another time and go old-school here, remembering a time when Patriots fans celebrated the kind of achievements that were easy to take for granted during the dynasty's two decades of dominance.
The Patriots entered the second to last game of the 1978 regular season with a simple directive. Defeat the Bills, and they would clinch their first division championship in the franchise's 19-year NFL history.
The Bills, in their first post-O.J. Simpson season, came in at 4-10. But they proved a nuisance, holding a 17-7 lead in the third quarter and retaking the lead, 24-21, in the fourth. The Patriots closed the margin to a point on a Tim Fox safety, and with 11 seconds left, kicker David Posey lined up for a 21-yard field goal to win the game.
Chip shot and cue the celebration, right? Hardly.
Posey, the third kicker used by the Patriots that season, had been 9 for 20 — yes, 9 for 20 — on field goals to that point, missing four of his previous five, including three the previous week against the Cowboys. The game was played 18 days before Adam Vinatieri's sixth birthday, and he would have been a more trustworthy option at that point.
But Posey nailed it, "sending Schaefer Stadium into a full-grade cartwheel," as Globe columnist Leigh Montville wrote.
In the giddy Patriots locker room, Posey told a truth that few athletes would dare admit: "There are guys who would have said they were hoping to get into that one situation where it's all or nothing, an entire season sitting on top of their shoulder pads," he told Montville. "Any guy who says that is either crazy or he's lying."
The kick that made the Patriots division champions for the first time was the second-to-last field goal of Posey's career.
Prediction, or where have you gone, Roland Hooks? . . .
The Bills have beaten the Patriots in six of their last seven meetings, with the Patriots win — a 14-10 victory in the wild-wind game in Buffalo — rating as both an outlier and a fluke. It would be foolish, given their penchant for careless penalties and mind-numbing turnovers, to believe Sunday is the day the Patriots finally solve the Bills again. Bills 26, Patriots 16.
Sign up for Patriots updates🏈
Get breaking news and analysis delivered to your inbox during football season.