Patriots
Watch: Bill Belichick hilariously imitates Dante Scarnecchia while telling story during Patriots Hall of Fame ceremony
Belichick had the audience laughing after giving his best Scarnecchia impression.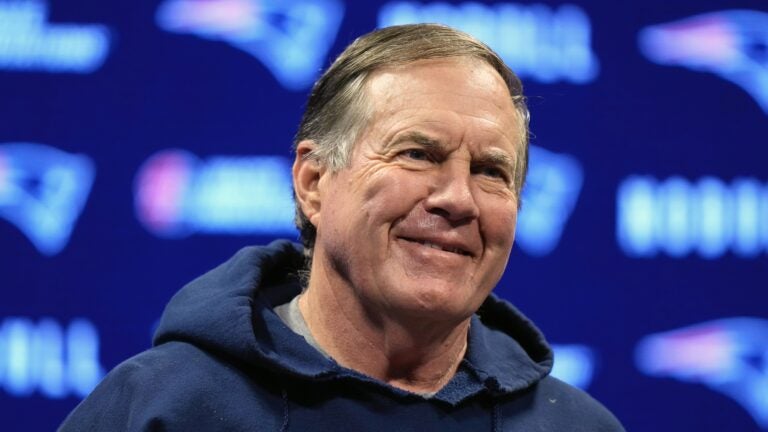 Patriots head coach Bill Belichick had the crowd laughing during Dante Scarnecchia and Mike Vrabel's team Hall of Fame induction ceremony Saturday afternoon.
While at the podium, a spirited Belichick gave his best Scarnecchia impression while recalling a time the legendary former offensive line coach was laying into a player during training camp.
"I can still see Scar yelling at Big Cat," Belichick said, "looking straight up at him like this – 'Big Cat, you don't use our techniques, that's why you're not doing this right. You're not having any success because you're doing it your way and your way's not working. So you better start doing it our way, alright, or you're never gonna be any good!' And he's (Scarneccchia) looking straight up in the air! And Big Cat's looking straight down at him."
Belichick seemed to poke a little bit of fun not only at Scarnecchia's temper, but also his height. The 75-year-old is just 5-foot-8-inches tall compared to the six-foot eight-inches offensive lineman James Williams referenced in the tale.
The head coach even displayed his acting skills, looking up in the air and pointing as Scarnecchia would have been while giving the player an earful. Belichick gave a smile upon the conclusion of his retelling and earned plenty of roars and applause from the audience.
That's just a short snippet of a ceremony filled with memories shared about Scarnecchia and Vrabel, the 33rd and 34th Patriots inducted into the organization's Hall of Fame. Each individual had their own panel alongside former teammates and players they spent time working with in Foxborough.
Scarnecchia's panel consisted of himself and former New England offensive linemen Matt Light, Dan Koppen, Nate Solder, and Sebastian Vollmer. The group of five shared stories and memories from working together in the trenches with the Patriots.
As for Vrabel's group, the three-time Super Bowl champion reminisced on old times with offensive and defensive players Drew Bledsoe, Romeo Crennel, Ted Johnson, Richard Seymour, and Scott Zolak.
Once Scarnecchia and Vrabel were enshrined as Patriots hall of famers, they spoke to the media donning their red jackets. Naturally, the former and current coaches were asked about this year's New England football team and the struggles they've endured through six games.
Both of them gave near exact responses when asked if the Patriots can return to their winning ways.
"Absolutely," Scarnecchia said. "As long as you've got a guy like this coach [Bill Belichick] … they've just got to get it all figured out and hopefully it'll start tomorrow."
Vrabel echoed a similar sentiment.
"They've got a Hall of Fame coach and a Hall of Fame owner," Vrabel said, however he prefaced that answer by saying he's focused on his own Tennessee Titans.
Sign up for Patriots updates🏈
Get breaking news and analysis delivered to your inbox during football season.