Patriots
How the Patriots found a way to 'bother' Josh Allen without Judon and Uche, and other final thoughts
"The pressure up the middle is what bothers him."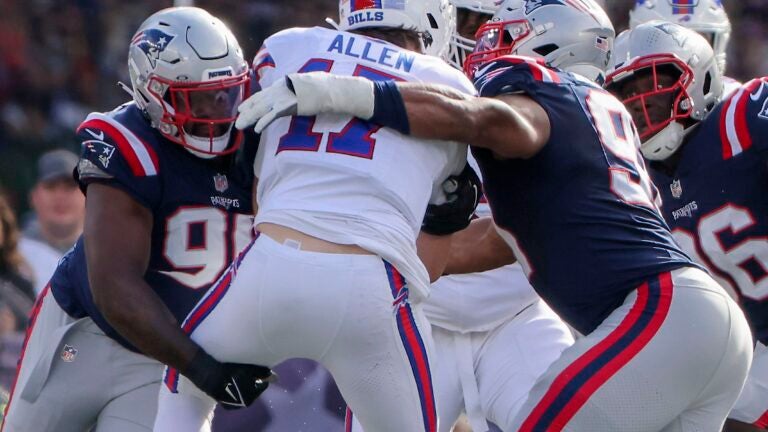 Well, it took them until Week 7, but the Patriots finally have their first home win of the season after upsetting division rival Buffalo at Gillette Stadium on Sunday.
Bill Belichick gets his 300th win, and the team avoids dropping to 1-6. Instead, they're 2-5, including 2-1 against AFC East opponents with another huge opportunity coming against Miami next weekend.
Mac Jones led the Patriots to their first comeback victory of the season and made it through the game without any turnovers. This was the sharpest he's looked all season. He completed all but five of his 30 passing attempts and tossed a pair of touchdowns, including the game-winner to Mike Gesicki.
The Patriots notched their first win since Sept. 24 on the road against the Jets. Here are a few final thoughts from the action.
Finding a way to "bother" Josh Allen
New England was missing Matthew Judon and Josh Uche, but the Patriots' pass rush still proved to be a problem for Josh Allen.
The key, according to defensive lineman Davon Godchaux, was generating pressure up the middle, which he, Christian Barmore, and Ja'Whaun Bentley excelled at on Sunday.
"You have to [get in Allen's face], he's one of the top-3 quarterbacks in the NFL. The pressure up the middle is what bothers him," Godchaux said. "The edge guys can rush all they want but if you've got those B-gaps open where he can step up, you have to get this guy off the spot, you have to rush this guy off the middle. We did a great job today and we're not satistfied."
Godchaux said that the Patriots had to focus on rushing as a team with Uche and Judon out.
"We rush as a team," Godchaux said. "Even when we have Judon and Uche, we know those guys are capable of winning one-on-one all the time, but when you don't have those guys now you've got to rush as a team. Even though, we still rush as a team when we have those guys, it has to be more detailed, it's got to be even more dialed in when we don't have those guys to one-on-ones."
Cornerback Jack Jones said the pressure up the middle helped the defensive backs make plays.
"We all work together, it's like an oiled machine," Jones said. "When one spot is not working, it's all messed up. So, when the D-line is going, the DBs are going and vice versa. It takes everybody to make the difference."
Onwenu moves to right tackle
The Patriots opted to move Mike Onwenu from his guard spot to right tackle, and the decision paid off.
"It was cool, I think after practice and throughout the week, I felt comfortable enough to go out there," Onwenu said. "And they made the decision to put me out there. That's a good feeling."
New England's offensive line held up well, holding Buffalo to one sack and giving Jones enough time to settle into his throws.
The offensive line has been banged up all year, with Onwenu, Cole Strange, and Brown missing time at various points.
This week, the Patriots started with Brown and Onwenu as the tackles, Strange and rookie Sidy Sow as the guards, and David Andrews at center. That five seemed to mesh together, not just in pass protection, but also the run game, helping the Patriots tally 96 yards on the ground.
How Jack Jones reacted to roughing the passer call
Jack Jones tweeted about a roughing the passer call that he was whistled for after hitting Allen on a corner blitz.
"Bad call but F it," Jones tweeted after the game.
Jones had a similar take in the locker room when asked about it after the game.
"I didn't really like the call," Jones aid. "But, it's out of my control. Next play."
Jabrill Peppers continues to make plays
Last week, Jabrill Peppers forced a turnover by laying a crushing hit on Davante Adams that allowed Jahlani Tavai to tip the ball to himself and grab an interception.
This week, it was Peppers who caught the quarterback slipping. Allen lost track of Peppers in the coverage and threw the ball right at him in the first quarter for an interception.
The turnover led to a Patriots touchdown drive and an early 10-0 lead.
"I don't think he ever saw me," Peppers said. "He put it on a rope and I just had to catch it. It got caught in the sun a little bit, so I almost dropped it but you can't buy these hands. I had to come down with that one."
Chad Ryland on being ready
Jones led the game-winning drive with a touchdown, but the game easily could have come down to a game-tying field-goal attempt if things had gone a little differently.
Rookie kicker Chad Ryland, who went 3-for-3 on field goal attempts including a 49-yarder, said he was staying ready mentally in case he had to come in and make a fourth kick, but was happy to see the offense seal the deal.
"I like winning rather than anything," Ryland said. "So that was probably the best feeling of the day, getting a win."
Rhamondre's run
The offense got a lift from Rhamondre Stevenson on the final drive when the running back broke free on a 34-yard swing pass from Jones.
Most of the yardage came after the catch as the running back raced down the sideline. It was a good play that covered a lot of ground, Belichick said.
"Yeah the O-line they played great today. They let me and Zeke [Ezekiel Elliott] get into the defense a little bit," Stevenson said. "That's always a good thing. They did great on their double teams, things like that. That last play was just get the running backs some space so it was a swing pass to me. I had three guys blocking on the edge. They did a great job covering those guys up and I tried to make a play."
Sign up for Patriots updates🏈
Get breaking news and analysis delivered to your inbox during football season.