Patriots
Mac Jones talks comeback win over Bills, Belichick's 300th win, and more on WEEI
"One game doesn't define you, so just keep working."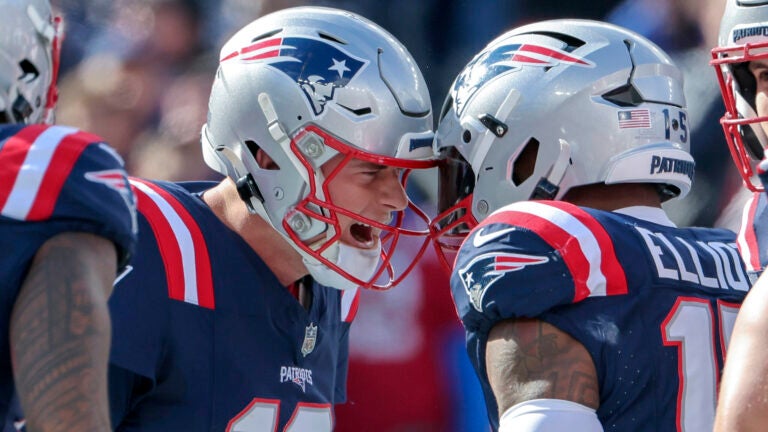 Patriots QB Mac Jones appeared on WEEI's "Jones & Mego" show on Monday, touching on a variety of topics — including New England's impressive comeback win over Buffalo, Bill O'Brien's impact, and much more.
Here are a few highlights from Jones' extended radio interview:
A much-needed win
For the first time since Jones' rookie season, the Patriots QB led New England on a game-winning drive in the fourth quarter — lifting the Patriots to an impressive 29-25 win over the Bills on Sunday afternoon.
On an afternoon where New England's offense managed to right the ship after weeks of dysfunction, Jones put together one of the strongest performances of his young career. The 25-year-old signal caller completed 25 of his 30 passes for 272 yards with two touchdowns.
During New England's game-winning drive — orchestrated just after Buffalo erased what was a 12-point lead for the Patriots in the final quarter of action — Jones connected on six of his seven passes for 70 yards in less than two minutes of action.
He capped off the sequence with a touchdown throw to Mike Gesicki with 12 seconds left on the clock to give New England its second win of the year.
It was a result that the plummeting Patriots desperately needed after trudging through a three-game losing streak that saw them get outscored, 93-20.
"I think the mindset was definitely there," Jones said of New England orchestrating a fourth-quarter comeback. "That was just focus, having intentional focus and not only me, but everybody else as well — just bring the team together in the huddle and tell them that we can go do it.
"So, [we] got to do it every time if we can. If you have four downs to make a play? Then make the play. I feel like we can grow in that area and continue to do that."
Not only was it a key win for the Patriots, but it was a welcome result for a QB in Jones who has faced questions all season long about his long-term future in New England, as well as his current standing as the QB1 on the depth chart.
"I mean, every competitor wants to do well on Sunday or whenever they play their game," Jones said when asked if he gets motivated by proving doubters wrong. "So I definitely just want to focus on that. Focus on what I can do to be better and continue to do that."
Belichick's 300th win
WEEI host Adam Jones did what he could to try and get Jones to talk about Bill Belichick's reported "multi-year" contract extension that he inked last offseason.
Mac Jones did not take the bait, opting instead to deflect by mentioning how Sunday's win marked the 300th of Belichick's coaching career.
Adam Jones: "Did you get a chance to congratulate Bill on the new contract yet?"
Mac Jones: "Thought you were gonna talk about the 300th win. That's a good one."
Adam Jones: "The contract, no?"
Mac Jones: "The 300th win. I think that's really cool that that happened. And I know we want more. So I thought that was great that he got that done. And it's cool to be the quarterback for the game."
Jones acknowledged that he has played for multiple record-setting coaches during his career, starting as early as his high school days at The Bolles School in Jacksonville.
"I think it's definitely a great experience," Jones said of playing for Belichick. "Like you said, I've been very fortunate to have played quarterback for Corky Rogers, who was my high school coach. He passed away, but he was the winningest Florida coach in history. And obviously Coach [Nick] Saban and Coach Belichick.
"So I guess I'll have a good book one day. But yeah, it's good to have that. I think that's very important for players when you have a great history of great coaches that you've worked with, I think that really helps."
Bill O'Brien's impact
After New England's comeback win over Buffalo, Jones noted in a postgame interview with CBS' Evan Washburn that Bill O'Brien played a key role in New England's sudden turnaround on offense.
"He did a great job calling a good game, and being aggressive and using things that I did in college that I really like," Jones said of O'Brien's impact. "So, I really appreciate that."
On Monday, Jones was asked to expand on his comments on what led to New England's impressive gains on offense.
"Like I talked about, just sticking to the process," Jones said. "Just trying to find ways to win. It's doing the little things, doing the hard things, all of that stuff. Definitely made some progress there and want to continue to grow in that matter. Like I said, one game doesn't define you, so just keep working. I'll say that every week just keep working and trust the process."
A strong showing from a revamped offensive line played a key role in New England's breakthrough showing on the offensive side of the ball, with Jones finally given the time needed to step up into the pocket and execute.
But O'Brien also drew up plenty of RPOs (run-pass options) and pre-snap motions that regularly put Buffalo's defense on its heels and allowed Jones to find open targets during his reads after the ball was snapped.
"I think the schematics and stuff can change week-to-week in the NFL," Jones noted. "Definitely just want to try and find our identity like we've talked about, and go out there and compete with each other. Football is a lot about the plays but it's more about the people.
"Really just getting together and playing for each other and we have to do that every week. We can't do it one week and then not the next, so. Really gotta flip the page and focus how we can do that this week against Miami."
Onwenu steps up
New England will need to continue to keep Jones off the turf and win battles in the trenches if it wants to ensure that Sunday's offensive performance is not just a flash in the pan.
Keeping Mike Onwenu at right tackle stands as a sound way to keep that O-line intact, with the 25-year-old's shift from his usual spot at guard paying immediate dividends for New England.
With Onwenu anchoring the outside opposite left tackle Trent Brown, New England was able to run a competent offensive gameplan for the first time in weeks.
"I've been in there with Mike at right tackle before in practice and stuff like that, too," Jones said of Onwenu. "Just great versatility. It's not easy to do that as a lineman. I mean, I never played offensive line. But I can imagine that's pretty difficult to go — maybe you're on the left side and then you're on at right guard, right tackle spot and flipping around.
"It's not easy, but I think it shows that he's a very versatile player, which is hard to show as a lineman. Some guys play their whole life at left tackle or right tackle and for him to do that was really cool to see."
Sign up for Patriots updates🏈
Get breaking news and analysis delivered to your inbox during football season.
Newsletter Signup
Stay up to date on all the latest news from Boston.com